Description
30th Annual Texas Energy Council Symposium
Thursday, May 10th, 2018 ~ Hughes-Trigg Student Center, Southern Methodist University ~ Dallas, Texas
The 30th edition of the Texas Energy Council's annual symposium addresses the pressing issues for the oil & gas sector while helping groom the next generation's leaders of the Oil Patch through raising scholarship funds.
• Registration starts at 8:30AM in the downstairs ballroom of Hughes-Trigg Student Center at SMU.
• Continental breakfast will be served in Centennial Hall directly adjacent to registration area.
• Complementary Valet parking is available at the top of Bishop Blvd. (accessible from Mockingbird Ln.) and overflow parking is available in Meadows garage.
Visit www.texasenergycouncil.org/symposium-2018 for more information.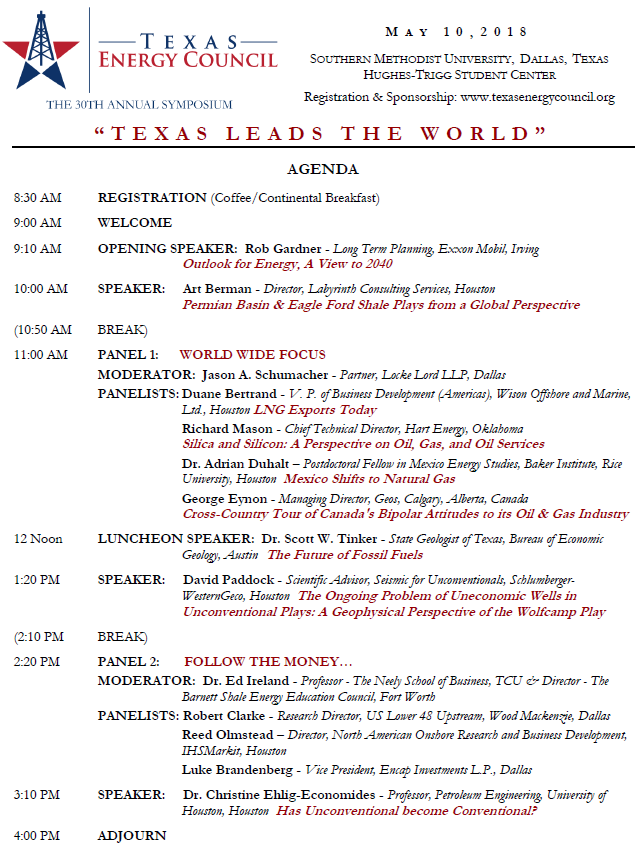 ---
For general symposium inquiries please contact Giuliana Vural, Vice President of Symposium at gvural@vurallaw.com
For sponsorship related questions please contact Allan Hastings, Chairman of Symposium Sponsorships at allan.hastings@amegybank.com
---
The Texas Energy Council (TEC) is a non-profit, non-partisan organization of professional and educational societies dedicated to serving the industry in Texas. The TEC was founded in 1988 as the Dallas Energy Council, changed to the North Texas Energy Council in 1996 and to the Texas Energy Council in 2007. The TEC provides a forum for all energy-related professional societies and educational institutions to communicate issues and transfer technology among its members and the general public and provide scholarships for college students in an energy related major. For more information: www.texasenergycouncil.org