| | |
| --- | --- |
| Texas Conference on Drug Policy | |
Event Details
ATTENTION: Counselors, Social Workers, Criminal Justice Professionals, Avocates, Educators, and Policymakers!
 MOTHERS AGAINST TEEN VIOLENCE (MATV) Presents
 The Texas Conference on Drug Policy
 January 11 - 13, 2012
The Texas Conference on Drug Policy will feature first-rate presentations and panel discussions by thought leaders, experts and advocates engaged in drug policy research, analysis and public information initiatives. This is an opportunity to examine the war on drugs from the criminal justice and public health perspectives; explore best practices; and make lasting connections among individuals and organizations working for positive change.
MATV is a continuing education provider, having been authorized by: Texas State Board of Social Workers Examiner -- Provider No. 6037; and Texas State Board of Examiners of Professional Counselors--Provider No. 1557
A minimum of six (6) hours of continuing education credits will be available to licensed professional counselors (LPC), licensed chemical dependency counselors (LCDC), and  social workers.
Email admin@matvinc.org to request registration by U.S. mail.
Featured speakers and presenters include:
SPEAKERS
Dr. Gabor Maté, Physician, Author, and Advocate
Neill Franklin, Executive Director, Law Enforcement Against Prohibition
State Representative Jerry Madden
Marc Levin, Texas Public Policy Foundation
Judge Tena Callahan, 302nd District, Dallas County
Susie Byrd, El Paso City Council
Dr. Bill Martin, Senior Fellow, James A. Baker Institute
Dr. Raul Caetano, Dean, UTSW School of Public Health
Ana Yanez-Correa, Texas Criminal Justice Coalition
Dr. Marvin Dulaney, History Professor, UT Arlington
Dr. Timothy Bray, Director, Urban Institute for Policy Research
…and many more
     ___________________________________________ 
 CONFERENCE AGENDA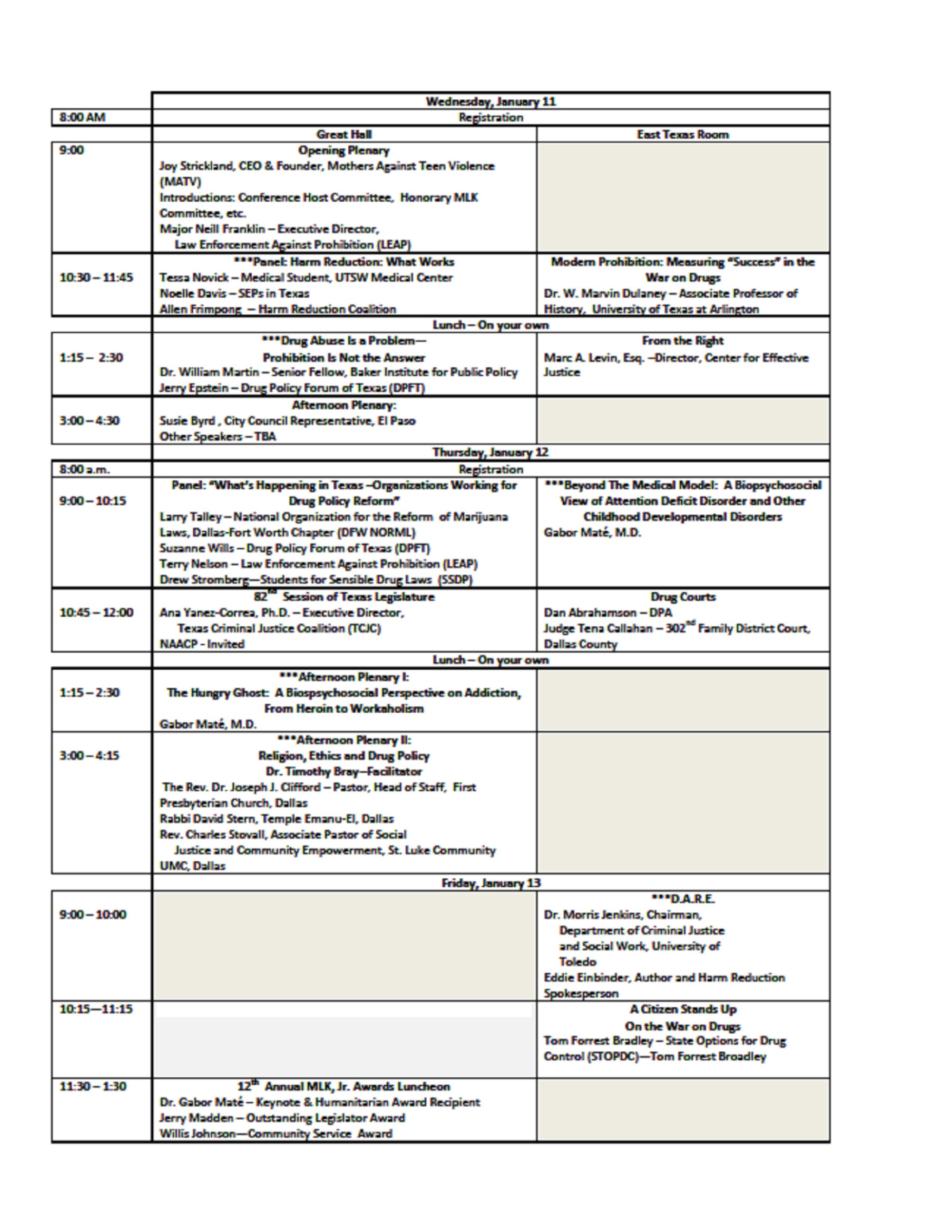 ****CEU Credits available for these sessions
###
Where

Hall of State, Fair Park
3939 Grand Ave.
Dallas, TX


Organizer
Mothers Against Teen Violence (MATV)
The MATV Story

Chris Lewis met Kendrick Lott in the summer of 1993 at St. Philip's School in Dallas where the two worked as summer camp counselors. Chris, a Morehouse College student, had graduated from St. Mark's School of Texas one year earlier and was home for the summer. Kendrick planned to attend the same school in the fall. But instead of becoming Morehouse brothers, the teens died together, brutally slain by two teens looking for someone to carjack. The offenders  were under the influence of illegal drugs and had a history of low-level drug trafficking.
At St. Mark's, a premiere college prep academy, Chris had been vice-president of the Upper School Orchestra; played varsity football; ran track; and was a gifted writer and linguist. Kendrick was vice president of his senior class and had achieved the outstanding rank of Eagle Scout.
MATV was organized in response to the tragic loss of these two promising lives. Chris' mother, activist and author Joy Strickland, is founder and CEO. She continues this work as a memorial to Chris and Kendrick, resolving that their lives were not lost in vain.
Texas Conference on Drug Policy