Description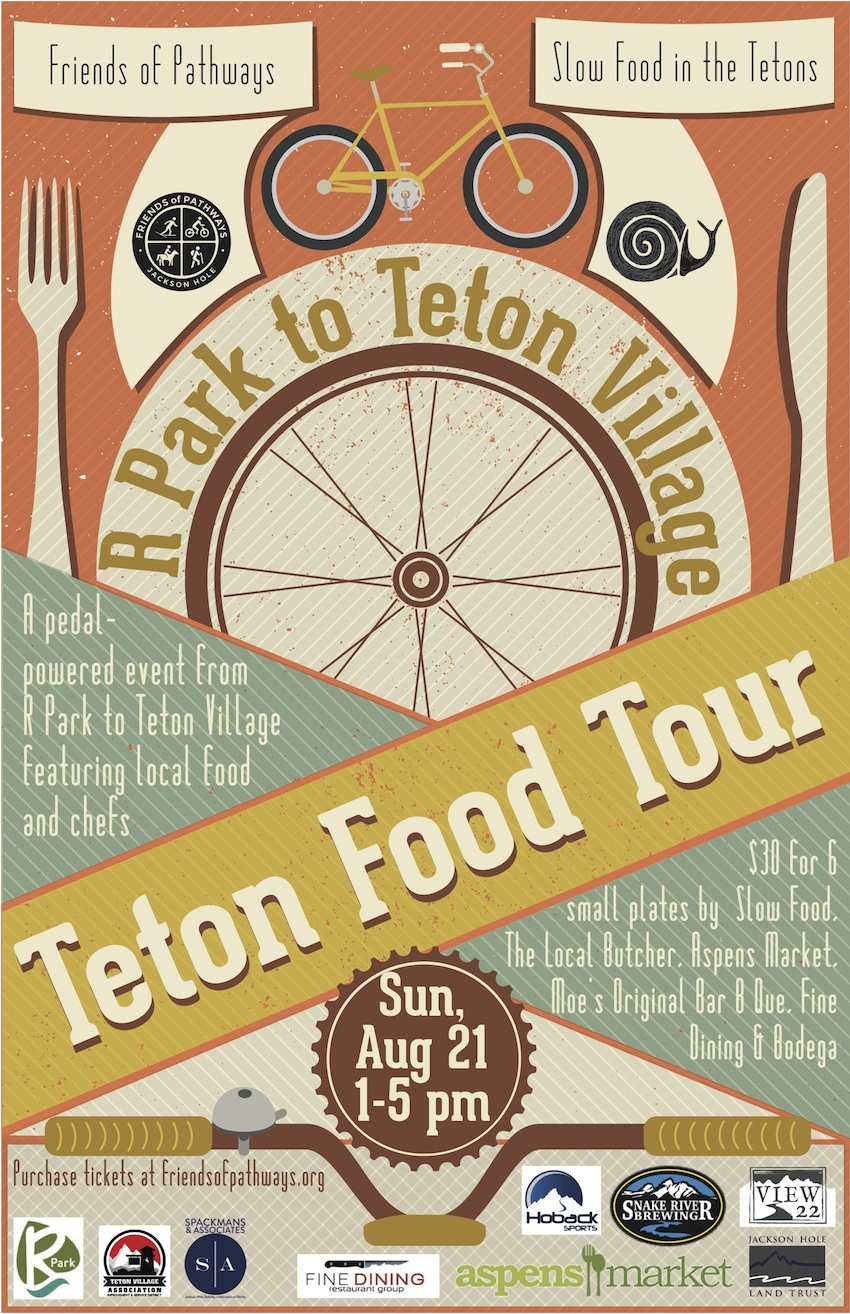 The Teton Food Tour celebrates food in the Tetons with an emphasis on sustainability. This annual afternoon event starts at the R Park in Wilson and travels all the way to Teton Village. Participants (eaters) will experience wide and ample tastes from each carefully selected food and beverage partner in beautiful, cool and lively settings all from the convenience of a bike!
Registration on for the tour starts at 1 and ends at 2:30 pm
so be sure to plan on leaving R Patk no later

2016's Teton Food Tour, is brought to you by Aspen's Market, Spackman & Associates and Teton Village Association. Leisurely cruise the 6-mile pathway along the Moose-Wilson Road, stopping along the way to enjoy small plates, artists, music and open space.
Dishes will be provided by the Aspens Market, Cream & Sugar, Fine Dining's Bodega, From the Roots, The Local Butcher, and Moe's Original Bar B Que. Maddy (as in of the G-Spots) will be providing music at the beautiful shooting start stop - #3!
Make an entire afternoon-into-evening of it and stay for Teton Village's Concert on the Commons featuring The Fruit Bats!
Highly Recommended to Check In before 2 pm - stop #1 will end service at 3 pm. Bring Water Bottles!
Before or after stopping at #5 Bodega stop- between stop #6 adjacent and up-from the Village Commons, Friends of Pathways will be offering a bike valet service from 2:30 - 7:30 pm. Food Tour Partcipants may valet their bikes with FOP's staff and volunteers - making use of these specifically designated bike racks.
FOP is not responsible for bike beyond designated valet hours. Thank you.
Organized by Friends of Pathways and Slow Food in the Tetons with Support from R Park, Jackson Hole Land Trust !
REMINDER: IT'S A GOOD IDEA TO BRING YOUR OWN WATER BOTTLES -LOADED WITH H2O FOR THE SIX MILE TOUR!