Tether Portland: a conversation about what grounds you

Friday, July 6, 2012 from 4:00 AM to 5:30 AM (PDT)
Event Details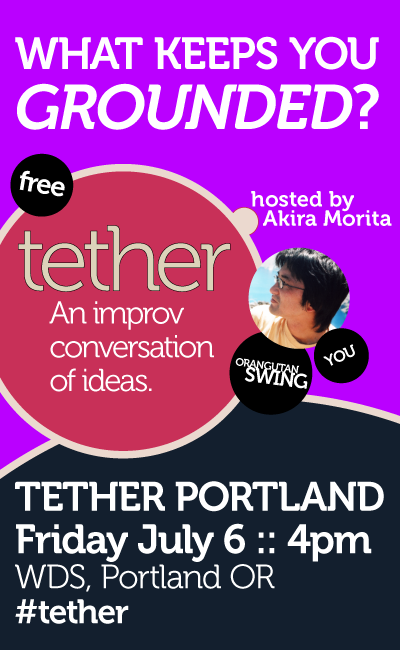 Floating? Let's talk TETHER.
Creating your platform; building your tribe; nurturing relationship with family; and being true to yourself—what connects them all for you?
It may be your core values, the important people in your life, or something else...
Whatever it is, it's what you go back to for that extra charge when you really need it. It may be the opposite of proverbial Muse, but is important nonetheless, right? It's what makes up our own cosmology, so to speak.
I'm very curious about finding out what makes people click, and share with you what I've thought about. This is a small side act to the WDS, a gathering of unconventional, independent world-changers from all over the world in Portland, and we're looking forward to some inspirational stories from WDS attendees to share, too.
Where it will be is TBA here and on our Twitter, just watch #tether.
I will bring the basic framework for the conversation. You bring your awesome selves and ideas.
Ready for landing?
Yeah!
Feel free to send any questions you might have! We're easy to find online :)
Akira
@akiramorita is half of @OranSwing and @designkompany
ALSO check out TETHER SEATTLE, taking place at The Mill coworking space on Tuesday, July 6.
Organizer
Design Kompany is a two-person studio that designs dialogue. We make great conversation fluid, so we get to potent concepts. That's where we build designs for brand identity, and locate the words to best describe what our clients do in ways that are compelling and authentic, too.
We started in Raleigh, NC, as undergraduates in 1995. After 10 years in County Cork, Ireland, as well as Seattle, we're back and amazed at the local evolution in Durham, NC.