Description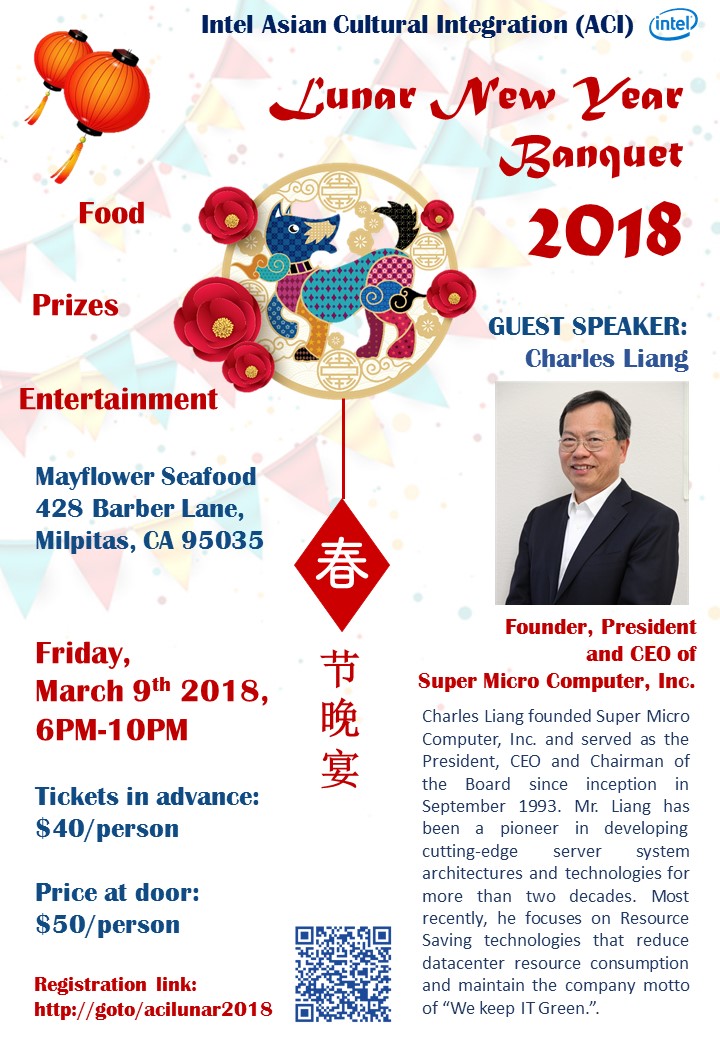 Notes:
1. Event is open to Intel blue badge employees. Family/friends are welcome.
2. Please list your Seating and Dietary preferences in registration.
3. A hard copy or E-copy of the evenbrite ticket is requried for entrance on event night.
Q&A:
Q: When is Lunar New Year in 2018?
A: Feb 16th. ACI style celebration in SC/SJ Intel cafes will be on Feb 15th. See you there!
Q: Why do we celebrate LNY outside of Intel?
A: LNY celebration is a tradition for ACI at Intel for over 30 years. We find it's best to carry this out in a Asian Restaurant setting in the local area. This year our banquet will be at Mayflower Seafood Restaurant in Milpitas.
Q: How much is the ticket?
A: The Banquet ticket is $40 with online registration, and $50 when bought at the door.
Q: What is the Sponsored Ticket?
A: Sponsored Ticket is sponsored by BU for their employees, you need to apply promo code offered by your BU to get the discount rate of $20/per person, up to 2 tickets for each WWID. Following are those BUs who already approved for sponsorship. We will post more discount code accordingly if more BUs approve.
(Update Feb 13th, 2018 - Promo Code: BU employee, please apply your BU promo code when place your order.
SMG - "SMG",
NSG - "NSG",
PEG - "PEG",
IOTG - "IOTG",
AIPG-"AIPG",
LPG - "LPG",
CCG- "CCG",
DCG - "DCG",
SSG - "SSG",
GMC- "GMC",
TMG - "TMG"
ICDG - "ICDG"
Finance/IT - "FIN_IT")
Q: What's includes in the ticket?
A: The LNY banquet includes cultural performances, a 10-course meal, guest speaker story, plus a raffle.
Q: What's the option of "Pay in Person" on the EventBrite registration site?
A: This option allows you to generate a ticket by EventBrite without paying online during registration. You still need to find Gail Xi or Ken Deng to pay in person after online registration.
Q: If I have questions about the process, who can I ask?
A: Registration or payments, please contact Gail Xi (gail.xi@intel.com). Any other questions, Ken Deng (ken.deng@intel.com)