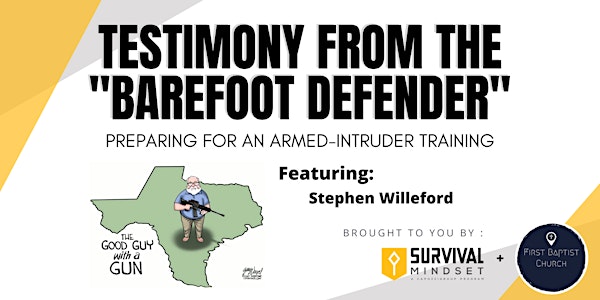 TESTIMONY FROM THE BAREFOOT DEFENDER - Training Session
FAITH and PREPAREDNESS groomed Willeford in the most challenging day of his life. What would you do if a gunman came into your church?
When and where
Location
FIRST BAPTIST CHURCH of JUNIATA COUNTY 23964 Rte 35 N Mifflintown, PA 17059
About this event
"It's deeply upsetting that today's worshippers, regardless of religion, have to contend with the very real possibility of an armed intruder," said Rich Poirier, Church Mutual president, and CEO. "Even beyond churches, many organizations, from schools to offices and factories, are asking themselves, 'What do we do if an armed intruder enters our facility?"
My friend, Stephen Willeford, is the man that confronted a heavily armed attacker who was responsible for the worst church shooting in US history. He will be sharing his story of responding to a high-stress situation with limited ammunition and only an AR-15, all while in his bare feet.
The attack, known as the deadliest church shooting in U.S history, killed 26 people and injured 20 more.
From the things Stephen did correctly to the things he wishes he had done better, this event will cover the entire timeline of Mr. Willeford's involvement from his first initial thoughts, to his immediate gut-response, and thereafter. It's a unique view-point where step-by-step, you will learn: 
How preparedness is the key when responding to an active shooter
How to place as many 'roadblocks' as possible between yourself and the intruder/shooter to increase your chances of survival 
How to be prepared to 'act and not react' when in a high-stress scenario 
How to create mental 'action scripts' of what-if scenarios regarding your immediate response to a variety of crises
Your place and unique role within your community if an armed assailant came into your church, business, or home 
Our goal is to empower you, your family, and your organization, to make the right survival decisions should an attack occur, which is why we are excited to bring this inspiring and critical information to you. 
This program is designed for those who SERVE ON THEIR CHURCH SAFETY/SECURITY TEAM, so those who are interested are highly encouraged to attend. Others are highly encouraged to attend as well so they are able to prepare and assist, should a high-stress situation occur.
Thanks to you and your support, we are able to deliver this for FREE. This is a limited seating event, so you MUST register. 
A freewill offering is appreciated, but not required. We will be accepting donations at the door.