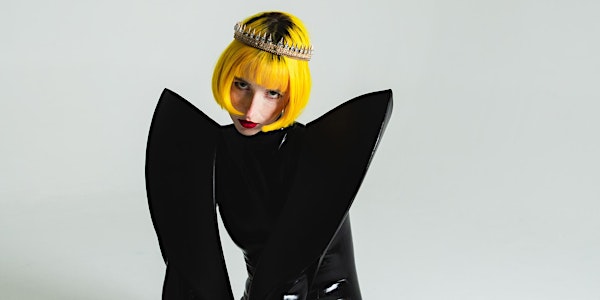 Tessa Violet
Presented by The Grey Eagle and Worthwhile Sounds
Performers
Tessa Violet
Will Joseph Cook, daysormay
Location
The Grey Eagle
185 Clingman Ave
Asheville, NC 28801
Tessa Violet with Will Joseph Cook, daysormay Tuesday September 13 at 8pm at The Grey Eagle! ALL AGES show, doors open at 7pm.
About this event
- 7PM DOORS / 8PM SHOW
- ALL AGES
- STANDING ROOM ONLY
Growing up an only child in a small town in Oregon, Tessa Violet always had a deep desire to create authentic connections with people. YouTube was the first platform which allowed her to foster those connections; as she grew up, and the platform evolved, it became a place for many budding musicians to flock. Now based in L.A.,Tessa, an independent artist blazing a path of her own, released her debut album Bad Ideas fall 2019, rounding out a breakout year for the rising artist. The sole songwriter on all but one of the album's tracks, the project received Spotify's Times Square billboard with hit single "Crush" amassing 200 million+ aggregate streams alone and seeing support from the likes of Billboard, MTV News, and The FADER. On the live side, Tessa spent 2019 cutting her teeth on the road and establishing herself as a captivating, fearless frontwoman. Catapulting her otherwise spunky, eclectic recordings to an intoxicating new level of raw, unabashed rock, over the last few years Tessa and her shredding live band have sold out headline tours in the U.S. and Europe, joined AJR, Cavetown, COIN, and MisterWives on direct support tours, and played her festival debut at Lollapalooza. When the pandemic hit, Tessa turned to collaborating with her friends -- artists such as Cavetown, MisterWives, Chloe Moriondo, lovelytheband and, most recently, I DON'T KNOW HOW BUT THEY FOUND ME. During the lockdown, Tessa cracked the TikTok code creating a viral trend for her album track "Wishful Drinking," gaining over 650k followers and catching the attention of millions including the likes of Jessica Alba. Kicking off 2022, Tessa created yet another viral trend to her song "YES MOM." Her fastest streaming song yet, garnering over 10M+ streams in the first two months, "YES MOM" is the first single off her upcoming sophomore album out this fall.