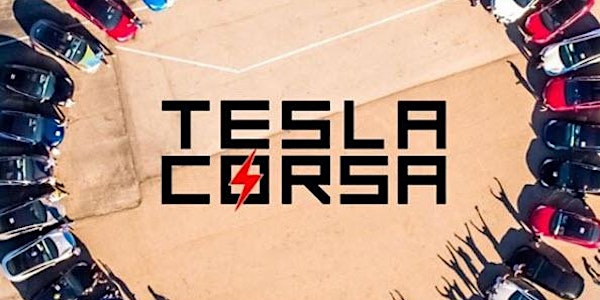 TeslaCorsa 24 - Salzburgring (AUSTRIA)
TeslaCorsa is the original track driving event exclusively for Tesla owners. Open to any Tesla owner.
When and where
Location
Salzburgring 1 1 Salzburgring 5325 Plainfeld Austria
Refund Policy
Refunds up to 7 days before event
Eventbrite's fee is nonrefundable.
About this event
Welcome to the world's first exclusively Tesla on track experience for Tesla owners. This is the second TeslaCorsa event in Europe and we are looking forward to seeing you. TeslaCorsa was founded to encourage Tesla owners to experience the limits of their cars in a professionally managed race track environment. By exploring the limits in a controlled environment we can ensure maximum fun and safety. Enjoy a day at the track surrounded by fellow Tesla friends and create great memories that will be captured by professional photographers and videographers.
Learn more at TeslaCorsa.com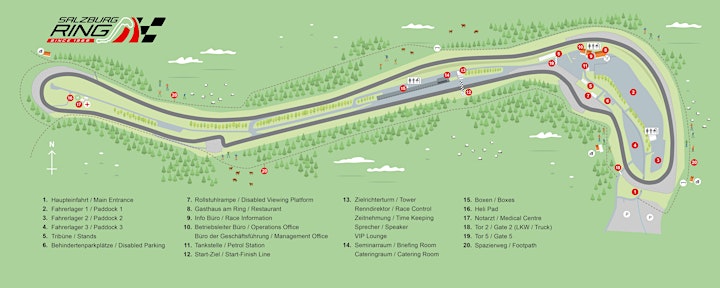 We are looking forward to having you attend TeslaCorsa 23E at the Salzburgring! This is the second TeslaCorsa held outside of the United States and a new milestone for the Tesla community!
WHAT TO EXPECT AT TELSACORSA 23E at the SALZBURGRING (AUSTRIA):
All attendees will enjoy the opportunity to push their cars to the limit in a safe and relaxed environment.
4 x 15-minute on-track sessions for each driver (60 minutes on-track with time to charge and chat with other drivers in between)
Please note that the track management side of this event is managed by our friends at Pfister-Racing GmbH and you are required to abide by their rules and regulations on track.
DISCLAIMER (BY PURCHASING YOUR TICKETS YOU AGREE TO THE FOLLOWING):
Die Voraussetzungen zur Teilnahme habe ich zur Kenntnis genommen, und erfülle diese bzw. bringe diese mit. Das Mindestalter zur Teilnahme ist das siebzehnte Lebensjahr. Ein Helm (auch Motorradhelm) ist vorgeschrieben. Helme bzw. auf Wunsch auch ein Rennoverall können auch vor Ort kostenfrei nach Absprache zur Verfügung gestellt werden.
I have taken note of the requirements for participation and fulfill them or bring them with me. The minimum age for participation is seventeen years of age. A helmet (including a motorcycle helmet) is mandatory. Helmets or, if desired, racing overalls can also be provided on-site free of charge by arrangement. Please do not assume we have a helmet provided for you without written confirmation from TeslaCorsa or Pfister-Racing GmbH.
Sofern ich nicht mit meinem eigenen Fahrzeug teilnehme, sind jegliche Schäden, welche ich am Rennfahrzeug der Pfister-Racing GmbH verursacht habe, von mir zu tragen und werden von der Pfister-Racing GmbH behoben. Ebenso technische Schäden am Rennwagen, welche von mir durch falsche Handhabung verursacht wurden. (z.B. Schäden durch Überdreher, Verschalter, etc)
Für von mir verursachte Schäden an der Anlage des Salzburgrings (Leitschienen, Hinweistafeln, etc.) sowie für Schäden, die ich an Fahrzeugen anderer Teilnehmer verursacht habe, hafte ich in vollem Umfang.
Any damage I have caused to the inventory of Salzburgring (i.e. guide rails, signs, and so on) or other participants' cars must be borne by me. Likewise, technical damage to the racing car, which I caused through incorrect handling. (e.g. damage caused by overturning, circuit breakers, etc.)
Die Veranstaltung findet am 26.09.2022 von ca. 08:00 Uhr bis ca. 18:00 Uhr statt, ein detaillierter Zeitplan folgt
The event will take place on September 26th, 2022 from approx. 8 a.m. to approx. 6 p.m., a detailed schedule will follow.
Die Pfister-Racing GmbH / Tesla Corsa behalten sich vor, den Tesla Corsa Event zu verschieben bzw. abzusagen und Fahrer von den Rennfahrten auszuschließen, sollten die erforderlichen Voraussetzungen nicht erfüllt werden. In diesem Fall informiert mich Pfister-Racing GmbH / Tesla Corsa schriftlich. Terminänderungen/absagen durch die Rennstrecke behalten wir uns vor.
Pfister-Racing GmbH / TeslaCorsa reserves the right to postpone or cancel the Tesla Corsa event and to exclude drivers from the races if the necessary requirements are not met.
.
Die Teilnehmerzahl der Rennveranstaltung ist beschränkt, sollte die maximale Teilnehmerzahl bereits erreicht sein behält sich die Pfister-Racing GmbH vor meine Anmeldung nicht mehr entgegenzunehmen.
The number of participants in the racing event is limited; if the maximum number of participants has already been reached, Pfister-Racing GmbH / TeslaCorsa reserves the right not to accept my registration.
Der Fahrer verpflichtet sich, mit der verbindlichen Anmeldung auch die beigefügte Enthaftungserklärung unterschrieben, an die Firmenadresse, zu schicken.
Diesem Anmeldeformular liegen vollumfänglich unsere aktuellen AGB´s zu Grunde. Sollte ich mit der Enthaftungserklärung nicht einverstanden sein, werde ich vom Kauf des Tickets Abstand nehmen.
With the binding registration, the driver agrees to the terms and conditions set forth here. If you do not agree to these terms and conditions you may not purchase a ticket.
This registration form is fully based on our current terms and conditions.
Kosten für die Teilnehmer bei Stornierung dieser Anmeldung: Bis 60 Tage v.d. Veranstaltung 25% der Gebühr Bis 30 Tage v.d. Veranstaltung 50% der Gebühr Bis 14 Tage v.d. Veranstaltung 100% der Gebühr
Costs for the participants if this registration is canceled: Up to 60 days before the day of the event 25% of the fee. Up to 30 days before the day of the event 50% of the fee. Up to 14 days before day of the event 100% of the fee.
Wir nutzen Cookies auf unserer Website. Einige von ihnen sind essenziell für den Betrieb der Seite, während andere uns helfen, diese Website und die Nutzererfahrung zu verbessern (Tracking Cookies). Sie können selbst entscheiden, ob Sie die Cookies zulassen möchten. Bitte beachten Sie, dass bei einer Ablehnung womöglich nicht mehr alle Funktionalitäten der Seite zur Verfügung stehen.
ANY MORE QUESTIONS? PLEASE EMAIL US SIGNUP@TESLACORSA.COM
Am Sonntag, 25.09.2022 besteht die Möglichkeit, ab 13:00 am Lizenzlehrgang für eine internationale Fahrer-Lizenz (Klasse C) teilzunehmen – Teilnahme und Prüfungsgebühr 599.- mit dem eigenen Tesla für Tesla Corsa Teilnehmer!
Anmeldung: https://www.pfister-racing.eu/de/rennfahrerlizenz-lehrgaenge
For the participants of the Tesla Corsa event there is a reduced fee to also participate in the racing driver license class, starting at 13:00 on Sept. 25th at Salzburgring.
Anmeldung: https://www.pfister-racing.eu/de/rennfahrerlizenz-lehrgaenge
For the participants of the Tesla Corsa event there is a reduced fee to also participate in the racing driver license class, starting at 13:00 on Oct. 9th at Salzburgring.
Enroll here: https://www.pfister-racing.eu/de/rennfahrerlizenz-lehrgaenge