Sales Have Ended
Ticket sales have ended
Online ticket sales have ended. Please contact signup@teslacorsa.com.
Sales Have Ended
Ticket sales have ended
Online ticket sales have ended. Please contact signup@teslacorsa.com.
TeslaCorsa is the original track driving event exclusively for Tesla owners. Open to any Tesla owner with beginner and advanced sessions.
About this event
Welcome to the world's first exclusively Tesla on track experience for owners. TeslaCorsa was founded to encourage Tesla owners to experience the limits of their cars in a professionally managed race track environment. By exploring the limits in a controlled environment we can ensure maximum fun, safety and absence of speeding tickets. Enjoy a day at the track surrounded with fellow Tesla friends and create great memories that will be captured by professional photographers and videographers.
Learn more at TeslaCorsa.com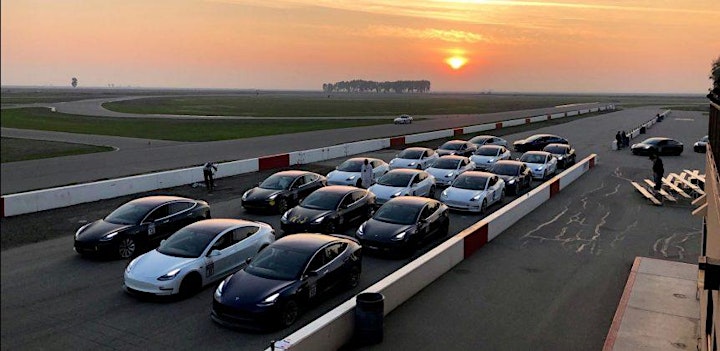 We are looking forward to having you attend a very special TeslaCorsa 10 at Laguna Seca! We are pleased to announce that we have Tesla on board and Tesla is helping us with charging plans for TC10. We are hopeful that this collaboration with Tesla will ensure a great experience for all Tesla drivers.
THE TRACK MUST ABIDE BY SOME SPECIAL COUNTY REGULATIONS DUE TO COVID-19 SO PLEASE READ THIS ENTIRE PAGE IN FULL BEFORE YOU BOOK. THIS PURCHASE IS NON-REFUNDABLE, AND IF YOU DON'T FOLLOW THE RULES AND CAN'T GET ON TRACK, THERE WILL BE NO REFUNDS.
Additionally, we are making this a limited capacity event to ensure that is an amazing event for all attendees. As a result, we are considering this is a special VIP event and it will not count towards points standings for the upcoming TeslaCorsa Challenge Season 2. To make the event even more special, we've heard that a special guest driver will be attending on Saturday - Randy Pobst!
Please act fast if you want to participate in a very special TeslaCorsa event! And please note that we will be on track rain or shine.
Saturday: We will have our usual format of driving time with 4 sessions x 15 minutes for all drivers.
Sunday: We will have a slightly shorter day than usual with Beginner's group running 3 sessions of 15 minutes and Advanced group running 1 session of 15 minutes and 3 sessions of 10 minutes so that advanced drivers can focus their second (or only) day on time attack and we can lower the event costs for everyone.
We recommend taking advantage of the beautiful campgrounds at the track (we will be camping there) and driving on both days!
Special Charging Plans in collaboration with Tesla (applies to both Saturday and Sunday):
Charging Topic 1. Tesla's Seaside Supercharger will be prioritized for TeslaCorsa drivers. Tesla has informed us that they will be officially listing the Seaside Supercharger as offline during the racing hours of TeslaCorsa to facilitate TeslaCorsa drivers having access to the Seaside Supercharger. Tesla advises that drivers may also use Salinas Supercharger as well. Please note that Tesla has requested that TeslaCorsa drivers refrain from using the Monterrey Supercharger during the day (unless it is empty in which case no problem).
Charging Topic 2. We are bringing two Superchargers by mobile delivery to the race track! This is quite expensive for us and we've already included the prices for this into the ticket prices.
*Note - All drivers should remain dependent on the Seaside and Salinas Superchargers for primary charging. It is our hope that by investing in delivering the two trackside Supercharger units that it'll add total capacity and will be helpful. However ultimately for overall charging to be a success we will need all drivers to be reasonable, community-minded and responsible to share and follow directions from our staff on site.
The specific schedule of run groups will be sent out to attendees a 1-2 days before the event. This is an all-weekend day event beginning around 7am and concluding roughly 6pm although you are welcome to leave early if desired. You must purchase tickets for Saturday and Sunday individually.
**IMPORTANT PLEASE READ** WHAT TO EXPECT AT TELSACORSA 10:
All attendees will enjoy the opportunity to push their cars to the limit in a safe and relaxed environment at the most famous racetrack on the west coast!
1. Everyone will run 4 x 15-minute on-track sessions for each driver on Saturday, August 15th. On Sunday, August 16th there will be 3 sessions of 15 minutes for Beginners (many of whom will be considered Intermediate if this is Day 2 at Laguna) and an Advanced group running 4 sessions total, 1 session of 15 minutes and 3 sessions of 10 minutes (Time Attack).
You can drive either day or both days depending on the ticket(s) purchased.
2. Tickets are first-come-first-served and are 100% NON-REFUNDABLE. Tickets are extremely limited for this event due to the available charging infrastructure. We are pulling out all the stops to make sure that charging and driving go smoothly for attendees. This means that very few can attend this special event and that it will likely sell out quickly. We have tried to make Sunday very affordable for those who may be price-sensitive since Laguna is significantly more expensive than BRP and the charging provided by Tesla is very expensive. However, compared to many tracks around the county, Laguna is still a good value at these prices and we will have the fewest drivers on track of any sessions during the day so that we can ensure drivers can get on track at full charge or close to it.
3. On-track photography is included at no additional charge.
4. Fun, socially distanced, community time with fellow Tesla owners.
5. Structured discussion of track rules and safety procedures, and driving advice.
6. ** PLEASE READ ** No spectators are allowed at Laguna Seca due to COVID-19 protocols.
7. **PLEASE READ** Only 1 guest is allowed per driver for TC10 and that guest MUST BE A FAMILY MEMBER. The only way to spectate for TC10 is to be the guest of a driver as a family member. Family members must comply with Speed Ventures/County Protocols.
8. **PLEASE READ** Only 1 person is allowed in each vehicle. No instructors. No ride-along.
9. ** PLEASE READ** There IS NO HELMET RENTAL OPTION ALLOWED BY THE TRACK DUE TO COVID-19. You must bring your own helmet.
10. **VERY IMPORTANT** The county requires various forms that must be filled out at the time of registration. If you do not complete these forms promptly you may be barred from the event by the county and your registration will not be refunded. Requirements are posted here: https://mailchi.mp/d5a816a5e27a/pwpn6d76n1
Please note that the track management of this event is managed by our friends at Speed Ventures and dictated by the track rules. We have no control over how the County and track management view or enforce rules.
TESLACORSA CHALLENGE SEASON 2 WILL NOT START AT LAGUNA:
TeslaCorsa Challenge Season 2 will likely start with an upcoming event at Buttonwillow. This is event is limited and is being offered on very short notice so we do not want to compromise attendees' ability to participate in Season 2.
IMPORTANT NOTES REGARDING SOCIAL DISTANCING PROTOCOLS TO PREVENT THE POTENTIAL SPREAD OF COVID-19
To maximize the safety of our participants we are implementing the following precautions for TeslaCorsa 10, in conjunction with our track logistics partner Speed Ventures:
1. Driver meeting and registration will be held outside.
2. Driver meetings for attendees with prior track experience may be taken via video provided by our partners at Speed Ventures.
3. Driver meetings for new drivers can be done in writing or via video if registered and requested with enough advance warning.
4. Download meetings following the first two track sessions will be as brief as possible and can be attended at a shouting distance.
5. You may put on your own wrist bands and pick up your own stickers and any other materials.
6. We require organizers and attendees to diligently wash their hands.
7. We require any ill organizers or attendees to stay home.
8. Any attendees that have come into contact with someone diagnosed with COVID-19 at any point are banned from the event, even if they have not tested positive themselves.
There are risks to participation in any event. While we personally consider this an extremely low-risk relative to other routine activities, just leaving the house at all introduces risks and each person must assess their own desire to attend.
WILL MY CAR INSURANCE COVER ME ON TRACK?
Most car insurance will not cover you on track. While we generally believe that this kind of event is very safe for you and your vehicle, you participate at your own risk. Some have been curious if supplemental insurance can be purchased and where. For those interested, you can contact: jb@opentrack.com
We have no relation to them, but Speed Ventures trusts them as a provider. It is generally accepted that regular insurance rarely covers risks on the race track so if you are looking for added coverage (with the assumption your insurance won't cover you on track) you can reach out to them to inquire about prices.
For what it is worth, most people historically take the risk and drive safely within their limits, but this is really up to personal preference and risk tolerance.
ANY MORE QUESTIONS? PLEASE EMAIL US SIGNUP@TESLACORSA.COM