Location
Fields at Madonna Inn
100 Madonna Road
San Luis Obispo, CA 93405
Sales Have Ended
Ticket sales have ended
Thank you for registering for this special event. We look forward to seeing you there!
The largest Tesla owners event in California — Presented by T Sportline
About this event
Teslas are the best performing and safest cars on the road. But the best thing about Teslas are the owners! So, with that in mind, we are hosting the second annual Tesla Owners California Takeover—the largest Tesla owners event in California this year!
Join us in San Luis Obispo at this family-friendly event that will feature:
Meet and greet with your favorite Tesla YouTubers and influencers
Test drive Arcimoto's all-electric fun utility vehicles (FUVs)
Educational seminars
Showcase and contest for the best customized Teslas
Assembly of rare and original Tesla Roadsters
Exhibitor expo of unique Tesla accessories, services, and products
Meet up with your local Tesla owners club
Activities for the kids include a Tesla coloring contest, bounce house, obstacle course, and Cyberquad rides
Entertainment including DJ, food trucks, and much more
Registration is per person (not per car). Children under 18 are FREE. Sorry, no refunds are allowed. A portion of the proceeds will go towards the 17 Strong charity.
Join our passionate community of Tesla enthusiasts at this can't miss event. REGISTER NOW!
Interested in sponsoring or exhibiting? Contact us here.
Want to volunteer? Sign up here.
Featured Influencers & YouTubers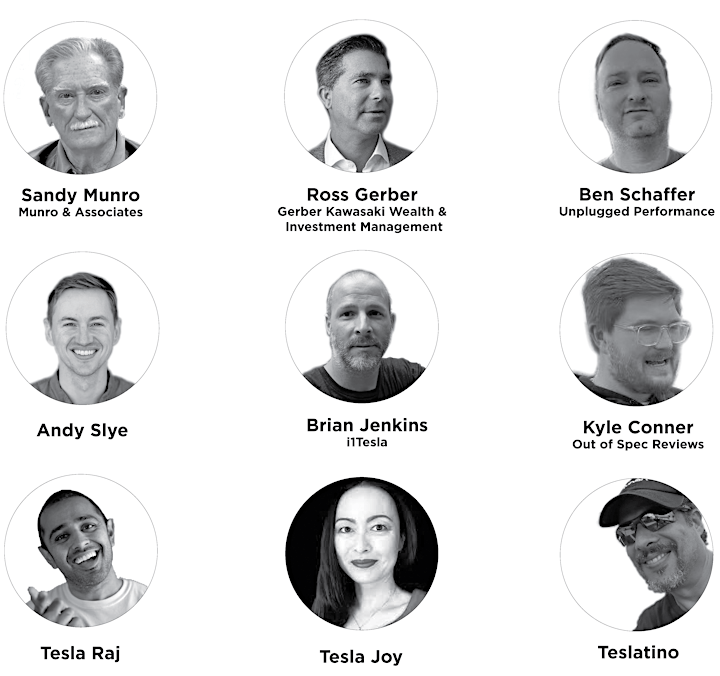 10:30 – 10:45 a.m. Welcome and Introductions
10:50 – 11:10 a.m. Tesla YouTube Panel: Kyle Conner / Brian Jenkins / Tesla Joy / Teslatino (Moderator: Tesla Raj)
11:15 – 11:35 a.m. $TSLA to the Moon: Ross Gerber (Moderator: John Stringer)
11:40 a.m. – 12:00 p.m. Tesla Performance: Ben Schaffer and Avi Fischer, Unplugged Performance (Moderator: John Stringer)
12:05 – 12:25 p.m. Tesla Progress: Past, Present & Future: Andy Slye (Moderator: Tesla Raj)
12:30 – 12:50 p.m. The Tesla Difference: Sandy Munro, Munro Associates (Moderator: Tesla Raj)
12:55 – 1:15 p.m. Charging Your Tesla with Your Home Solar: Harry King, ev.energy
1:20 – 1:40 p.m. How to Safely and Tastefully Customize Your Tesla: Brian Reese, T Sportline
1:45 – 2:10 p.m. Carbon-Neutral Racetracks, Metaverse, and DAO? Sam Rabinowitz & Arabian Prince, Drivyn
2:15– 2:40 p.m. Xcelerate to The Future: Financing, Leasing, and Extended Warranties for Your Tesla: Milad Davoodi, Xcelerate
2:45 – 3:10 p.m. Driving Real Change: Are EVs the Answer to Climate Change? Kashif Sohail and Rai Basharat, Caremiles
3:15 – 3:40 p.m. An Electrified Future: How Tenet Is Making Your Next EV More Affordable: Andreas Wallendahl, Tenet
BONUS: Get this cool limited-edition Cybertruck t-shirt when you register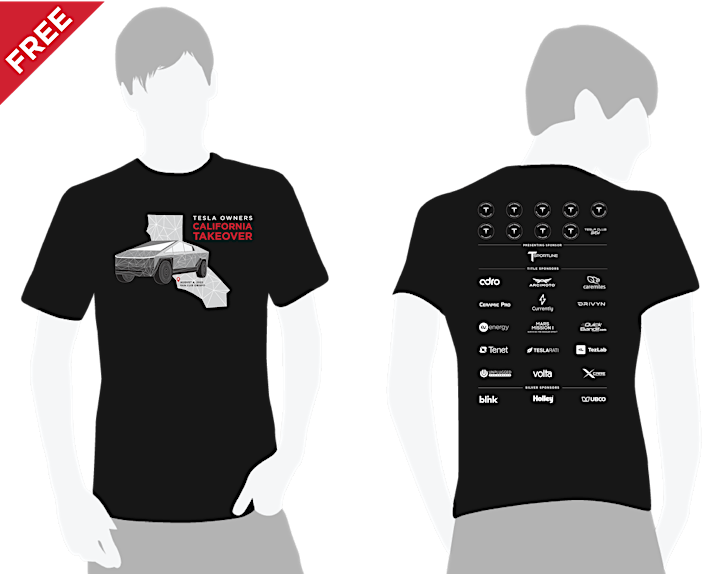 Special thanks to these participating Tesla owners clubs and sponsors