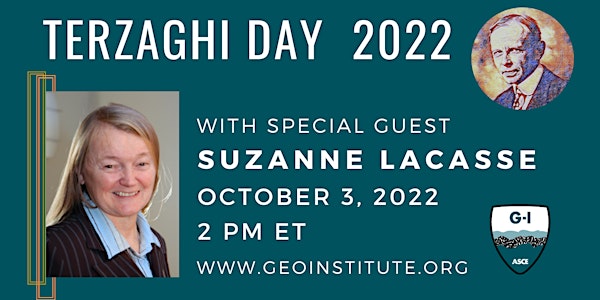 Terzaghi Day 2022 with special guest Suzanne Lacasse
Join the Geo-Institute for Terzaghi Day 2022 with Suzanne Lacasse!
About this event
Every year on or around the birthday of Karl von Terzaghi, the Geo-Institute hosts Terzaghi Day, a celebration of the life and legacy of Karl Terzaghi. This year, join us October 3 for a conversation with a special guest as they reflect on their career and how Karl Terzaghi's work influenced them.
Our guest for Terzaghi Day 2022 will be Geo-Legend Suzanne Lacasse of the Norwegian Geotechnical Institute!
Want to learn more about the Geo-Institute? We're a technical society with about 12,000 members - mostly geotechnical engineers and geologists. Visit geoinstitute.org to get to know us!
This event is sponsored by Geopier. When it comes to ground improvement, Geopier is the industry leader. With Geopier, you can design and build with confidence because we empower you to achieve cost-effective, proven, engineered solutions that meet your project pricing and schedule objectives. We work with you to develop a cost-efficient design that allows for higher design bearing pressures, greater settlement control, and reduced construction schedules. Celebrating 25 years of project excellence, we specialize in Rammed Aggregate Pier®, rigid inclusions, slope reinforcement and railway subgrade improvement solutions. There is no soil type or structure we cannot handle. For more information on Geopier solutions, call 800-371-7470, visit www.geopier.com, or email info@geopier.com.