Description
Wednesday January 17, 2018 at 6:30 PM
Raúl Gómez-Rojas, Music Director, Metropolitan Youth Symphony (MYS) — bilingual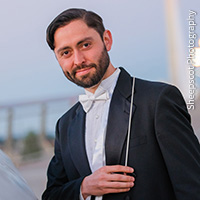 Raúl will be talking about his start in music and the transformative power of music education. He will also be performing some of his favorite Costa Rican songs on the violin.
Raúl Gómez-Rojas enjoys a busy schedule as an orchestral conductor, violinist/violist, clinician and public speaker. He is in his second season as Music Director of the Metropolitan Youth Symphony in Portland, OR, where he leads a team of 12 conductors and numerous coaches serving over 500 students in 14 ensembles including orchestras, bands and jazz groups. Originally from Costa Rica, Raúl served as a Conducting Fellow at the Aspen Music Festival (2011) and completed doctoral studies at Louisiana State University (2012). Since then, he has been in high demand by professional and youth orchestras around the US and Latin America.
---
ESPAÑOL
Raúl nos va a hablar sobre sus comienzos en la música clásica y el poder transformador de la educación musical. También tocará algunas de sus canciones favoritas de Costa Rica en el violín.
Raúl Gómez-Rojas se pasa muy ocupado con sus obligaciones de conductor de orquesta, violinista/violista, clínico y orador público. Está en su segunda temporada como director de música del Metropolitan Youth Symphony en Portland, OR, donde encabeza un equipo de 12 conductores y varios profesores sirviendo a más de 500 estudiantes en 14 conjuntos incluyendo orquestas, bandas y grupos de jazz. Originalmente de Costa Rica, Raúl funcionó como Conducting Fellow en el Aspen Music Festival (2011) y completó sus estudios de doctorado en la Louisiana State University (2012). Desde ese entonces, ha estado en gran demanda por orquestas profesionales y juveniles en los EEUU y América Latina.