Description
RESCHEDULED FROM FEBRUARY 21
Luna will read for us some of her poems and will talk about the different types of poetry, as well as the many ways to write, read, and recite it.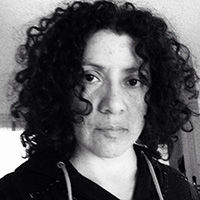 Luna was born in Mexico City, where she took up both technical and literary studies, with a preference for literature. She took literary writing workshops at the Museo Universitario del Chopo in Mexico City. She started writing poetry when she had no more tears to shed for the broken heard of a first love. Before moving to the United States, she traveled through some of the Mexican states, where her fondness for short lesbian stories was born.
A Porland, OR resident since 2000, she's a collaborator on KBOO radio's Buscando American and FA radio programs, and has been writing poetry for Voz Alta since 2014. She currently writes poetry, not to cry, instead to laugh at tears themselves and continues to write short stories.