Description
Lesslie will be talking about her experience pursuing Music Education as a Woman of Color and creating space for students to enjoy the best of two worlds! The evening will culminate with a performance of her high school advanced mariachi, Mariachi Tradición, as they prepare to attend the Tucson International Mariachi Conference.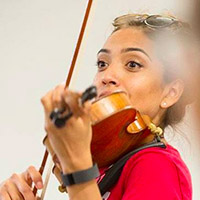 Lesslie Nunez started playing the violin at the age of 12, thanks to her music angel. She graduated from the University of Oregon School of Music and Dance with a Bachelor of Music in Music Education and has studied violin with Fritz Gearhart at the University of Oregon. She played with the University of Oregon Symphony, with the tango band Combustion Chamber Orchestra from Eugene, and Mariachi Centella from Medford, Oregon. She currently teaches string orchestra and mariachi at three schools in the Forest Grove School District, teaching grades 5-12.
---
Milagro's tertulia: Art + Conversation presents a diverse group of Latina/o artists with whom we will have a conversation about their craft. Each event is different, tailored to the specific artist.
tertulia is free, space is limited, and reservations are required. Light appetizers will be served, wine and beer for sale. Doors open at 6:00 PM.
This tertulia is sponsored by Oregon Health Insurance Marketplace