Description
Using moveable type and a cast iron press, the mujxeres of Letra Chueca Press will share details of their journey on opening the only bilingual letterpress print shop in town, the importance of printing in the digital age, and invite guests to pull their own prints.
The Mujxeres of Letra Chueca Press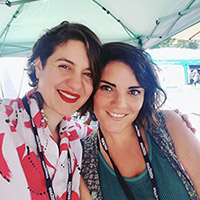 Daniela del Mar is a multicultural, latinx mutt. Raised in Nashville, Tennessee she trained as a painter desde muy chica. Before pursuing a degree en algo que le pareciera pretencioso, she hitchhiked across tres continentes in search of a time with no división entre la vida y el arte. Después de varios años de tramping, she finally settled in the lush Northwest to attend Lewis & Clark College donde se graduó with a BAS in Hispanoamerican Literature & Studio Art. In what seemed como otro rumbo, she began apprenticing at a local book arts center to study bookbinding and letterpress printing. En 2013, co-fundó Letra Chueca Press, the only imprenta bilingüe en Portland that makes work for a Spanish-speaking culture that supersedes borders.
Camila Araya Pérez is a graphic designer, printer, and an Art / Spanish preschool maestra from Chile. She came to Portland, Oregon searching for resources to empoderar her voz and decolonize lo que le enseñaron. Her creative practice takes form at the MFA Applied Craft + Design (PNCA + OCAC) where she found su alma: la imprenta de tipografía móvil, a traditional method of printing. This ancient technique allowed her to reconnect with her manos, corazón, and voice. Letterpress lit la ruta for her to find a compañerx with same ideas and hilos to embroider a kind of home in Portland. In 2014 they began the journey of Letra Chueca Press, a womxn-run, latinx letterpress print shop keeping traditional methods of printing and bookbinding alive.
---
Milagro's tertulia: Art + Conversation presents a diverse group of Latina/o artists with whom we will have a conversation about their craft. Each event is different, tailored to the specific artist.
tertulia is free, space is limited, and reservations are strongly encouraged. Snacks, wine, and beer for sale. Doors open at 6:00 PM, event begins promptly at 6:30 PM.