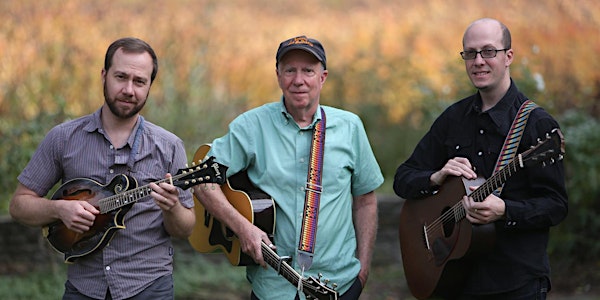 Terry Family/Bay Station/Garrett Pierce
Join us for an evening of folk/Americana music at The Back Room!
Date and time
Starts on Saturday, April 22 · 8pm PDT
Location
The Back Room 1984 Bonita Avenue Berkeley, CA 94704
Refund Policy
Contact the organizer to request a refund.
About this event
"This band has prevailing well-adorned musical swells in their seas....what they'll need one day is a guest spot with the likes of Alison Krauss–they have that dynamic." - John Apice, Americana Highways
Terry Family is composed of Jim and sons Clark and Graham (son James lives in Atlanta and joins when the stars align). The music comes from the complex experiences of life, the country, and the world. While the roots of American folk music are prevalent in their playing style, the music is fresh and unique, reflective of the family from which the music originates. Clark and Graham are multi-instrumentalists (violin, mandolin, bouzouki, guitar, vocals) while Jim writes the music and handles lead vocals while keeping the rhythm pulsing in the background with his acoustic guitar. As of March 2022, Terry Family completed a North American radio promotion of its new album Hometown Tragedies, including airplay on The Midnight Special, the highly respected syndicated radio program out of Chicago.
Bay Station is Alameda-based songwriter/musicians Kwame Copeland and Deborah Crooks collaborating with Steve Waters to create a diverse form of Americana music. Drawing on their literary and roots tendencies, their songs are imbued with aspects of Americana, blues, jazz, pop, rock and roll.
Garrett Pierce pens songs that are literary in style with well-worked lyrics and a voice that soars over dark, ethereal melodies.
He began writing for magazines and playing in rock bands as a teen in Los Angeles before permanently relocating to the Bay Area in the 2000's. His first full-length album, Like A Moth, was a stripped-down acoustic affair with guest appearances by notable songwriters Jolie Holland and Matt Bauer.
Garrett then traveled and toured Europe where he was honored to support Nick Cave in Greece. With a pocketful of songs, he returned to make All Masks (Crossbill Records) – a lush album recorded in the Gold Rush town of Columbia, CA featuring strings, wind instruments and a cast of over ten musicians.
Garrett's following record, City of Sand (Narnack Records), was largely biographical, commenting on his dizzying relationship with the city of San Francisco and growing desire to leave for more natural settings. During this period, Garrett began splitting his time between Sonoma County and San Francisco – playing clubs throughout the Bay Area at night and working in the wine industry during the day.
Garrett 's fourth record, titled Dusk, was released on Crossbill Records in 2017 and was an ode to his arrival in Sonoma County. The album was Pierce's first where he solely produced and played most of the instruments. Subsequent videos for songs "One Last Breath" and "Distant Thought" supported the release.
His newest LP, Eyes Wide In The Fire, is his most intense effort to date. After nearly losing his home in the fires of 2017, Pierce's father lost his home this past year. This record delves deep into the loss and recovery from both the fires, and the madness of the world we now find ourselves in.
Tickets are $20 general admission. Children under 12 are free. Advance tickets are available at the link below, or you may purchase your tickets at the door the night of the show.
Doors open one half hour before show time. We accept cash or Venmo only at the door.
The Back Room is an all-ages, BYOB (for those 21+) space, dedicated to (mostly) acoustic music of all kinds. You are welcome to bring your own food and adult beverages with no additional corkage fee. The venue is ADA accessible. If you need more information or have any questions, please call us: #510-381-1997.
To join our mailing list, please click here. Thank you for your support!
Please note: Although masks are no longer required, we strongly encourage their use to keep everyone safe in our intimate space.
About the organizer
Local musician Sam Rudin owns and operates The Back Room in downtown Berkeley, which honors his vision to recreate the cozy ambience of the original Freight & Salvage. Rudin describes his venture as a small space (100 people max), with great acoustics and comfortable seating, that showcases the musicians with respect and appreciation. This is a BYOB (21+), all ages listening space dedicated to (mostly) acoustic music of all kinds. For more information, please visit The Back Room's website.