About this Event
Legendary Texan artist and Lubbock-native Terry Allen zeroes in by branching out. Highly regarded throughout music and art crowds alike, Allen confronts his ideas through music, visual art, theater and performance, creating full-circle narratives that end at the start (although the reverse is often times also true). At the age of 17, Allen and his wife of 56 years, actor and writer Jo Harvey Allen, left Lubbock for L.A. in a decision made by coin toss, embarking on a move that would lay the foundation of their artistic lives. For two special nights, Allen returns to Los Angeles to perform a suite of new, unreleased songs lauded as "a revelation" and "the best of the 75-year-old songwriter's career" (Peter Blackstock, Austin360), followed by a set of his "greatest missed hits" from the iconic art-country albums and cult classics "Juarez" and "Lubbock (on everything)" (both recently reissued on vinyl by Paradise of Bachelors). Backed by old friends and new, Allen will be joined by Richard Bowden and Davis McLarty, members of his longtime band of collaborators the "Panhandle Mystery Band," along with his son Bukka Allen and other very special guests.
"A good song with a story is like a film to me," says Allen. "It's a very visual experience." A musician and an artist in the same breath, Allen's songs are visually rich and magnificently illustrative. His 1975 album "Juarez," praised by Kurt Vile as "a masterpiece from the '70s," is a surrealist jaunt across the America West and its southern border, that traces two couples whose paths ultimately converge in a violent clash. Extolled as one of the most influential country records of all time, "Lubbock (on everything)" (1979) conjures the endless flat sprawl of the West Texas landscape, each song implicitly laced with a sly, sardonic humor that David Byrne described as "tender, loving sarcasm." "Terry is a storyteller, after all," says Byrne. "... and the cadence and timing of the words cue the punchlines."
Allen's latest songs are infused with the same imagination, storytelling, humor, wit and musicianship that have been the benchmark of his long, multifarious career – but, with a greater sense of clarity and self-reflection. "I think that's what art does," Allen says. "It takes you into these weird circles back into yourself, but all different, and it also takes you places you never in a million years thought you'd ever go."
The two-night stand at Frogtown's Zebulon on July 18 and 19 is co-presented by L.A. Louver gallery in Venice Beach, where an exhibition of Allen's drawings from the 1960s to the present will be on view June 26 – August 24, 2019. The exhibition surveys the central role of drawing in the development of Allen's ideas and features original concept sketches and never-before-seen works on paper from Juarez, Paradise, The Ring, Youth in Asia, Dugout, Ghost Ship Rodez and more. Info at lalouver.com/allen
Seated tickets are first come first serve.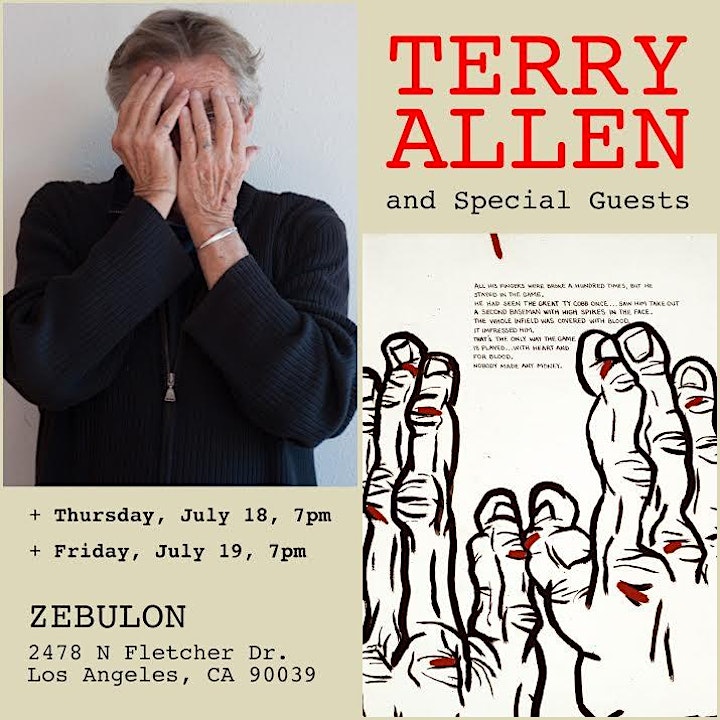 Performers
Date and Time
Location
Refund Policy