Terrorism and Global Security 2010: Is the U.S. Winning the War? (Students Registration)

Wednesday, December 1, 2010 from 8:00 AM to 5:00 PM (EST)
Event Details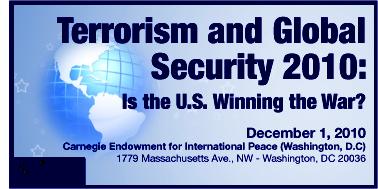 The issue of terrorism continues to dominate world affairs and drive how governments act to secure        individuals, vital infrastructure, and even our virtual world. But terrorism has grown even beyond security and now intertwines with many other issues, including civil liberties, economics, and popular culture. Although terrorism is often viewed as an organized crime by law enforcement, this interpretation has many unresolved legal issues.

In order to address these issues, policymakers require sound policies based upon reasoned and practical advice. To this end, the American Security Initiative invites scholars, practitioners, and government officials to a two-day conference in Washington, DC to identify the problems of terrorism and what the government could and should be doing as we approach the year 2011.
Keynote Speaker:
Jeffrey Addicott, Director of Center for Terrorism Law,
St. Mary's University School of Law (San Antonio, TX).
--------------------------------------------------
Terrorism and Global Security 2010: Is the U.S. Winning the War?
 December 1, 2010
Carnegie Endowment for International Peace
1779 Massachusetts Ave., NW
Washington, DC 20036
Tel: 202-483-7600
Conference Program
Wednesday, December 1, 2010*
8:00 – 8:40am: Registration and Breakfast
8:40 – 9:00am: Opening Remarks and Welcome
9:00 – 10:00 am: Deterrence and Containment as Potential Policies
Mr. Andreas Herberg-Rothe (University of Applied Sciences-Fulda/Humboldt University of Berlin) "A New Containment Policy: Limitation of War and Violence in World Society"
Ms. Patricia Blocksome (Kansas State University, KS) – "Gender as a Tactic and Strategy"
Mr. Stanley Kober (Cato Institute) – "The Dilemma of War"
10:00-11:00 am: Evolutionary Methods to Understanding Currents Terrorism
Mr. Robert Merz (Booz Allen Hamilton) – "Propaganda, the Terrorists Weapon of Choice"
Mr. Anshul Jain (Boston University, MA) – "An Interdisciplinary Security Coordination"
Dr. Saskia Sassen (Columbia University, NY) – "When the City Itself Becomes a Technology of War"
11:00 - 11:10 am:  Break
11:10 – 11:50pm: Mr. Daniel Benjamin (US State Department) "A State Department View on Global Security and the U.S. Role" (Invited Speaker)
11:50pm – 1:00pm Lunch --- Continues throughout Keynote Speech
11:50 am – 1:00pm – Keynote Speaker, Dr. Jeffrey Addicott
                                      (Director, Center for Terrorism Law - St. Mary's School of Law, TX)
1: 00– 2:00 pm:   Pragmatic Approaches to Combating Terror
Ms. Emma Leonard (University of St. Andrews, UK) – "An African Terrorist Group? A Case of the Lord's Resistance Army"
Ms. Margaret Keiley-Listermann (Georgia Gwinett College, GA) – "One Size Does Not Fit All: The Intersection of Social Network Analysis and Conflict Resolution Evaluation"
                                                                            3rd Presenter (TBD)
2:00pm – 2:10pm: Break
2:10pm – 3:10pm: An International Global Security Role?
Dr. Golnoosh Hakimdavar (Cornell University/University of Turin) – "UN Sanctions: A Synthesis of Strategic Factors Affecting Implementation"
Ms. Yuliya Zabyelina (University of Trento, Italy) – "Transnational Security: Are States Capable? Cases of Transnational Crime at the U.S.-Mexico Border"
Dr. Andreas Herberg-Rothe (University of Applied Sciences-Fulda/Humboldt University of Berlin) – "The Emergence of World Order Conflicts"
3:10pm – 4:10pm:  The U.S. Response to Global Security and Terrorism
Ms. Sunny Lee (Institute for Korea-US Political Development) – "How to Defeat North Korea's Military Attacks for Global Security: The U.S. Winning Policy"
Mr. Mark Silinsky (Tulane University, LA) – "Islamism: The Threat for Today and Tomorrow to the US Armed Forces"
3rd Presenter (TBD)
4:10pm – 4:20pm: Closing Remarks and Final Announcement
4:20pm – 5:00pm: Reception (TBD)
*Program Subject to Changes
More infos at www.americansecurityinitiative.org
Have questions about Terrorism and Global Security 2010: Is the U.S. Winning the War? (Students Registration)?
Contact Ambivium Institute
When & Where

Carnegie Endowment for International Peace
1779 Massachusetts Ave., NW
Washington, DC 20036


Wednesday, December 1, 2010 from 8:00 AM to 5:00 PM (EST)
Add to my calendar
Organizer
Ambivium Institute
The Ambivium Institute on Security and Cooperation is an academic and research-oriented institute that will gather individuals from both the academic and leadership circles to engage in small-scale and large-scale research on security issues of domestic and global importance.

To further the Institute goals, the institute will work on organizing workshops, seminars, and conferences around issues such as:
International and Domestic Threats
Government Transformation
Regional Security
International Immigration and Migration
Financial, Environmental, and Technological Threats