Join us for a live, online, discussion w/Special Guests & a tasting of 3 zinfandels from Sonoma County's award-winning Pezzi King Vineyards.
About this Event
Terrific Tastings: Winning Zins
Sun, Nov 1
2-3:30pm (PST), 3-4:30pm (MST), 4-5:30pm (CST), 5-6:30pm (EST) Note: We return to "standard time" starting at 2:00am the early morning of this day.
on Zoom
Partnering with our friends at the award-winning Pezzi King Vineyards, we are delighted to create a fun, interesting & delicious and specially-discounted guided wine tasting.
If we can't take you to the heart of the Sonoma County wine country, let us bring it to you!
Our specially-curated collection of three 750ml-bottles of 2018 zinfandels includes one from each of three different vineyard designations: Bacigalupi, Hales, and Harris Kratka.
Ticket w/Wine Collection sales just extended to noon (PST) on:
Mon, Oct 12 for states not listed below.
Fri, Oct 23 for addresses in CA, ID, OR, MT, ND, NV, WA, WY.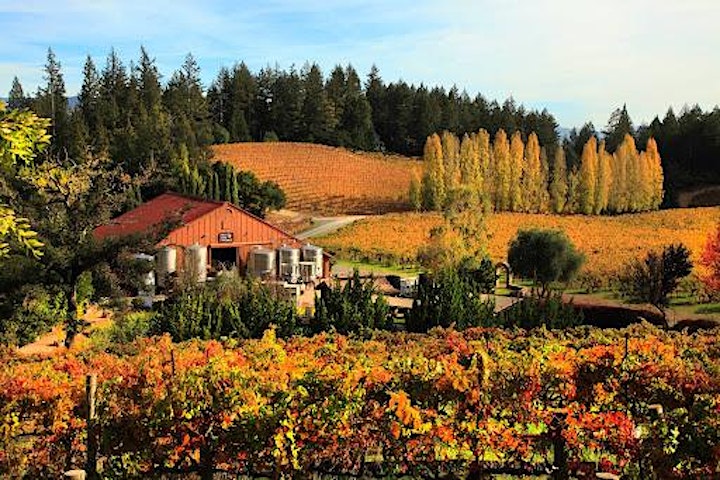 The Online Tasting Event includes:
Discussion of the Sonoma County growing regions (AVAs) with special attention to the three regions of the wines being tasted;
Live tasting & discussion of each wine;
Cheese & food pairing recommendations; and
Fun banter with our Special Guests
Come for the wines; stay for the fun!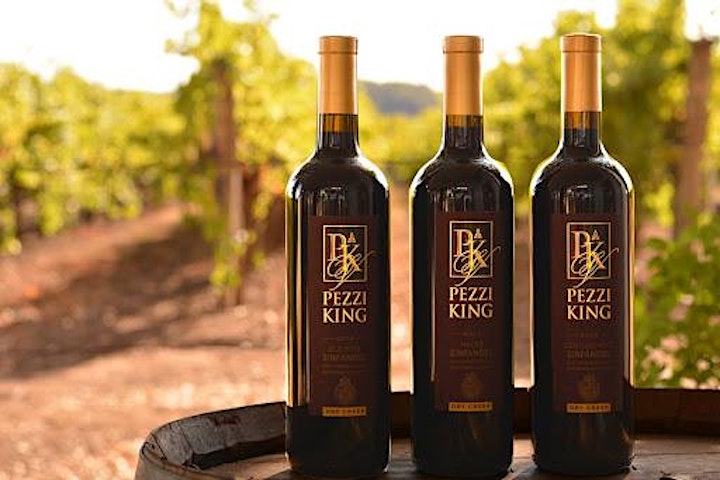 The Wines:
Be among the first to enjoy some of the recently-released and vintage of Pezzi King zinfandels before they are entered into competitions by this award-winning winery!
2018 Bacigalupi Zinfandel - Russian River Valley, 150-ft elevation, southwestern facing; 100% Zinfandel - 8 Barrels Produced (re: only 200 cases of wine)
2018 Hales Zinfandel - Dry Creek Valley, 400-ft elevation, southwestern facing;100% Zinfandel - 16 Barrels Produced (re: only 400 cases of wine)
2018 Harris Kratka Zinfandel - Alexander Valley, 300-ft elevation, southwestern facing; 90% Zinfandel, 6% Carignan & 4% Petite Sirah - 8 Barrels Produced (re: only 200 cases of wine)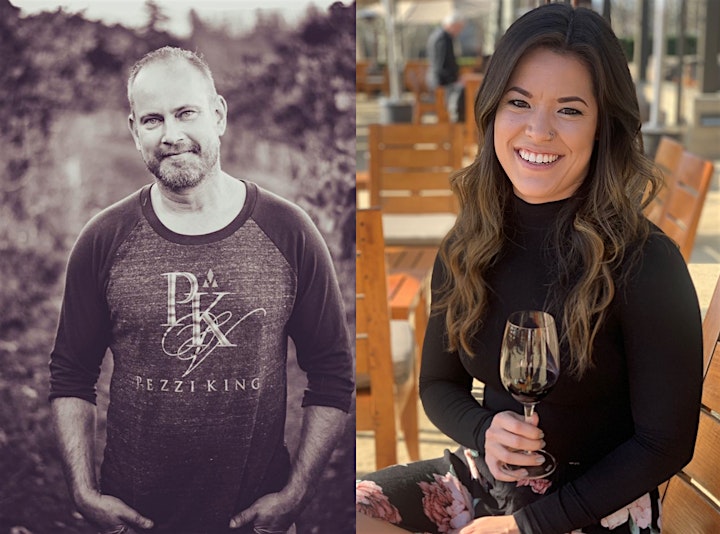 Our Special Guests: Chris Barrett & Jamie Watanabe
Chris Barrett
Born and raised in Sonoma County, Chris Barrett first learned winemaking from his father in their garage. After earning his degree in biology from California State University, Chico, Barrett returned to Sonoma and quickly established himself as an award-winning winemaker. Pezzi King winemaker since 2007, Barrett has won 6 Sweepstakes awards, including a rare "Double Sweepstakes" award at the 2012 Sonoma County Harvest Fair. He won the sweepstakes at the 2015 San Francisco Chronicle Wine Competition and has accumulated numerous Double Gold and Gold medals, as well as 90+ Robert Parker and Wine Enthusiast ratings on multiple varietals & vintages.
Jamie Watanabe
Born and raised in Sonoma County and introduced to the wine industry about four years ago, Jamie Watanabe has become so passionate about the field that she pursued studies and is about to complete an Associate Degree in Wine Hospitality and a second Associate Degree in Wine Marketing from Santa Rosa Junior College. After graduation, she plans to continue studies to become a Certified Specialist of Wine. Part of the Pezzi King family since 2017, Watanabe worked her way up to become the Assistant Tasting Room Manager.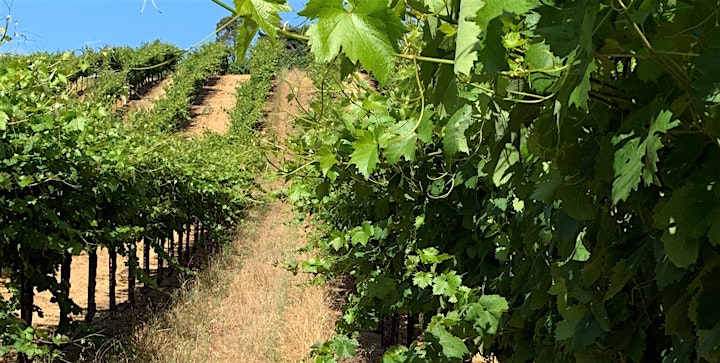 Tickets:
Tasting & Wine Collection ticket* ($132, regularly $172 - almost a 25% saving!) includes: 1) Zoom tasting event on one device, 2) Three specially-discounted bottles of wine (as listed above), 3) Taxes, 4) Packing & shipping. Sales of these tickets close at noon (PST) on the dates listed above.
Tasting Only ticket* ($15) are available for those sharing a single wine collection with another person and want to attend the tasting separately, on a different device. Sales of these tickets closes on noon (PST) on Thu, Oct 29th.
Unfortunately, shipping is not available to the following states: IL, KY, MI, MS, UT.
Ticket/Shipping Notes:
Birthday information is required for the purchase of alcohol/wine. Buyers must be at least 21 years of age.
Wine can be shipped only to a home or office address. Shipments cannot be delivered to post office boxes. Please double-check that your address information is correct before submitting it.
The Fine Print:
Fortunately, we've had very few issues, but just to be clear...
Getting Your Zoom "Event Link":
Event Registration: Whether or not already registered with a Zoom account, ticket buyers to this event will need to complete a Zoom event registration. The morning (PST) of the day prior to the event, an email with an event registration link will be emailed to all ticket buyers via Eventbrite. Tickets buyers must use the link to register (at no additional cost) for the actual Zoom event online and are encouraged to do so immediately upon receipt of the email. It's simple: one click, add your name & email, one more click - done!
Name & Email: The name & email used for the Eventbrite ticket purchase must be used for the Zoom event registration. Using a different name or email may prevent registration recognition and, therefore, prevent the buyer from entering the event.
Event Link: After submitting the Zoom event registration, Zoom will automatically send a unique link to the buyer to be used to join the virtual tasting.
Troubleshooting: We will do our best to remedy any issues. Ticket buyers who have completed Zoom event registration, but NOT received the Zoom event link should contact James (see below) before 4:00pm (PST) on the day prior to the event to allow proper time to find a solution.
Late Troubleshooting: We will try our best to - but cannot guarantee - help with Zoom event registration/links to guests contacting James after 4:00pm (PST) on the day prior to the event.
Live Only: In agreement with our guides, artists, instructors, special guests, etc., events are not recorded. Make-up sessions are unavailable. Credit/refund is not given for missed events.
Liability: While we will do our best to remedy any issues, The Osher Marin JCC & its Program Partners cannot be held responsible for 1) issues related to Eventbrite or Zoom, 2) ticket buyers not following the instructions above, nor 3) packing, shipping, or deliver services of food/beverages not received in time for tasting events.
Info Share: By purchasing a ticket, you consent to have your contact & shipping information shared with and used by our product partner's database.
Don't ya just hate "the fine print?!!"
Questions? Email James at jsokol@marinjcc.org.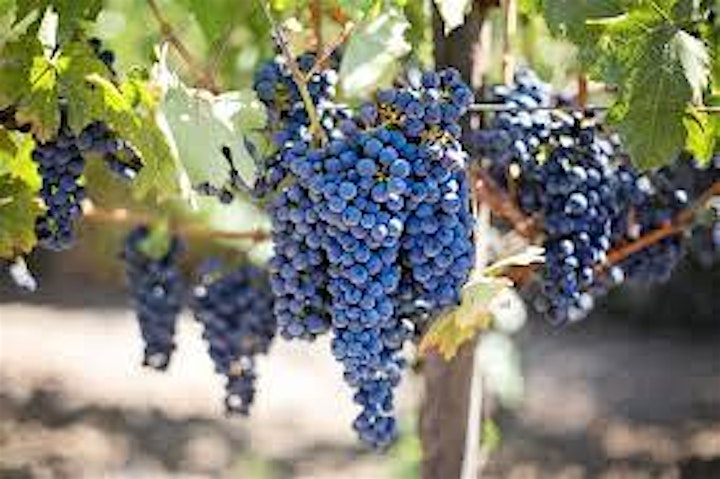 Terrific Tastings are created by the Osher Marin JCC (San Rafael, CA) and offered by the National JCC Adult & Senior Alliance. See below for a full list of Alliance Partners.
ALL ARE WELCOME to join in our activities! JCC members, non-members, those who live near or far, people of all backgrounds, faiths, ethnicities, hair styles, fashion choices, chocolate preferences, etc. "The more the merrier!"