Terrell Ghost Walk Tickets 2016
Terrell Ghost Walk Tickets 2016
Sat, November 5, 2016, 8:00 PM – 10:00 PM CDT
Description
Please note that the meeting place for the Terrell Ghost Walk has changed. We now meet at the Terrell Paranormal Headquarters (formerly S.P.I.R.I.T.) located at 106 East Moore Avenue, Terrell, TX 75160.
We are in Morgan Miller's Farmers Insurance in the back office. You may come through the front entrance (then proceed through towards the back to our office) or through the back entrance direct to our office. Our back door is directly behind the blue dumpster (classy, huh?) Enter the white gate, into the courtyard and you will find our door at the end of the ramp.
Someone is there to begin check in as early as 7 PM. Visit our website for exact details at TerrellGhostWalk.Com or TerrellParanormal.Com. 
We have new things in store for you this year! If you took the tour last year you will hear the newer and more recent stories, learn more about paranormal investigation techniques, get to use our new meters, and get some great photo ops at two haunted locations. A whole new experience is in store for you!
Come and explore the Terrell Paranormal Headquarters in the old haunted, historic Brin Building on Moore Avenue. Bring your digital cameras because the ghostly activity there is often documented on film. 
Come join us on a 2-hour tour to hear the true stories of the things that go bump in the night in one of the most undiscovered and haunted cities in Texas. Fueled by the train that passes through, sitting in the middle of two parralell lay lines, and a city that the British Flight soldiers couldn't wait to get back to the town is full of paranormal stories. 
When and Where
Starting February 27th the tour will meet every Saturday night at 8 PM at 106 East Moore Avenue, just inside of Morgan Miller Farmers Insurance. No reservations are required. Please check in a few minutes early. We start check in at 7:00. 

Tickets for the Terrell Ghost Walk
Tickets for the tour are $20 per person. Tickets may be purchased at the walk itself or for a discounted rate on our website at terrellghostwalk.com or terrellparanormal.com.. All forms of payment are accepted. Group discounts are available for groups of 6 or more. Contact us for details on group rates at 972-546-7536 or at investigators@terrellparanormal.com. You can also purchase by phone at 972-546-7536 during normal business hours. If we don't answer, please leave us a message and we will get back to you.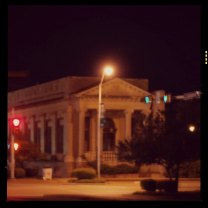 Parking
There is plenty of side street, back street and front street parking available along Moore Avenue. 
Weather
The walk meets rain or shine but will be cancelled if there are dangerous weather warnings issued during the time of the tour in Kaufman county. Follow us on Facebook or Twitter for details of cancelation. You can also call the office and press the prompt for indicated for weather updates and cancellations.
Other Details
This is a walking tour so we recommend that you come wearing comfortable shoes. The tour covers approximately 1/4 mile of sidewalked area. The tour is wheelchair accessible. 

Be sure to JOIN OUR EMAIL LIST to stay up-to-date on ticket specials and new events.