Description
SPECIAL GHOST HUNTING PRESENTATION THIS SATURDAY
Join us this Saturday, March 19th at 6 PM until 7:30 PM, for a special presentation by S.P.I.R.I.T. and it's Paranormal Investigators to hear more about what we do, how we do it, see some evidence, and ask us anything you like about paranormal investigation. This is a free event and, if you like, you may join us afterward for the Terrell Ghost Walk. 
PLEASE NOTE THAT THIS WILL BE HELD AT THE SPIRIT OFFICE AT 106 East Moore Avenue, Terrell, TX 75160: Located behind Morgan Miller Farmer's Insurance, please park in the back.
We have new things in store for you this year! If you took the tour last year you will hear the newer and more recent stories, learn more about paranormal investigation techniques, get to use our new meters, and get some great photo ops at two haunted locations. A whole new experience is in store for you!
Come join us on a 2-hour tour to hear the true stories of the things that go bump in the night in one of the most undiscovered and haunted cities in Texas. Fueled by the train that passes through, sitting in the middle of two parralell lay lines, and a city that the British Flight soldiers couldn't wait to get back to the town is full of paranormal stories. 
When and Where
Starting February 27th the tour will meet every Saturday night at 8 PM at 209 West Moore Avenue, outside of the Iris Theatre and Books and Crannies. No reservations are required. Please check in a few minutes early. We set up at 7:30. 

Tickets for the Terrell Ghost Walk
Tickets for the tour are $20 per person. Tickets may be purchased at the walk itself. All forms of payment are available. Please arrive about 15 minutes before 8 PM to check in. Group discounts are available for groups of 6 or more. Contact us for details on group rates at 972-546-7536 or at spiritresearchteam@gmail.com. Tickets can also be purchased at the SPIRIT office, located at 106 East Moore Avenue, Terrell, 75160. We are located in the back of Morgan Miller's Farmer's Insurance office. You can also purchase by phone at 972-546-7536 during normal business hours. If we don't answer, please leave us a message and we will get back to you.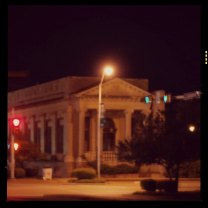 Parking
There is plenty of side street and front street parking available along Moore Avenue. We ask that you do not park in the American National Bank parking lot. You may also use the back lot parking behind the businesses on the South side of Moore Avenue.
Weather
The walk meets rain or shine but will be cancelled if there are dangerous weather warnings issued. Follow us on Facebook or visit our website for updates.
Other Details
This is a walking tour so we recommend that you come wearing comfortable shoes. The tour covers approximately 1/4 mile of sidewalked area. The tour is wheelchair accessible. Bring your digital cameras to take photos of the in the SPIRIT headquarters that has stories of its own. 

Don't Miss Amy Scott, Medium on March 26th
Don't miss out on another amazing evening of reconnecting with Amy Scott, Medium on March 26 at the SPIRIT Headquarters (located at Morgan Miller's Farmers Agency at 106 East Moore Avenue, Terrell, TX 75160)
Advance reservations are required for this event and it sells out quickly.