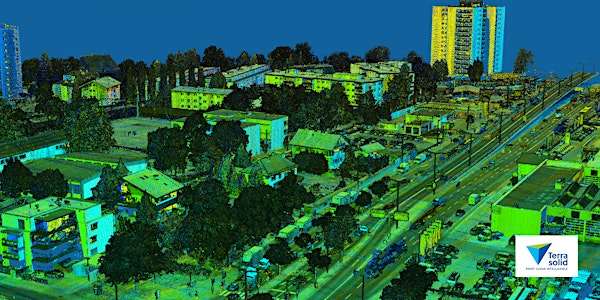 Terrasolid International Training Event 2023, Dublin
Learn and discover the latest software updates and new data processing workflows available for airborne, mobile and UAV point cloud data.
When and where
Location
Camden Court Hotel Camden Street 560009 Dublin Ireland
Refund Policy
Refunds up to 30 days before event
Eventbrite's fee is nonrefundable.
About this event
2 days 7 hours

Mobile eTicket
Terrasolid Ltd., the global market leader in point cloud and image processing software, proudly invites all users and prospects to register and participate at the 2023 TerraScan Global User Event, a 3 consecutive day session hosted on-site in Dublin.
Detailed Agenda | All times listed in GMT
14 MAR - Morning
9:00 - 12:00: Opening and New Features Presentations
Presentations and demos on new features in TerraScan, TerraPhoto, TerraMatch, TerraModeler and TerraStereo.
14 MAR - Afternoon
13:00 - 16:30: Spatix Setup and Introduction to DJI Wizard
Demonstration of Spatix as a CAD platform for Terrasolid software
Introduction to Wizard for processing DJI Zenmuse L1 data
13:00 - 16:30: LiDAR Data Quality Reports
Examples of Quality Assurance of LiDAR point clouds:
Point density
Intensity and number of echoes
Line mismatch
Geometric accuracy
13:00 - 16:30: Corridor Project Setup
Organization of layers
Define classes
Scanner system definition
Data import (Trimble MX9)
Manage trajectories
Adjust to geoid tool
Define project and blocks
Classification to long range, high, low and isolated points
15 MAR - Morning
9:00 - 12:00: Mapping using UAV Data
Classification and vectorization of above ground objects (trees, buildings, powerlines...)
Export of results and visualization QGIS
9:00 - 12:00: 3D Building Vectorization and Texturing 1
Preparing airborne point cloud and five camera image mission
Running automatic building vectorization
Manual editing of 3D building vector models
Session may include additional new feature content
9:00 - 12:00: Matching of Drive Passes
Defining signal markers - known XYZ tie points
Defining tie lines - Find paint corners
Estimation of correction
Position / Filter bad
Applying correction to tie lines, point cloud and trajectories
15 MAR - Afternoon
13:00 - 16:30: Top Surface Orthophoto and Point Cloud Coloring
Classifying top surface
Producing true ortho like top surface ortho
Advanced point cloud coloring
Trainingn will be run using dense UAV point cloud and images
13:00 - 16:30: 3D Building Vectorization and Texturing 2
Manual editing of 3D building vector models
Texturing building roofs and walls
Writing textured building models to 3DCityDB
Session may include additional new feature content
13:00 - 16:30: MLS Data - Road Classification and Quality Reports
Overlap, hard surface and asphalt classification
Surface slop
Examples of Quality Assurance of MLS LiDAR point clouds:
- Point density
- Intensity
- Line mismatch
16 MAR - Morning
9:00 - 12:00: Feature Extraction and End Products using DJI L1 Data
Digital elevation model (DEM) generation with TerraScan and TerraModeler
Elevation profile generation
Basic feature digitization from point cloud
Building vectorization
9:00 - 12:00: Hi-Res Point Clouds in TerraStereo
Requirements for using Hi-Res Point Clouds
Preparing test dataset and a quick inspection of the results
Using Hi-Res point cloud as a direct preview of orthoimages
CAD plugins (Spatix/Bentley CE) and using them for viewing and digitizing
Note! You need a computer with a reasonably new NVIDIA GPU with minimum 8GB RAM to participate in this training. Recommendation is an RTX or RTX A GPU with 12 GB memory or more.
The training will be done in mono mode only
9:00 - 12:00: Vectorizing Paint Lines and Paint Markings
Vectorization of paint lines and paint markings on a road
Reporting total paint surface area and paint thickness
Training covers new tools for paint markings and new improved toolset for paint lines
16 MAR - Afternoon
13:00 - 16:30: Point Cloud Data Fusion
Demo of adjusting point clouds from different sources
Partner or hardware vendor presentations
-------------------------
IMPORTANT INFORMATION
Registration for a single session is possible. For more information please visit News & Training at terrasolid.com
Registration fee includes together with the participation, 2 coffee breaks and a lunch only.
Participants should bring their own notebook computers. Minimum memory requirement is 16GB RAM – recommended configuration is 32GB RAM.
You can run the training steps on Connect Edition Bentley software e.g. Microstation or on Spatix CAD. If you run on Bentley, you can request an evaluation from Terrasolid at sales@terrasolid.com. We will provide installation of Terra Applications together with temporary licenses.
If you run on Spatix, you don't need a license of your own. We will provide a setup package for Spatix, Terra Applications and required temporary licenses.