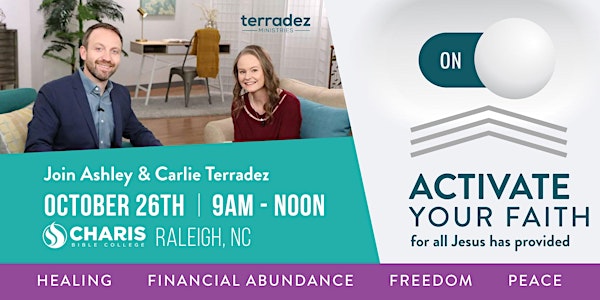 Terradez at Charis Raleigh
Activate Your Faith! Join Ashley and Carlie Terradez on October 26th at Charis Raleigh! You will be empowered in all the promises of God!
When and where
Location
Charis Raleigh (inside the American Institute of Healthcare and Fitness) 8300 Health Park Entrance E Raleigh, NC 27615
About this event
Join Ashley and Carlie Terradez at Charis Bible College Raleigh on Saturday, October 26th from 9:00 am to 12:00 pm EST!. Ashley and Carlie have experienced storms of all kinds, yet they have learned how to trust in God, to hear His voice, and overcome through them all. Come expecting to hear the Word of God taught with humor and these real-life examples of victory! Hear from God, and learn to receive everything He provided for you through Jesus' sacrifice. This event is free and open to the public, so come join us for a remarkable time of growth, worship and fellowship!
Charis Raleigh
American Institute of Healthcare and Fitness
8300 Health Park
Entrance E
Raleigh, NC 27615