About this Event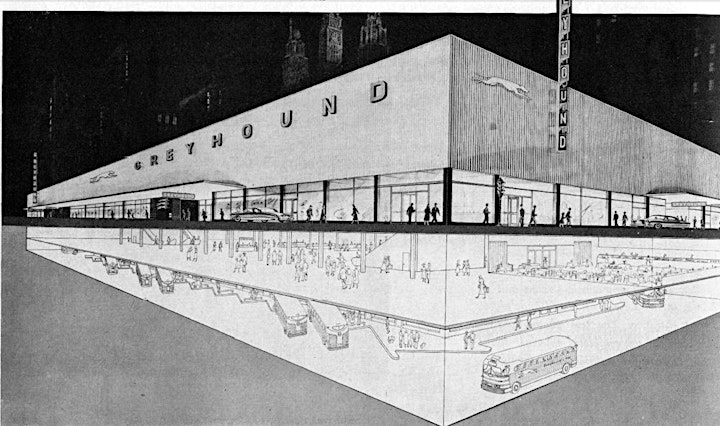 Join the Chaddick Institute for Metropolitan Development at DePaul University and Forgotten Chicago as we celebrate the fifth anniversary of the Terminal Town festival and Chicago's role as one of the world's premier passenger transportation centers on Sunday, October 27, 2019! This all-new, three-hour walking tour will explore extant and former sites of some of Chicago's most important transportation terminals.
Starting just north of the Chicago River, we will visit early locations of Chicago & North Western Railway's terminals, including the possible location of a forgotten 1948 time capsule marking the railroad's centennial. We will also be exploring the current CNW station (Ogilvie Transportation Center), the revitalized Union Station, the site of the former Loop Greyhound station (1954-1989), the former site of Grand Central Terminal, and much more!
The tour will start inside the Merchandise Mart food court on the second level, near the CTA Ventra vending machines, and end at historic Dearborn Station, Chicago's oldest remaining former Loop railroad terminal, with the opportunity to speak with Joe Schwieterman, Ph.D., author of Terminal Town and Director of the Chaddick Institute! Attendees have the option of purchasing the all-color Terminal Town book at a special price.
When? Sunday, October 27, 2019 at 11:00 a.m. - 2 p.m. Optional mixer at Bar Louie following the tour at Dearborn Station, 47 W. Polk, from 2:15 p.m. to 3:30 p.m.
How Long? About three hours and about three miles of walking.
Cost? $20. To purchase tickets, click on the green "Tickets" button above.
Bonus offer: As part of the anniversary celebration, we'll apply our $20 tour fee to the purchase of the book, Terminal Town: An Illustrated Guide to Chicago's Airports, Bus Depots, Train Stations and Steamship Landings: 1939 - Present. This brings the price down to just $7.95 (regular price $27.95)! If you would like to order the widely acclaimed book (300 pages, 225 color photos and map), click here. We will also have copies of the book available for purchase after the tour and at the mixer.
Full ticket refunds offered until Tuesday, October 22 at 2 p.m. All tickets must be purchased before the morning of the tour, no walk ups!
Questions? Or would you like to just attend the mixer? Simply email chaddick@depaul.edu or call 312.362.5732.
The Chaddick Institute team