This Day will Birth a Eve Day Fest , Griffin has included some of Chicago's most amazing Female Artist & is Hosted by Comedian Mattie J !
About this event
Welcome to the Ultimate Carvinia!! "The Rhythm of a Woman"
When purchasing your tier seating please scroll down the select the Artist you want to support. YOU MUST SELECT A TIER BEFORE SELECTING YOUR ARTISTS IN ORDER FOR THEM TO GET CREDIT.
This event, Griffin has included some of Chicago's most amazing staples of the vocal community Female Artist and will be hosted by Southern Comedian Mattie J & The Day Includes the Awesome Lynne Jordan, from (Corky Siegel's Chamber Blues to Recording artist Nanette Frank, & Chicago Hitmaker LaTanya Hughes "If You Play your cards right", Chicago's own Kenyotta Stewart, The Outstanding Rashada Dawn, The New Spoken word sensation Toine, and More…..
Support Chicago's Beautiful Musical Divas on a Day fest of Music. This day will birth the beauty of feminine love for Rhythms, Lyrics, Soul, and Sensations of dancing notes around the ears of all who experience this cosmic affair. Grab your Car or your SUV and pack it up with goodies and set your table next to your car and enjoy a day of LOVE, LOVE, LOVE! There will be food vendors available if you would prefer purchasing food as well as drinks
Early Bird Tickets are available for $100.00 Until June 24th.
General Car or SUV Ticket are $125, *UP TO 4 PEOPLE PER CAR* (You receive a space for your car and a space for your table and chairs if you want to chill outside your car.)
Purple Tier you may grab your parking space for $75.00 *UP TO 4 PEOPLE PER CAR*(You receive a space for your car and a space for your table and chairs if you want to chill outside your car.)
You may also grab a seat at the VIP tables close to the stage : A Full Table for four guests is $100.00 (YOU MUST PURCHASE A CAR TICKET TO ENTER THE LOT AND TO ACCESS THE VIP TABLES! AGAIN CAR TICKET NOT INCLUDED IN THIS PRICE) 2Complimentary Specialty Drinks in the Lounge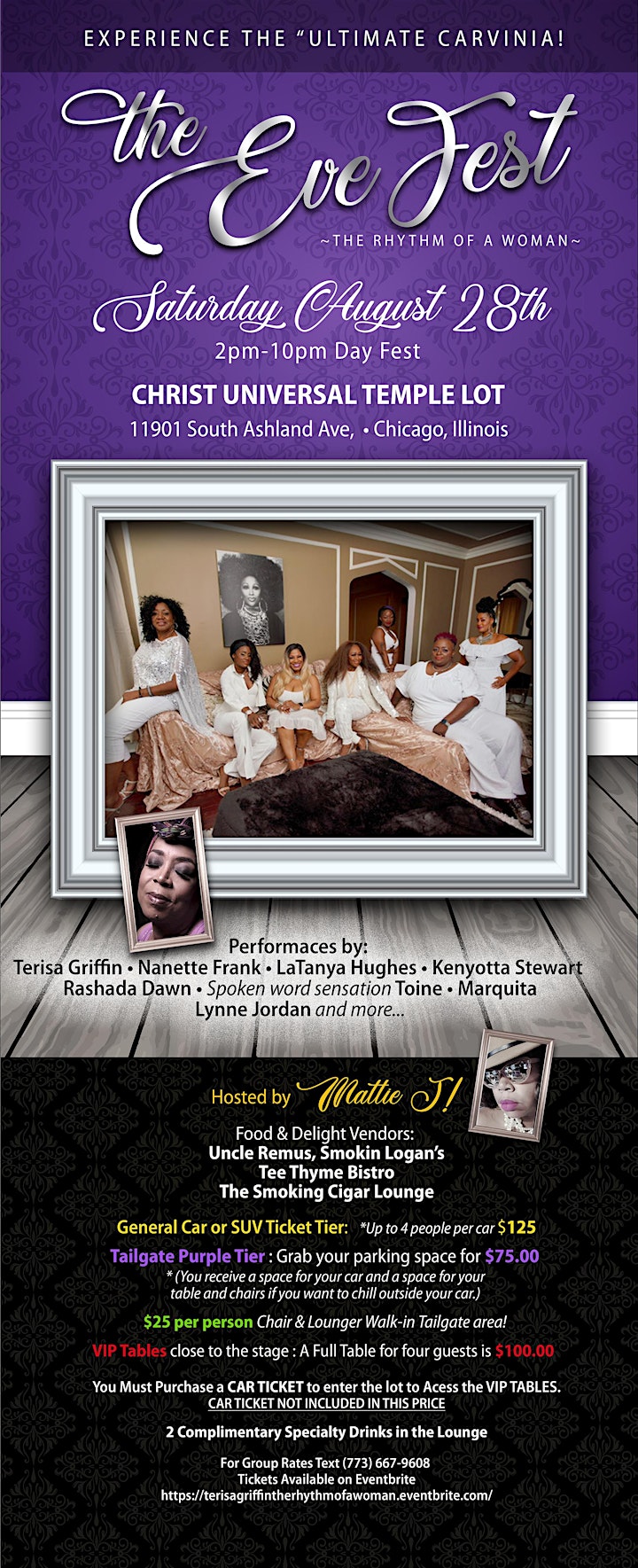 Organizer of Terisa Griffin's (The Rhythm of the Woman) "Eve" Music Festival