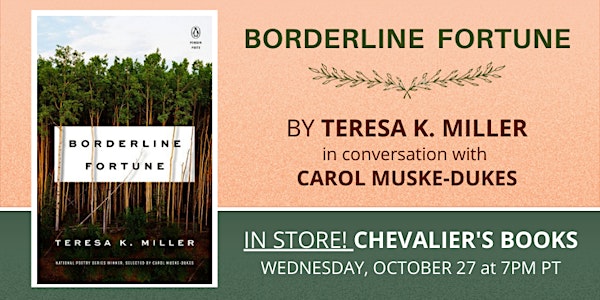 Teresa K. Miller's BORDERLINE FORTUNE in conversation w/ Carol Muske-Dukes
Teresa K. Miller, author of Borderline Fortune, which was the selection of Carol Muske-Dukes, as judge of the 2020 National Poetry Series.
When and where
Location
Chevalier's Books 133 North Larchmont Boulevard Los Angeles, CA 90004
About this event
Chevalier's Books welcomes poets Teresa K. Miller and Carol Muske-Dukes. Muske-Dukes was the judge who selected the collection as a winner of the 2020 National Poetry Series for publication by Penguin.
ABOUT THE BOOK
Borderline Fortune is a meditation on intangible family inheritance--of unresolved intergenerational conflicts and traumas in particular--set against the backdrop of our planetary inheritance as humans. As species go extinct and glaciers melt, Teresa K. Miller asks what we owe one another and what it means to echo one's ancestors' grief and fear. Drawing on her family history, from her great-grandfather's experience as a schoolteacher on an island in the Bering Strait to her father's untimely death, as well as her pursuit of regenerative horticulture, Miller seeks through these beautifully crafted poems to awaken from the intergenerational trance and bear witness to our current moment with clarity and attention.
ABOUT TERESA K. MILLER
Teresa K. Miller is the author of sped and Forever No Lo as well as co-editor of Food First: Selected Writings from 40 Years of Movement Building. Her poems and essays have appeared in ZYZZYVA, AlterNet, Entropy, DIAGRAM, and elsewhere. Originally from Seattle, she graduated from Barnard College and the Mills College MFA program and now tends a mini orchard near Portland, Oregon.
ABOUT CAROL MUSKE-DUKES
Carol Muske-Dukes was National Poetry Series Judge for 2020 for Penguin and selected Teresa K. Miller's Borderline Fortune. Carol is the author of 9 books of poems, 4 novels, 2 essay collections and co-edited anthologies. Her most recent book of poems, BLUE ROSE, from Penguin, was a Pulitzer Prize finalist in 2019. She is former California Poet Laureate, appointed by the Governor and also founder of the Creative Writing/Literature PhD program at USC, where she is a Professor of English/Creative Writing. Her books have been National Book Award finalist, LA Times Book Prize finalist, Guggenheim and NEA awards, etc. She has read her poems at bookstores & universities all over the country & has been interviewed by Terri Gross twice and many times by Michael Silverblatt on Bookworm. Muske-Dukes was also LA Times Poetry Columnist for several years.
She has written for the NYTimes, LATimes, New Yorker & Paris Review & publishes everywhere. She has read many times here at Chevaliers Books - this is her old 'hood, Hancock Park, Windsor Square- where she lived for many years. She is so pleased to be back!