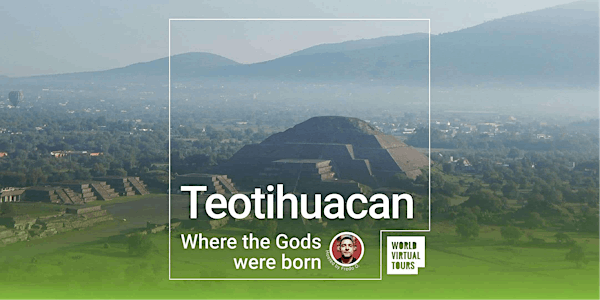 Teotihuacan: where the gods were born
People and cultures from distant places considered this city as a universal center where the gods once met to create humanity.
About this event
👷🏻‍♂️ Build this project with us:
Our Tours are FREE TO JOIN
the Event is TIP-SUPPORTED (read below ⭐)
⏰ Time is listed as Eastern Time (US/New York)
Language: English
Live stream event from Mexico, hosted by FREDO O.: Graduated Licensed Tour Guide, tourist journalist with 7 years of experience.
Summary
Sun and Moon pyramids and its actual meaning
Large avenues and squares laid out according to astronomical orientations
The massive pilgrimage to this city and its meaning in ancient mythology
Modern archaeological works and the secret tunnels under Teotihuacán
The use of the resources of the region and the development of technology
The meaning of the wall paintings in each palace
Live Q&A
Contents suitable for children
Description
We are going to explore this monumental city that had 200 000 inhabitants, the largest in the American continent around the year 500 AD. Thousands of people came from all cardinal points to witness the sacred rituals in honor of the Mesoamerican gods that took place here. Huge pyramids, squares and temples crown the panorama. This great city is divided into quadrants occupied by people and cultures from distant places, such as the Mayans and the Zapotecs, and they considered this point as a universal center where the gods once met to create humanity.
The enigma of why this city was abandoned remains today. The names of their rulers are not known, nor are there traces of the language they spoke. The only documents that remain are the beautiful wall paintings in some of its main palaces and the finds of modern archaeological work that gradually reveal more clues to its organization and its mysterious end.
It is a unique place in the world. A special archaeological zone that transmits the power of its 600 years of history. It is a living document of how its inhabitants managed their abundance in food, perfected their natural resources to generate articles and tools, developed scientific principles such as physics and astronomy, and generated large-scale structures to honor their creator gods. We also have theories of his diplomacy and the infighting that may have led to its self-destruction. Many civilizations existed later in this region of the world, the Toltecs and the Aztecs came, but they all considered Teotihuacán as the center of their sacred beliefs. It will always remain the heart of Mesoamerican cultures.
Special Instructions and Requirements
PC, laptop, tablet or smartphone
Stable internet connection
This experience will use Zoom
PLEASE NOTE: since is a Free Event with high demand, if you don't connect on first 10 mins from tour start, we reserve the rights to assign your reserved seat to someone else
Read Carefully Our TOS here:
https://worldvirtualtours.online/terms.html
You can TIP Fredo here:
https://worldvirtualtours.online/tiptheguide.html?guide=Fredo
⭐ Why donate to your Tour Guide
Our project is solely funded by your donations.
All our virtual tours are made possible only thanks to your support as part of our Community.
The majority of your tip supports the Guide, the rest lets our group continue to carry out our initiative.
THANK YOU!
#aztec #maya #zapotec #toltec #mexico #teotihuacan #monument #history #travel #art #immersiveexperience #virtualtour #virtualtrip #arthistory #culturalheritage #gods #artandculture #culture #mesoamerica