TENS Business Model You Workshop

Thursday, September 17, 2015 from 8:00 AM to 12:30 PM (PDT)
Event Details
Redesign Your Career with Business Model You®

 

 led by Dr. Timothy Clark, 
international bestselling 
author of Business Model You 

 

   

   

 



The Career­-Making Skill Nobody Taught You

You've worked hard to build a career. You're smart, trustworthy, and committed. You've honed your skills to become the best you you can be.
What's more, you're great with customers, a strong communicator, and you know how to empower teams. You've sharpened your ability to help others become the best they can be.
But you're ready for more: a promotion, different challenges — maybe even your own business. What's the next step?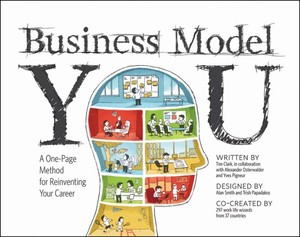 For some 40 years, traditional career advice has focused on 1) developing yourself, and 2) helping develop others. That approach makes sense, but it's missing a crucial "third side" of the career development triangle: understanding strategy and where an organization is headed — and your role in moving the organization forward. But how can you do that without getting an executive MBA or taking a stint on a strategy team?
The answer is to learn business modeling: the process of defining organizational and personal strategy.

And in our experience, the best way to learn business modeling is through immersive practice sessions where, with professionals from diverse industries, you repeatedly build and deconstruct both enterprise and personal business models, all under expert guidance. Such sessions help you explore and clarify your professional identity.
Essential Training for Enterprising Professionals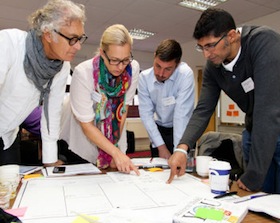 Now, you can learn business modeling using the world's most powerful business modeling tool. You'll be taught directly by Dr. Timothy Clark, whose business modeling books have sold over a million copies in 30 languages worldwide.
Dr. Clark's global bestseller Business Model You describes a "personal business modeling" methodology that reveals insightful ways to uncover fresh, more fulfilling career and life possibilities.
You'll love the live workshop, where you'll quickly master the Business Model You® methodology with direct guidance from its creator (and receive a free copy of the book).
What You'll Learn
In this immersive workshop you'll master the basics of Business Model You®, the powerful career redesign method you can use for a lifetime. Specifically, you will:
Grasp business model thinking and diagram your personal business model

Create a new personal business model harmonized with your purpose

Understand and practice the Three Questions™ career management technique

Our work together will include pair and group exercises, interactive presentations, structured feedback, and group-­generated Q&A with Dr. Clark.
Who Should Attend
Mid­career professionals seeking to redesign how they work

Leaders striving to align individual actions with team goals 

Professional advisors who want to use the Business Model You® methodology to help clients, colleagues, or students
A Rare Opportunity
In just a half day of training, you'll learn to apply the personal business modeling method that will drive your success for years to come. Join tens of thousands worldwide who have enjoyed the career-changing benefits of Business Model You®.
See a fun, two-minute overview of Business Model You:
Secure your spot today.
Space is limited.
 
Program Overview  
 Redesign Your Career with Business Model You®
Thursday September 17, 2015  
 Doors open: 8:00 a.m. Program begins promptly at 8:30 a.m.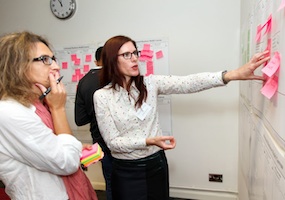 Enterprise Modeling
1.  Set Your Goal, Meet Your Colleagues 
2.  Quick Case: The Importance of Business Models
3.  Guided Tour of the Business Model Canvas 

4.  Teamwork: Draw A Familiar Enterprise Model


Personal Modeling: Draw & Reflect

1.  Guided Tour of the Personal Business Model Canvas 
2.  Draw/Refine Your As-Is Personal Business Model

3.  Pair & Share "Painstorm"

4.  Building Block Q&A
— Bio Break (5 minutes!) —

 
Personal Modeling: Revise & Act
1.  Quick Case: Personal Business Model Innovation
2.  Think Out Loud Laboratory: Colleagues Help You Create New Possibilities
3.  Draw "To Be" Personal Business Model with Enterprise Customer
4.  Teamwork: Quick-Test Your New Model with Colleagues 
5.  Q&A: Ask the Author

Social Hour/Networking: 11:30 a.m. — 12:30 p.m.

Seating is limited. Participation fee includes:

• Copy of Business Model You (original sold-out hardcover version)
• Two oversized Personal Business Model Canvas posters
• Refreshments throughout the morning
Learn more: Visit our global community of more than 10,000 personal business modeling enthusiasts from 80+ countries: http://community.businessmodelyou.com/
See actual workshop scenes and hear participant comments in this two-minute video:
---
TENS REGISTRATION and REFUND POLICIES:  Registration using Eventbrite is required. Please email programs@tenseattle.org if you need to cancel your registration.
---
The Executive Network of Seattle (TENS) is a vibrant community of business leaders who gather to support each other and learn about current and future business and socio-economic trends. TENS provides the opportunity, through a variety of monthly meetings, for members to develop lasting connections and community. Visit us at tenseattle.org.
When & Where

Girl Scouts of King County
13029 NE 20th St
Bellevue, WA 98005


Thursday, September 17, 2015 from 8:00 AM to 12:30 PM (PDT)
Add to my calendar