Sales Have Ended
Ticket sales have ended
Thank you for your TennoCon 2018 support!
Sales Have Ended
Ticket sales have ended
Thank you for your TennoCon 2018 support!
Description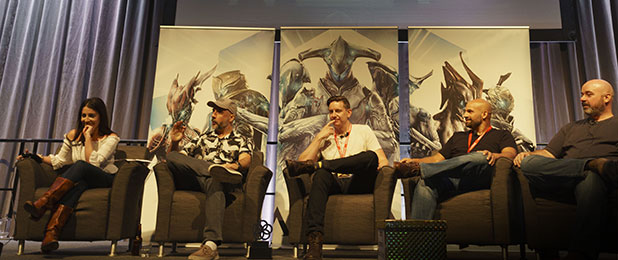 It's time for TennoCon 2018! Join Warframe Developers and Tenno for the greatest Warframe event yet! Featuring the biggest reveals of the year, panels, activities and more in Digital Extremes' hometown of London, Ontario!
Thank you for your interest in purchasing a TennoCon 2018 ticket! We can't wait to see you there. Visit the TennoCon Website for full event details: www.warframe.com/tennocon
WHEN IS TENNOCON? TennoCon is taking place July 7 at 11 a.m. ET - 7 p.m. ET
WHERE IS TENNOCON? TennoCon will be at the London Convention Centre, 300 York St London, Ontario, Canada
WHAT'S THERE TO DO AT THE EVENT? While you're at TennoCon 2018 you can catch Developer and Community Panels, check out Art Displays and Cosplay, test your Tenno skills at Game Stations, break out of Warframe-themed Escape Rooms built by Trapdoor Escape Rooms, and so much more!
WILL THERE BE FOOD AND DRINK AT TENNOCON? Yes, there will be food and drink available for purchase at concession stands at the Convention. There will also be alcoholic beverages available for purchase to those age 19+.
CAN I BRING MY COMPUTER? Yes, laptop computers are permitted, but internet connectivity is not guaranteed.

CAN I DRESS UP IN WARFRAME COSPLAY? Absolutely, in fact we encourage it! You could win a $10,000 cash prize in our Cosplay Contest! See our cosplay policy here.

CAN I WIN PRIZES AT TENNOCON? TennoCon will have all kinds of prizes you could win, including Cosplay cash prizes, giveaways throughout the day, and a grand prize of 100,000 Platinum during TennoLive!
WHAT TYPES OF TICKETS ARE THERE? TennoCon 2018 will be offering five ticket tiers. See what's in each ticket tier here.
Important Ticket Information:
Read our TennoCon FAQ here.

Tickets are on sale now until the day of TennoCon, unless they sell out before then. So if you want access to this IRL Relay, don't delay!
Age notice: 17+ event. Children under the age of 17 are not permitted to enter without accompaniment by a legal guardian ticket holder.
Non-refundable, Non-transferable, and Non-upgradable: Tickets cannot be refunded, transferred or upgraded to another tier. You must be present to receive Full Day, Collector's, VIP, and Legendary physical items.
Players who purchase a Full Day, Collector's, VIP, or Legendary ticket will receive a unique code in a separate email after April 3 for the digital items.

Can't make it in person? The TennoCon Digital Pack allows you to join in the festivities online with exclusive in-game cosmetics and a ticket to Baro Ki'Teer's Relay (opens July 7). Digital Packs are available at www.warframe.com/tennocon until July 3.

Digital Extremes pledges to donate a portion of ticket sale proceeds for TennoCon 2018 to Canada Learning Code! Dedicated to teaching Canadians == particularly women, girls, people with disabilities, Indigenous youth, newcomers and others who have been historically underrepresented in the sector, essential digital skills ==Canada Learning Code believes that these skills are tools of empowerment and with them, Canadians are given equal opportunity to build our future.
For more information on this fantastic charity, head over to the Canada Learning Code website: https://www.canadalearningcode.ca/