| | |
| --- | --- |
| Tennis Plaza International Junior Championship 2015 | |
Event Details
Please read before registering players

Tennis Plaza International Junior Championship
December 1-15th, 2015
2 Locations
Tamiami Tennis Center (TTC) 11201 SW 24 St Miami, FL  33165
Michael Ann Russell JCC (JCC)  18900 NE 25 Ave North Miami Beach, Fl 33180
Series of eight 2 Day Round Robins for Boys & Girls- Singles 12/14U and 16/18U Divisions
3 hours round robin matches.
Format
The tournament will be a three hours  round robin format with timed matches of one hour each.  Within a 3 hour time you will play 3 different players. Draw size is 8 or 12 players max per division.  Format and scoring can change due to number of participants and weather.  Winners are determined by games won.
DRAWS and DRAWS SIZE
Draws will be posted by 10pm the night before the match.  Start times are already posted below. 8 to 12 player maximum for each division
REGISTRATION
Registration fee is $60.00 per event.     
Registration closes at 4 PM the day before each tournament. No Refunds
TOURNAMENT SCHEDULE
Series of eight 2 Day Round Robins for Boys & Girls- Singles 12/14U and 16/18U Divisions
3 hour round robin matches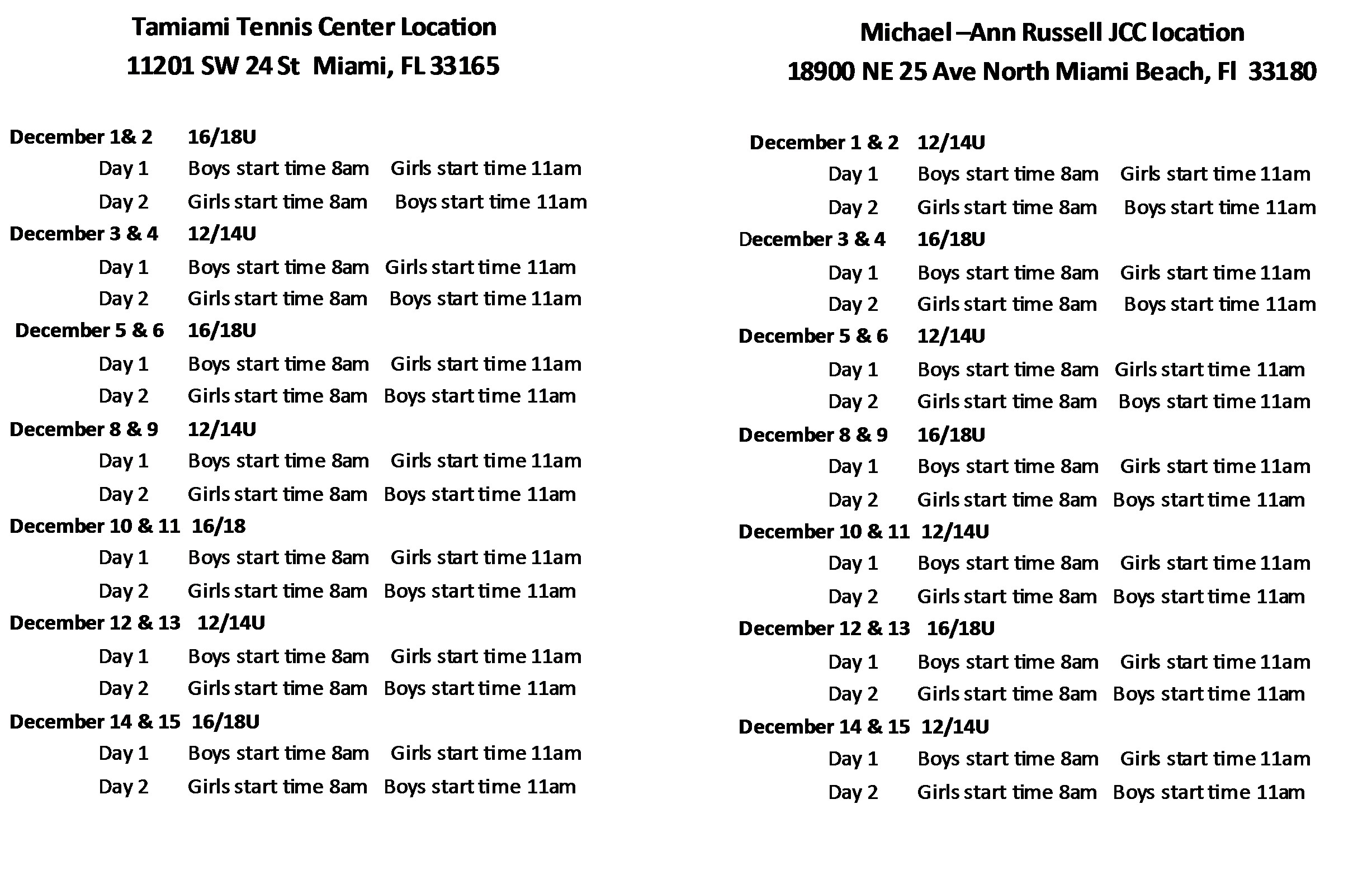 WEBSITE: http://www.tournamentsmiami.com
For more information email us a TournamentsMiami@gmail.com                        
Where

Tamiami Tennis Center/ Michael Ann Russell JCC

Miami, Florida


Organizer
International Junior Championship
Designed for Junior Orange Bowl Players or
Level 6 tournament players or above only
Series of 2 day tournaments for BG 12/14U and 16/18U