Sales Have Ended
Registrations are closed
The online registration has ended for this session. Please contact Shannon Hudson or Johan den Toom to see if space is still available. We would love to include your camper if at all possible. However, if the camp is full, Shannon and Johan are available for private lessons each day. Shannon.Hudson@matrixtenniscenter.com Johan.denToom@matrixtenniscenter.com
Sales Have Ended
Registrations are closed
The online registration has ended for this session. Please contact Shannon Hudson or Johan den Toom to see if space is still available. We would love to include your camper if at all possible. However, if the camp is full, Shannon and Johan are available for private lessons each day. Shannon.Hudson@matrixtenniscenter.com Johan.denToom@matrixtenniscenter.com
Description

JOIN US FOR MORE
HEALTH, FITNESS AND FUN!
Our week-long summer camps were so popular we have hosting one more session before school starts.
Wednesday - Friday
August 1 - 3 from 9am - noon
Ages 7 - 15
Our camp is staffed by an elite group of tennis professionals who played NCAA Division I college tennis. Our Razorback alumni inspire children to get active and learn to play tennis.
Our coaches and camp counselors are mentors who create an environment that provides a social network while promoting a lifestyle health, fitness and fun!
Camp Instruction Includes:
Forehand & Backhand Drills
Spin, Volley & Smash Sessions
Attack & Defense Practices
Technical Development
Serving Skills
Round Robin Play

Costs:
$100 per Session

Players:
Beginner Player: Players with no or limited tennis experience will learn tennis using a low compression ball, a shorter court and a 25" racquet. We will teach these players to play and enjoy the game from the start. The program involves ball hitting, catching, tracking, balance, movement, and agility. Players will be introduced to tennis using fun, innovative teaching methods and training aids.
Intermediate Player: Players that are fairly consistent when hitting a medium-paced shot, tend not to get stuck inside the baseline, can sustain a rally, can defend off the backhand, and whose serving is reliable. These players will focus on using the proper shot techniques and court coverage skills. Our advance drills and playing situations will take them to the next level. They will be given the tools to play better tennis in a fun, exciting atmosphere.
Advanced Player: Players who can volley and hit overheads, can control depth of shots, can hit first serves with power, have sound footwork, and who currently play competitvely in USTA tournaments or Team Tennis. These players will hit with some of the best players in the country to improve their stroke production, tactics and strategies. Whether a player wants to compete on their high school tennis team or aspires to play collegiate tennis, we will help all players develop solid techniques and strategies needed for both singles and doubles play.
Information for Parents:
All campers should bring the following items each day:
Tennis Racquet (limited number available to borrow)
Tennis Shoes
Sun Block
Water Bottle
Healthy snack will be provided.
Weather:
We will send out an email by 7:30am if we need to reschedule due to inclement weather. We will have makeup days the following week.
Private Lessons:
For more information regarding our camps or to schedule private tennis lessons, please contact Shannon or Johan.
Shannon Hudson
Shannon.Hudson@matrixclub.com
Johan den Toom
Johan.denToom@matrixclub.com

Meet our Camp Directors and Coaches: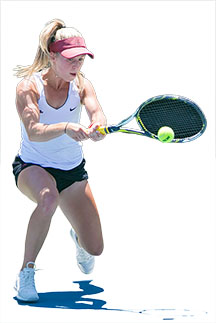 SHANNON HUDSON

COLLEGIATE ACCOMPLISHMENTS
Played #1 Singles and #1 Doubles for the University of Arkansas
2014 SEC Freshman of the Week; 2014 SEC Community Service Team
2014 and 2015 Lee Spencer Cup award to Women's Tennis Team
2014, 2015, 2016 Riviera/ITA Women's All-American Championships
2015, 2016, 2017 NCAA Team Championships
2017 2x SEC Player of the Week
2017 All-SEC Team
2017 NCAA Singles Championships
2017 NCAA Doubles Championships
HIGHEST NCAA DIV I RANKINGS
National Singles ranking: 43
National Doubles ranking: 11
National Team ranking: 14
Regional Singles ranking: 3
Regional Doubles ranking: 4
Regional Team ranking: 2
PRIOR TO COLLEGE

A blue-chip recruit out of Virginia Beach, Virginia… Behind a successful junior career, ranked as high as # 6 in the nation and was either # 1 or # 2 as a junior player in the USTA Mid-Atlantic section for 26 consecutive months… Claimed six top-three finishes at USTA Super National events and was named Hampton Roads All-Sport athlete of the year … Held the # 1 seed at the USTA Girls 16 & Under Clay Court Nationals… As a high school sophomore, completed the first-ever sweep of all three state championship events, claiming the state championship in team competition, individual singles and doubles… For work off the court, was named Outstanding Metro Scholastic women's player of the year for two consecutive years.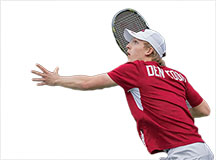 JOHAN DEN TOOM

COLLEGIATE ACCOMPLISHMENTS
Played Singles and Doubles for the University of Arkansas
2014 SEC All-Freshman Team
2014 2x SEC Freshman of the Week
2014 Led Team in Overall Singles Victories
2014, 2015, 2016 SEC Academic Honor Roll
2015 SEC Player of the Week
2015 Best Doubles Record on the Team
2016 SEC Coaches Classic Doubles Champion
2017 Most Singles Victories in SEC matches
HIGHEST NCAA DIV I RANKINGS
National Team ranking: 12
Regional Team ranking: 3
Cancellation Policy:
At NexGen Tennis Academy, we hope you will not have to cancel your camp. If you do though, for any reason, all cancellations must be made in writing to johan.dentoom@matrixclub.com more than 7 days before the starting day of our session. If you need to cancel with less than 7 days notice, we will issue you a voucher for all tuition fees paid, valid through then end of the 2018 summer camp sessions.
In the unlikely event, NexGen Tennis Academy cancels your camp session, we will refund all of your camp fees.