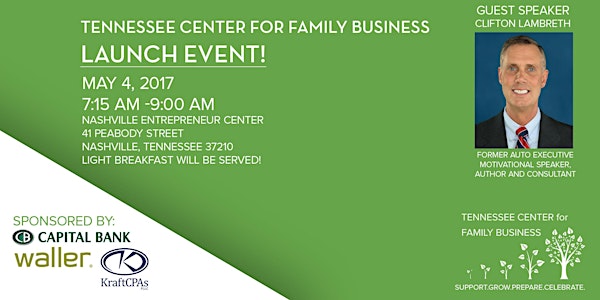 Tennessee Center for Family Business Launch!
When and where
Location
Nashville Entrepreneur Center 41 Peabody Street Nashville, TN 37210
Description
Sign up early for the Tennessee Center for Family Business's Launch Event!
May 4, 2017
7:15 am -9:00 am
Nashville Entrepreneur Center
41 Peabody Street
Nashville, Tennessee 37210
Light Breakfast will be Served
Enjoy our speaker Clifton Lambreth, former Auto Executive, Motivational Speaker, Author and Consultant!
"Clifton Lambreth worked over twenty-six years for the Ford Motor Company in various capacities. He was a rainmaker at every position he held. Throughout his career with Ford, he consistently was a top performer receiving prestigious awards and distinctions including five Ford Drive for Leaders awards and three Diversity Leadership awards. Clifton was one of only three people at Ford worldwide to receive the 2008 Ford's Leadership Award. In addition, Clifton was a Ford college recruiter for over ten years at Cornell University's Johnson Business School and University of Pennsylvania's Wharton Business School.
As a highly sought after public speaker and consultant, Clifton tours the nation and has spoken to thousands of individuals in over 200 business and community groups on success principles and "Doing the Right Thing." Being comfortable with any size group and venue, he delivers his message regarding success in both business and life. He shares lessons that are universally applicable to small companies, large corporations and individuals. One of his popular and requested speeches outlines the lessons Ford used to go from losing $12.5 billion in 2006 to making $2 billion three years later without taking government bailout money. All this has lead to over 150 live radio show interviews and television appearances on NBC, CBS, ABC and FOX. He even starred on the television show, The CEO Café. Clifton was associate producer of the weekly RFD show Music and Motors for three seasons. He was also the associate producer for the 2013 season of A Prescription for Healthy Living on Familynet Television. He was also an Associate Producer of the Pure Flix movie "I Am Not Ashamed 2016."
With his vast knowledge in business, marketing and the automotive industry, Clifton has authored and published three top-selling books: Ford and the American Dream, The Return to Greatness and The Ad Man. His first book has been translated into Russian. Clifton has been quoted in over 400 different media sources. He has also written various articles on marketing, diversity, compensation, leadership, and other pertinent topics.
Most recently, Clifton served as the Chief Operating Officer for SLANE Jewelry in New York City where he led the company to a 25% increase in the first year. He also founded and is CEO of Daniel Bradley Matthews, Inc., providing strategic business and marketing consulting services. Most currently he serves as Chief Operations Manager for First Regents Digital Media. They are based in the Franklin, Tennessee area and provide digital point of purchase advertising in a retail environment."