A warm winter sharing of our songs from the fall session with Living Room Choir, part of the Ubuntu Choirs Network!
About this event
Living Room Choir is part of the Ubuntu Choirs Network, an international community that believes it's everybody's birthright to sing. We are all ages, all backgrounds, and all levels of musical experience.
•
Living Room Choir recognizes music as a vehicle for communal experience - a balm for our isolated, competative culture - and understand that, by practicing harmony in music, we can practice harmony in community.
•
With the spirit of joy, healing, and community in mind, we bring to you many of the songs we've been working on together this past session. We will even invite you to join in on a few if you like (just listening is welcome too)! All ages are welcome at all of our events; we ask you to arrive scent-free to help make the space as safe as possible for everyone.
•
NO ONE TURNED AWAY FOR LACK OF FUNDS, EVER. You can buy a ticket in advance, or just come a few minutes early to buy tickets at the door. We are raising money with this concert to help support the continuing education of our choir director, so we can stay fully engaged with the worldwide community of choirs like ours. We will be accepting ticket money at the door, but no one is ever turned away for lack of funds. If the $20 cost is too high, simply come that night ready to pay whatever you can (even if it's just a smile!)
•
The space is wheelchair accessible; the nearest BART is El Cerrito Plaza.
•
Visit www.TheLivingRoomChoir.com for more details and learn how to join!
•
Come join us for a warm evening of light, levity, and love, and maybe you too will go home singing!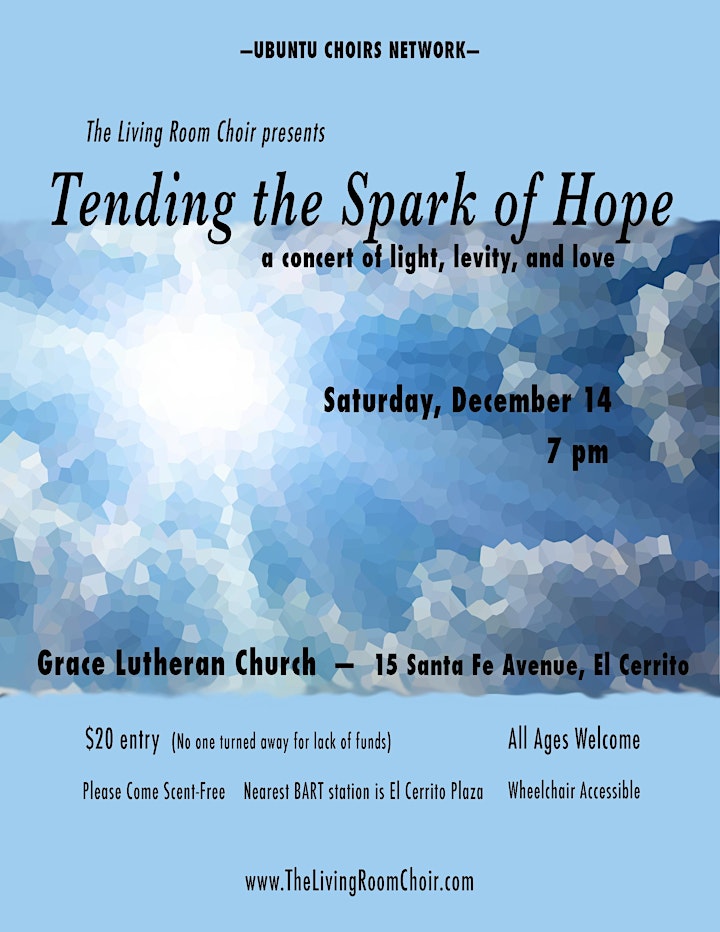 Organizer of Tending the Spark of Hope: a Concert of Light, Levity and Love
Kaitie Ty Warren's own vocal journey has taken her through decades of theatre work, singing, speech and public performance. Training with some of the best vocal teachers in the Bay Area, Seattle and Los Angeles, her experience ranges from opera and classical singing, to the destructuring, revolutionary Fitzmaurice Technique.
Kaitie is an RYT-200 Certified Yoga Instructor, working with ages 4-106, and has studied under John Argue and Carol Fisher, both heavyweights in the Parkinson's therapy community in the Bay Area. Kaitie teaches both voice and yoga (or a combination of the two) privately upon request. In March of 2017 she created BE HEARD! Voice for Parkinson's, a vocal class designed to help people whose vocal support has been compromised or requires extra awareness.
In 2015, Kaitie created and (and still leads) Living Room Choir, a non-audition choir in the Ubuntu Choirs Network, an international community of choirs based on the belief that it is everybody's birthright to sing. No one is ever turned away for lack of funds, no sight reading is necessary, and newcomers are always welcome. All that's required is a desire to sing in community with others.

CONTACT: ktwarren@gmail.com VISIT: www.KaitieTyWarren.com