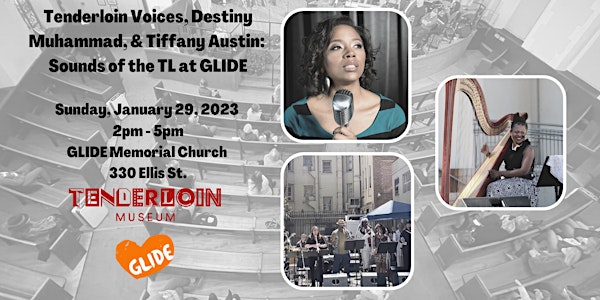 Tenderloin Voices: Sounds of the TL at GLIDE
A free musical performance featuring Bay Area Jazz Artists, Larkin Street Youth, and Glide Ensemble Members.
When and where
Location
Glide Memorial Church 330 Ellis St San Francisco, CA 94102
Refund Policy
Contact the organizer to request a refund.
About this event
Sounds of the TL at GLIDE: Tenderloin Voices, Destiny Muhammad & Tiffany Austin
Joins us on 1/29 for a free musical performance featuring top talents in Bay Area jazz, vocalist Tiffany Austin & harpist Destiny Muhammad, plus Tenderloin Voices, an original song cycle by composer/trumpeter Sarah Wilson, performed by Wilson and her all-star band, Larkin Street Youth Artists, and Glide Ensemble Members. This special event is produced through a collaboration between GLIDE and The Tenderloin Museum and will take place in the Glide Memorial Church Sanctuary.
Sunday, January 29, 2023
Doors Open: 1.45pm
Event Start: 2pm - 5pm
GLIDE Memorial Church, 330 Ellis St. SF, CA 94102
PLEASE NOTE: Entry is free. Registration is encouraged but not required. Please note that all attendees will need to wear a mask and provide proof of vaccine for entry.
Tenderloin Museum is honored to present its "Sounds of the Tenderloin" live music series in the Glide Memorial Church, a nexus for the history, community, and action that exemplify the Tenderloin's potential for empowerment and transformation. Featuring an encore performance of the original song cycle Tenderloin Voices alongside sets by harpist Destiny Muhammad and vocalist Tiffany Austin, the program seeks to explore GLIDE's core values by putting them into musical action.
Opening the afternoon performance, Tenderloin Voices brings personal stories written in early 2020 by formerly homeless Larkin Street Youth Service's Art Program artists, with writing instruction from Tenderloin writer Lyzette Wanzer, to life through musical performance. Composer and trumpeter Sarah Wilson wrote new and original pop, R&B, hip hop and gospel music with their text, which comprises the original song cycle performed by Larkin artists and Glide Ensemble singers alongside Wilson's 7-piece jazz band in a musical performance.
The Tenderloin Voices ensemble assembled for this special performance at GLIDE features many luminaries in the Bay Area jazz scene–Tammy Hall (piano), Gary Brown (bass), John Schott (guitar), Jordan Glenn (drums), singers Tiffany Austin and Bryan Dyer–singers from the GLIDE Ensemble–Dennis Hersey, Errin Mixon, Cheryl Serame-Turk, Leah Tysee–as well as two of the projects writers from Larkin Street Youth Service's Art Program: vocalist Cierra Murray and poet Leilani Sabugo.
The middle act is Destiny Muhammad, performing a solo set of harp and vocal music rooted in jazz and storytelling. A celebrated performer, band leader, composer, and producer, Muhammad is informed by the great harpists in jazz, Dorothy Ashby and especially Alice Coltrane and her spiritualized sonic explorations; and yet the harp is an ancient instrument with lineage across cultures and history. In her music, Muhammad draws on that deep wellspring, pays homage to her more immediate Afro-harping predecessors in jazz, and manifests her own joyous sound and style that course with themes of self honor, community empowerment, and social justice.
Tiffany Austin, one of the featured vocalists in Tenderloin Voices and an accomplished recording artist, singer, and songwriter, closes out the program with a quartet set. Austin is a masterful vocalist who has assembled a repertoire of originals and songs from a cross-genre canon that frames African-American music as from and part of a "whole river of sound that's sustained Black life in America since before the nation's founding." Blues, jazz, soul, gospel and more come together in Austin's sound, testifying to her musical thesis that "whether the source is Sunday morning worship, Saturday night revelry, or an afternoon protest, African-American music is animated by a liberatory imperative."
Sounds of the TL at GLIDE is a special engagement, bringing together artists and projects in a unique configuration and in community with the Tenderloin in one of the neighborhood's most revered and empowering spaces – the Glide Sanctuary. This powerful installment of the Tenderloin Museum's "Sounds of the Tenderloin" series will animate the neighborhood's undersung cultural history through live music and explores, deepens, and complicates participants' understanding of Tenderloin history while supporting local working musicians. Learn more here and see past live music programs here.
This program is made possible thanks to a grant from Hardly Strictly Bluegrass. Additional support for Tenderloin Voices provided by the San Francisco Arts Commission, the Fleishhacker Foundation, and Phyllis Lusher for residency support.
_____
About Tenderloin Museum:
Tenderloin Museum celebrates the rich history of one of San Francisco's most overlooked neighborhoods, the Tenderloin district. Through history exhibitions, resident-led walking tours, community programs, and the presentation of original artwork, the Tenderloin Museum invites all comers to learn about the roots of our dynamic neighborhood, and reclaim our city's past and future. The Tenderloin Museum highlights the pioneering activism and fierce resistance woven deeply into the story of our 31-square blocks. All are welcome to join us in telling its story.
About GLIDE:
GLIDE is a nationally recognized center for social justice dedicated to fighting systemic injustices, creating pathways out of poverty and crisis, and transforming lives. GLIDE's integrated comprehensive services, advocacy initiatives, and inclusive community empower individuals, families, and children to achieve stability and thrive. GLIDE is on the forefront of addressing some of the most pressing issues including poverty, housing and homelessness, and racial and social justice.
About Glide Memorial Church:
In 1929, San Francisco Philanthropist Lizzie Glide purchased the property at 330 Ellis and funded both Glide Memorial Church and the GLIDE Foundation. In 1963 the Rev. Cecil Williams became the pastor of Glide Memorial church. With Janice Mirikitani, the church's poet, they inspired political, economic and cultural changes at both the church, the Glide Foundation and in the community. Glide Memorial Church has more than 20 congregational life groups supporting diverse individuals and has a Celebration service every Sunday at 9 and 11am. Our world-famous Glide Ensemble's faithful music inspires activist spirituality in our sanctuary, in the community, prisons, stadiums and on television. The music has bolstered our work with the Black Panthers and the United Farm Workers, been proclaimed alongside Gay Liberation and Marriage Equality, and sung out against Apartheid, domestic violence, economic and social injustice, poverty and hunger.