Workshops every Friday in October & Dedication on Monday November 1st
About this event
CounterPulse's TenderArts Program welcomes you to join us in creating the fifth annual
TENDERLOIN NEIGHBORHOOD DAY OF THE DEAD ALTAR
The Altar will be on display outside in the CounterPulse Alcove located at 80 Turk St in San Francisco. On the Day of the Dead, November 1st, there will be a reading of the names of community members and loved ones who have passed away.
Join us for workshops every Friday throughout October from 3-5pm as we develop this altar
October 8th at Safe Passage Park 200 Turk St
October 15th at La Cocina Marketplace 250 Hyde St
October 22nd & 29th at CounterPulse 80 Turk St
Altar Dedication 6-8pm on Monday, November 1st
at CounterPulse 80 Turk St
During these workshops, we will be making Ofrendas using recycled materials to be placed on the Day of the Dead Altar in front of CounterPulse at 80 Turk St. All materials will be provided free of charge. There will be "Sugar Skull" coloring pages.
To have the name of a loved one read at our dedication on November 1st or if you would like us to print photos of your loved ones, please fill out this form.
You may take your Ofrenda home on the night of Monday, November 1st.
You must wear a mask to participate in all CounterPulse events.
For more information about CounterPulse's COVID-19 protocols click here.
For More Information Contact Rick Darnell, Associate Director of Neighborhood Arts
Email: rick@counterpulse.org Phone: (415) 626-2060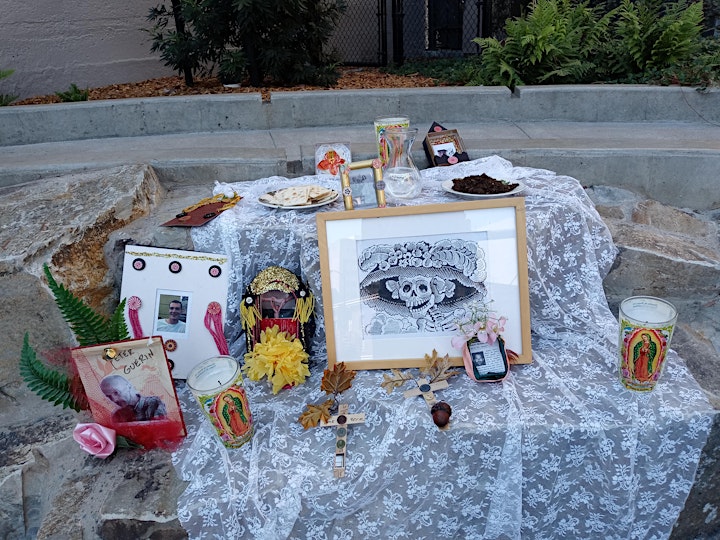 Organizer of Tenderloin Neighborhood Day of the Dead Altar
CounterPulse is building a movement of risk-taking art that shatters assumptions and builds community. We provide space and resources for emerging artists and cultural innovators, serving as an incubator for the creation of socially relevant, community-based art and culture. CounterPulse acts as a catalyst for art and action; creating a forum for the open exchange of art and ideas, sparking transformation in our communities and our society. We work towards a world that celebrates diversity of race, class, cultural heritage, artistic expression, ability, gender identity & sexual orientation. We strive to create an environment that is physically and economically accessible to everyone.