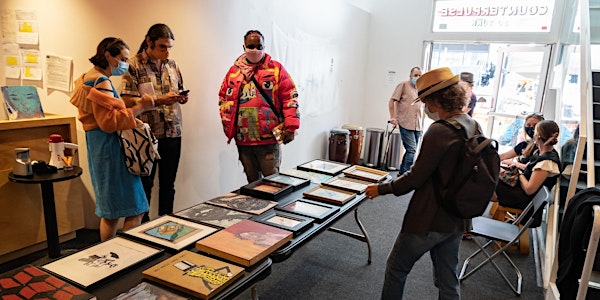 Tenderloin Arts Lending Library
Come view and borrow original art by Tenderloin Artists for up to one month.
When and where
Location
CounterPulse 80 Turk Street San Francisco, CA 94102
About this event
The Tenderloin Art Lending Library (TALL) is a queer-artist-run project that lends artwork to Tenderloin community members free-of-charge.
TALL is a trust-based program where artists—the majority of whom are homeless, formerly homeless, and live or work in the Tenderloin—donate artwork that is available for loan to any member of the Tenderloin community free-of-charge.
TALL is predicated on the belief that everyone deserves to appreciate all forms of visual arts expression. In CounterPulse's spirit of accessibility, TALL provides this opportunity.
This event is part of the 2021 CounterPulse Festival. Learn more at COUNTERPULSE.ORG/FESTIVAL2021
Image Description: A long black table with two rows of framed art laid upon it in CounterPulse's lobby. Four people stand around the table looking down at the art. CounterPulse's glass doors are propped open with sun flooding in in the background.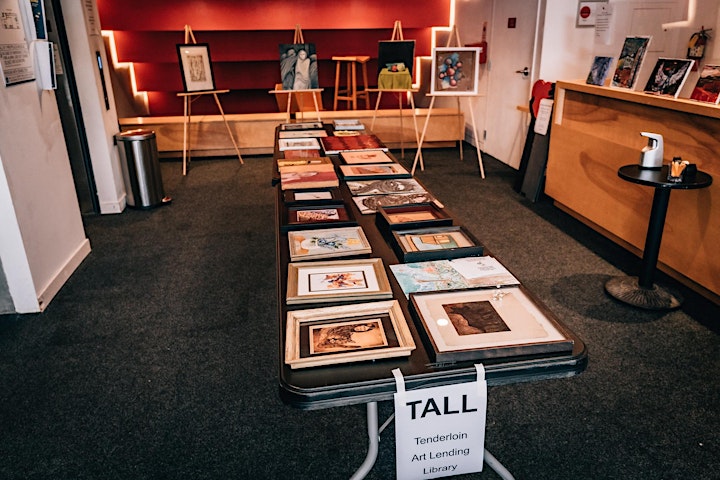 To borrow artwork from TALL, we'll need:
1. A photo ID
2. Proof of residence
3. A reliable way to contact you
You may borrow a piece of framed original artwork and keep in your home for one month. Return the artwork at the end of the month and you may borrow another piece.
Artists featured in the Lending Library include...
Charles Blackwell
Marsha Campbell
Wilton Woods
Jean Sarno
Abie D'bango
Mary Poppins
Emile Franco
Among others...
Rick Darnell, Project Coordinator
Jeff Marshall, Chief Librarian
Photo Credit: Robbie Sweeny
Image Description: A long black table with two rows of framed art sits in the empty CounterPulse lobby in front of four larger paintings displayed on wooden easels. A sign is taped to the front of the table that reads, "TALL Tenderloin Art Lending Library"
CounterPulse is committed to making our events accessible to all! Please email info@counterpulse.org with any access needs. Thank you!