Description
Introduction
Tencent WeStart Entrepreneurship Competition is a global entrepreneurship competition powered by Tencent. The Tencent WeStart Entrepreneurship Competition in Boston will focus on Artificial Intelligence. With the idea of openness and connection, Tencent WeStart endeavors to build a global ecosystem designed to bring together startup communities, build and accelerate their business.
Tencent WeStart will host the event, supported by AIRx Labs and MIT CHIEF. The 10 teams will be selected under the guidance of world-class instructors in the AI industry, VCs and Tencent executives.
Keynote speakers with years experience in AI will share their ideas in the aspects of AI investments, technologies, and researches before the competition.
Tencent WeStart Entrepreneurship Competition 是腾讯公司举办的创新创业大赛。此次在波士顿举办的创业大赛将聚焦AI领域,由腾讯众创空间Tencent WeStart携手AIRx Labs 及MIT CHIEF联合主办。
在比赛开始前,在AI领域有丰富经验的演讲嘉宾将会分享他们关于AI领域中的投资、技术、研究等想法。


---
SPEAKERS&JUDGES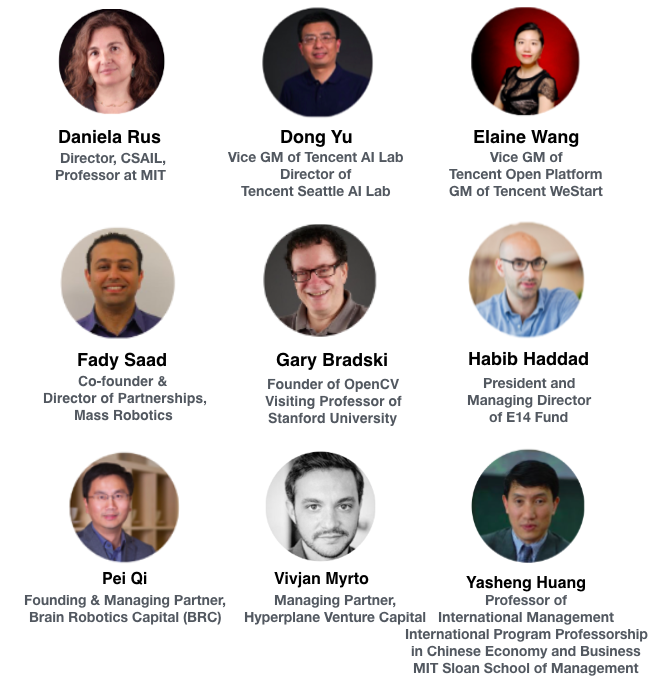 ---
AGENDA
13:30-14:00 Sign-In 签到
14:00-15:30 Keynote Speeches 主题演讲
15:30-17:40 Entrepreneurship Competition 创业大赛
---
ABOUT TENCENT AI ACCELERATOR
Venture Capital Resource
A venture capital pool will be established, which will be funded by Tencent and a number of investment institutions. The three winners can enter the China Tencent WeStart Innovation Space and enjoy benefits such as rent reduction, special exemptions and enterprise subsidies.
Customized Coaching
Top founders and tutors from the industry as well as key players in the academic, design and investment field will share a week-long series of analysis of products and technologies to improve AI products.
Channels
The project leads involved will have the opportunity to be within the first group of partners of the Tencent AI Open Platform and the first technology partners of Tencent AI Lab to cooperate with giants in the industry chain.
Lecturers Lineup
Tencent Executives
Yao Xing (Vice President), Lin Songtao (Vice President), Zhang Tong (Director General of AI Lab), Qiu Yuepeng (Vice President) and more
Foregoers in the Industry
Jiang Nanchun, Xue Manzi, Wang Xiaochuan, etc.
Investors
ZhenFund, GSR Ventures, Northern Light Venture Capital, BlueRun Ventures, Shunwei Capital, Future Capital, FreeS Fund, Kunzhong Capital, Sequoia Capital, IDG Capital, Hillhouse Capital Group, Green Pine Capital Partners, Sinovation Ventures, Banyan Capital, China Renaissance, Innoangel Fund
Supporting Projects
Wang Zhuoran, CEO of Trio.AI that provides a Chinese chat robot system. The company has been valued at hundreds of millions of dollars in the first year since establishment.
Yu Kai, chief scientist of AI Speech, developed leading natural language interactive solutions after three rounds of funding.
Wu Gansha, CEO of UISEE, committed to developing advanced automatic driving technology to change the way people travel.
What else?
The projects will be showcased at the Tencent Global Partner Conference AI hall, supported by Tencent Social Ads and Tencent Cloud. Winners will also have a chance to attend exchange programs to interact with local and overseas experts on AI.
关于腾讯AI加速器
创投资源
√ 计划设置创投奖池,由腾讯及多家投资机构联合投资;
√ 腾讯众创空间入驻租金减免,并获得工位的租金减免&相应的政策福利、企业补助等优秀政策。
定制化辅导
产业、学术、工业、设计、投资界顶级大咖、导师线下辅导,提供为期一周的产品和技术深度解析,协助打磨AI产品。
上下游渠道
首批项目上架腾讯AI开放平台,成为腾讯AI Lab首批技术合作伙伴,获得与产业链巨头合作的机会。
加速器导师阵容
腾讯高管:
公司副总裁姚星、公司副总裁林松涛、AI Lab掌门人张潼、 公司副总裁邱跃鹏等
行业大咖:
江南春、薛蛮子、王小川等
投资大佬:
真格、金沙江、北极光、蓝驰创投、顺为资本、明势资本、 峰瑞资本、昆仲资本、红杉、IDG、高瓴智成、松禾远望、 创新工场、高榕资本、华兴资本、英诺天使等
助力项目:
王卓然,三角兽公司CEO,创办1年时间估值数亿元,提供 中文聊天机器人系统;
俞凯,思必驰首席科学家,先后获得三轮融资,提供领先的 自然语言交互解决方案;
吴甘沙,驭势科技CEO,致力于研发最先进的自动驾驶技术, 以改变这个世界的出行;
还有这些
√ 项目在腾讯全球合作伙伴大会AI会场、海外AI产业互访、机构研究院论坛展示
√ 更有价值数十万人民币的腾讯社交广告、腾讯云资源支持。
---
If you would like to take part in the competition, please apply in here: Application Form
团队报名比赛请在此申请:比赛申请表