Tenacious Tuesdays: Live Your Dream in 2018 (Purpose + Mission)

Tuesday, January 9, 2018 from 2:00 PM to 4:00 PM (EST)
Event Details
Live Your Dream in 2018: PURPOSE & MISSION
(NOTE: DATE CHANGE FROM JAN 2 TO JAN 9)
FEMS, it's time to rock what ya got and be the STAR you truly are!  Join us January 2nd for PURPOSE & MISSION, a power-packed interactive experience with Master Transformation Coach, Krista-Lynn Landolfi. 
More than a keynote, Krista-Lynn's "Live Your Dream in 2018" presentation is an experiential coaching clinic sure to trigger an "A-Ha!" or two!  
Your Takeaway: 
Clarify your purpose (psst, it's who you're being, not what you're doing)
Name your mission for 2018 & create anchor points for advancement 
Chart course for awesome year!
Knowing who you are and how you best serve is the solid foundation that sets you up for success, fulfillment, and a life of deep meaning.   
Register, now, to work with Coach Krista-Lynn, and discover simple ways to harness the power of your unique voice and channel it into creating the life of your dreams.  
Girl, there's no other YOU in all the world, that's a superpower!
BONUS: Krista-Lynn is gifting the first 50 FEMS who register a "Scent of Success" swag bag, and all participants will walk away with some goodies for your Self-Care Toolbox, including quick "shift & lift" techniques to keep you fueled for a fabulous year.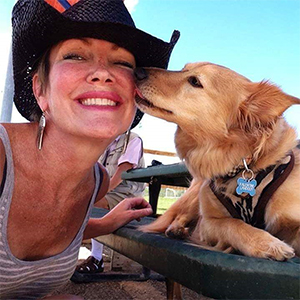 Who is Krista-Lynn? 
Krista-Lynn Landolfi has been coaching people to greatness since 1990. Known in professional circles as the "coaches coach", Krista-Lynn is sought after by high-impact influencers who desire to expand their reach, maximize results and increase their level of fulfillment.  
Krista-Lynn's speciality is "quality of life coaching", which sets her clients up to thrive, flourish and prosper! 
Throughout her decades of professional service Krista-Lynn has helped thousands to actualize their awesome. When you're ready to be the STAR you really are, Krista-Lynn is the coach you hire.  
Krista-Lynn Landolfi is a multi-certified Master Coach who skillfully guides clients inward, so they can move onward and upward, with ease, grace and enjoyment.  
Whether you want to transform your body, your bank account, or pull a Madonna and completely reinvent yourself, SUPER-SELF COACHING™️ with Krista-Lynn helps you build a bridge between the person you are, and who you want to be. 
Coaching with Krista-Lynn brings results: you will elevate your consciousness (bye-bye, BS Brain™️), align with your purpose, harness your power (hello, Super Self!) and transform your life.  
When you're ready to say, "YES!" to living your dream, call Krista-Lynn: 828-490-SOUL (7685)


---


Important changes to Tenacious Tuesdays
We are introducing several new elements to Tenacious Tuesdays, based upon your feedback in 2017. Here are the important additions:
New Time: 2:00 pm - 4:00 pm will get you on the road before rush-hour traffic
60 Second Pitches: 5 women will be randomly selected each meeting to do their elevator pitch in front of the room
Single Speaker Schedule: Giving our Trainer more time to teach, we will only host one Keynote from now on
Adding Beer & Healthy Snacks: Champagne and Chocolates are fabulous, but we will incorporate a few more options
---
January Sponsors
Jessica Chilton's SPARK
Jessica Chilton guides women locally and around the world to create the business they were born to lead. She supports women who are ready for immense transformation--a new chapter of soul-satisfying work is calling them and they know they have to come out of hiding and move beyond fear in order to step into it.
On the entrepreneurial journey, Jessica guides women to access their clarity, express who they really are, know who they are designed to serve, create their most valuable offerings, become an empowered collaborator with money, and say yes to the mission their life has prepared them to lead.
As an Expressive Arts Therapist and Business Coach, Jessica is a catalyst of Love & Liberation, freeing women to make their unique contribution. If you're ready to "Unleash the Work You're Designed to Do," sign up for Jessica's FREE 5-Day Online Mini-Course at www.JessicaChiltonSPARK.com
Melissa Cope, Massage Therapist
Health and wellness aren't optional. Melissa Cope, LMBT believes that they are essential to living your most productive and fulfilling life. With over 18 years of experience alleviating symptoms related to stress, chronic pain, headaches, injuries, and more, Melissa integrates different bodywork modalities, high-quality essential oils, and healing music to bring your mind and body lasting relief. By listening to your concerns and forging an ongoing and respectful partnership, Melissa will help you reach optimal health so that you can contribute your best to your family, community, and the world. (NC Lic #4552) See more at www.AshevilleMassageTherapy.net
Vanessa Bell, Host of TRUE COLORS VisionBoard Workshop
Vanessa Bell, workshop leader, runs an independent design and marketing enterprise (Bell Design) based in Asheville NC, specializing in support for small businesses, creative and solo-preneurs in need of visual marketing solutions. She believes wholeheartedly in the power of intention and manifestation, and that creativity is life!
TRUE COLORS Vision Board Workshop is her most recent offering and provides the opportunity (and nudge) to intentionally define your dreams and create an extraordinary vision for the life you desire and deserve! www.SeeYourTrueColors.com

Ellen McNeill, Speaker, Author, and Coach
Ellen McNeill, known as "THE GOAL CRUSHER COACH", is BEST SELLING co-author with Brian Tracy of the business book for entrepreneurs, Ready, Set, Go!  Ellen works exclusively with Women Entrepreneurs who have been in business one year or more.  Many WE's desire financial increase in different areas of their business.  Ellen's focus in working with you as your Coach is to help you achieve your business goals as quickly as possible.  She does this by putting your goals through her comprehensive pilot program called "The Foolproof System to Achieve Your Business Goals FAST!"  More at www.EllenMcNeill.com
Carla Parvin, David Allen Capital
David Allen Capital focuses on small and medium-sized businesses.  Our simple application process allows business owners to remain focused on building their business instead of fighting a bank's intensive application process and waiting months for a decision.
A business generating at least $8,000 per month for the last 4 months will qualify to apply for a David Allen Capital loan. The owner's FICO score must be 500 or greater.
David Allen Capital only represents transparent, top-rated, and quick-turnaround small business capital providers.  Over $10 billion has already been delivered to businesses to help fuel their growth. We focus on getting quick approval and fast funding. More at www.DAC4approval.com
Have questions about Tenacious Tuesdays: Live Your Dream in 2018 (Purpose + Mission)?
Contact WEWNC
When & Where

Pack's Tavern
20 South Spruce Street
Asheville, NC 28801


Tuesday, January 9, 2018 from 2:00 PM to 4:00 PM (EST)
Add to my calendar
Organizer
WEWNC is a regional partnership aimed at educating, empowering, and equipping Women Entrepreneurs of Western North Carolina. The initiative focuses on delivering highly targeted training, mentoring, and professional networking opportunities for female business owners operating across WNC.