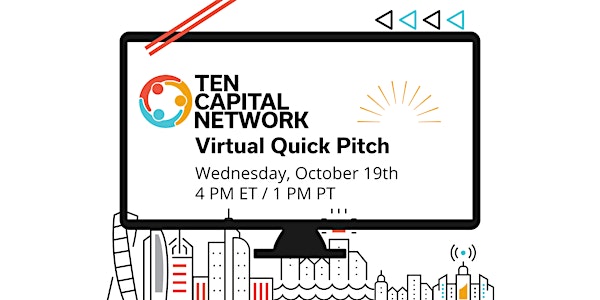 TEN Capital Quick Pitch
Join us for our Quick Pitch event!
About this event
Join TEN Capital Network LIVE for our next Quick Pitch session featuring a select group of TEN clients and an experienced panel of investors.
Joining us this month is Brian McCullough of Ride Home Fund and podcasts the Techmeme Ride Home and the Internet History Podcast.
During this event, a handful of TEN Clients will have a chance to pitch and connect to our featured panel of tech investors. Come get a rare view of the pitch process and hear feedback in real-time.
About Ride Home Fund: Ride Home Fund is a rolling fund, investing mostly in Pre-Seed, Seed and Series A, with the occasional opportunistic Series B or C round. Areas of expertise and interest included SaaS, developer tools and platforms, consumer, AI, and blockchain. The Ride Home Fund was born out of the Techmeme Ride Home podcast, Silicon Valley's favorite daily tech news podcast with an audience of 50k-70k of the most connected tech industry listeners in any one place. The original LPs in the fund's first year were all listeners of the podcast. We offer the podcast megaphone to each company in the portfolio as a way to raise their profile, and "launch their story" in their own words at a crucial time in their development. The podcast megaphone is like a free option on the most powerful marketing and profile-raising platform an early stage company could ask for."
Register now for Wednesday, October 19th at 4:00 PM ET / 1:00 PM PT.