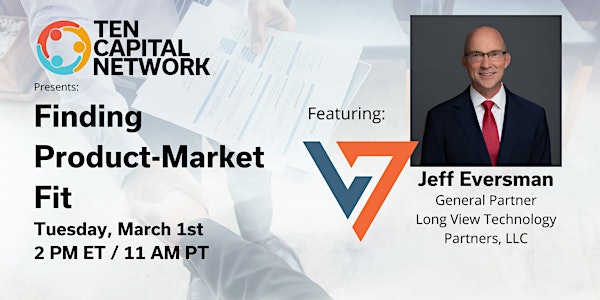 TEN Capital AMA: Finding Product-Market Fit
TEN Capital Network Presents: Finding Product-Market Fit featuring Jeff Eversmann of Long View Technology Ventures
About this event
Join TEN Capital for the next installment of AMA: Finding Product-Market Fit.
Join Hall T. Martin of TEN Capital Network and Jeff Eversmann, General Partner at Long View Technology Ventures, for this 45-minute session to learn how to identify an opportunity in the market, ensuring that your MVP is a product people will want to buy. Jeff will cover understanding the problem, building the right solution, and then a business, before building a company.
Why it's important to the TEN Capital Community:
Today there are many sources of venture funding and even more startups seeking funding. Funding is moving online, but it's important to stay connected to the community and share deal flow and best practices.