Sales Have Ended
Registrations are closed
Maaf, Tiket sudah SOLD OUT !
Sales Have Ended
Registrations are closed
Maaf, Tiket sudah SOLD OUT !
Akhirnya ada strategy internet marketing yang bisa memberikan TEROBOSAN penghasilan untuk Anda
About this Event
Inginkah Anda memiliki Kebebasan Finansial dan Kebebasan Waktu ?
Apakah Anda ingin punya Strategi Bisnis untuk menghasilkan uang secara tak terbatas, tanpa terikat waktu dan tempat ?
Anda ingin dapat bekerja di mana saja & kapan saja Anda suka ?
DO IT WHEREVER YOU WANT
Pasti jawaban Anda adalah YA.. maka Seminar ini cocok untuk Anda..
Dalam Seminar ini Anda akan pelajari :
- Sistem Sederhana yang bisa membuat Anda bisa langsung ikut TERJUN ke bisnis internet yang sudah terbukti menciptakan banyak Internet Millionaire baru, Gaptek Millionaire baru (yang GAPTEK dan Tidak punya pengalaman apapun, yang penting adalah Anda bisa Copy + Paste, karena Anda akan dibimbing step by step)
- bagaimana menggunakan LEVERAGE, sehingga Anda bisa memiliki bisnis internet global yang potensi penghasilannya milyaran, secara PASSIVE INCOME
(Lihat langsung studi kasusnya saat seminar, sekaligus bisa konsultasi dengan para praktisi)
- Penerapan Strategi Bisnis Autopilot + Multiple Stream of Income yang harus dimiliki setiap bisnis yang mau profitnya bertumbuh secara eksponensial dan running 24 jam 365 hari
- Dan yang paling menarik adalah: Anda tidak perlu punya keahlian dan latar belakang khusus untuk menggunakan Sistem Bisnis ini.
- Yang Anda perlu lakukan adalah mengikuti instruksi step by step yang akan disediakan untuk Anda... Mudah bukan?
=================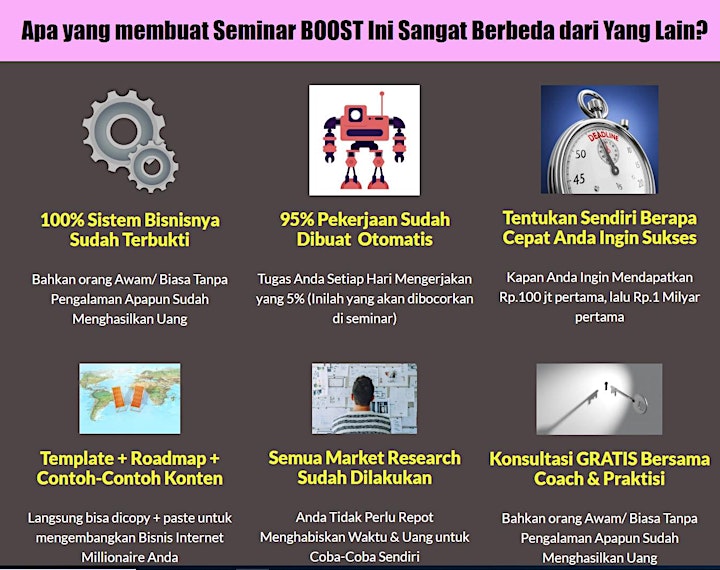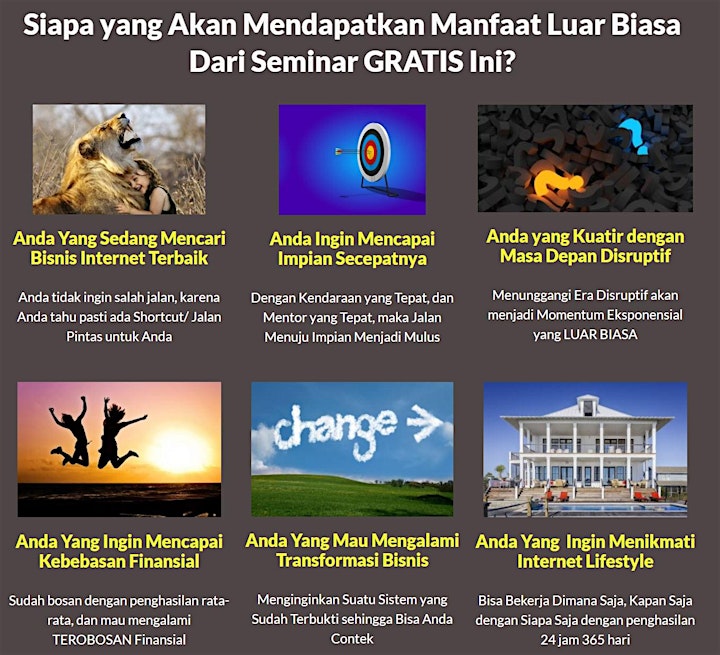 Webinar Gratis 3 Skill & 3 Rahasia Strategi Bisnis Internet Millionaire, atau biasa disebut Seminar BOOST, akan diadakan di
HAPE dan LAPTOP ANDA
Di manapun Anda berada, di kota manapun Anda tinggal, di Indonesia
Hari Sabtu, Jam 10.00 - 12.00 WIB
Terus terang webinar sebelumnya sangat FULL, jadi pastikan Anda segera registrasi sebelum kehabisan dan mumpung masih GRATIS.
SEGERA DAFTAR SEKARANG JUGA!
Silakan klik tombol "Register" atau klik Link di bawah ini.
Bagi pendaftar akan di bagikan Ebook "Step by Step 100 juta pertama dalam 100 hari"
================
Contact Person :
MONIKA CHRISTIJANTI
Telp/WA : 0812-9255-5279