About this Event
All tickets for the 11/8 show will be honored.
It is one of the brilliant facets of recorded music that while it can frame forever in time one of humanity's most fluid art forms, those captured sounds themselves can go on to become an active launchpad for the ideas, memories, emotions and feelings of those listening. Returning with their third album, Hot Motion, Temples have not just provided a strong demonstration of this dual static/frenetic nature, but they've created a record that revels in this beautiful contradiction.
A brilliantly crafted, thoughtfully recorded collection, the album's propulsive, seemingly immediate songs soon reveal an impressive depth of ideas and energy with subsequent listens because, as its title warns, Hot Motion is not a record that stands still.
"I'm excited for people to experience these songs for the first time," declares singer and guitarist James Bagshaw. "They are constructed in such a way that the album should feel relatively instantaneous, but we did not water down our creative ideas. Getting that balance can be hard, perhaps on the last record on some songs we used too many layers to create depth, but making this album we discovered that depth doesn't simply come by layering things, it can come from the intensity of an idea."
While proud of 2017's electronically orchestrated Volcano, the trio – completed by bassist Tom Walmsley and guitarist Adam Smith – feel they have reconnected with the verve and spirit of their debut, 2014's Sun Structures, although Hot Motion proves as unique and forward-thinking as any Temples album.
"There's something more primal about this record," suggests Walmsley of its energy. "We didn't want to complicate things. We wanted it to have a more robust feel to it and focus more on guitars. Having less on there, but making everything sound as big as possible. I've always wanted our records to sound quite grand and larger than life, but we achieved that with some more earthy sounds in this time."
As with the band's first two LPs, the group recorded the album themselves in Northamptonshire, although this side of Temples as evolved too. "We've gone from bedroom to living room to a dedicated space. We could all set up in the same room and allow things to play out a lot more like a band. That played a huge part in the sound of the record," says Walmsley, although despite the extra room Hot Motion remains a home recording like its predecessors.
"The room is a 300 year-old outbuilding at my house," continues Bagshaw. "I spent two years fixing it up because it had a leaky iron roof on it. It was nice to work in a space which had a little charm to it but still felt like home recording."
That space fed directly into Temples vision. While retaining their enviably poppy instincts, the band created a host of brand new guitar sounds for this record and also took a lead from the "simplicity" of some 70s rock recordings which ensured the fundamentals behind each track are organic and original. "We were hiding less behind synth sounds and delays, which meant that the pureness of the melodic construct of each song was more thought through," explains Bagshaw. "There was an element of less is more in some places."
A glorious technicolour infuses much if the album, but there is a David Lynch-like undertone that adds a gravity to Hot Motion's soaring moments. "It felt like there was a darker edge to what we were coming up with and we wanted to make sure that carried through across the whole record," says Walmsley. "It's not a ten track, relentless rock record from start to finish, it's got a lot of light and shade and more tender moments, but that heavier, darker sound for us is something we wanted to make sure was in there and explore further."
The exemplar of this is the opener and title track Hot Motion. Starting with a seemingly innocent, crunked ice cream van-like riff, the song quickly bounds through a sonic landscape of shadowy valleys and exalted highs as the track captures Temples at their inventive best, and shares an expansive, irresistible energy with the listener.
"Hot Motion is the feature piece," declares Walmsley. "It was one of the first songs we put together for the record and it felt like it had all the marks and inspiration that we wanted the whole record to have, that was an important track." Bagshaw agrees, suggesting that it set a tone for the next phase of Temples' development. "Hot Motion is a better song than I ever dreamed it could be," he says. "There was something in essence of that song to conjure with."
From the impressive opening, the rest of Hot Motion similarly boats an initial immediacy before unfurling greater depth and ideas, although each song cascades onto its own unique territory. Tracks like The Beam, It's All Coming Out and Step Down offer swirling, enticing mini journeys, while the groove on Context "huge and a bit of a nod to an old school hip hop vibe" according to Bagshaw. "Songs like The Howl and Holy Horses have a slightly harder, heavier than we've done before," adds Walmsley. "It felt like it was very important to retain that element on the record because it allowed us to open up with tracks like Atomise."
Lyrically too, this record has seen Temples embrace "purer, primal" feelings.
"I'm really proud of You're Either On Something lyrically because I feel deeply connected with the words – they're so truthful," admits Bagshaw. "On that track, I can hear influences of stuff that I listened to when I was growing up. There's almost a nostalgia to that track, even though it's very forward-looking. Equally, while the words on [album closer] Monuments are a little cryptic, it's very much about the time we live in. I wouldn't say it's a political song but you can't help but write about the things that are happening otherwise you'd just be a hermit."
Fizzing with ideas, bursting with kinetic energy and balancing an immediate impact with an enduring, timeless intensity, Hot Motion is an album that very much provides a snapshot one of Britain's most progressive bands' soul, while offering its audience a starting point for their own flights of emotion and imagination. Indeed, one of its creators is jealous that he cannot experience it anew too.
"This record has really got me excited," declares Bagshaw. "I really want to be on the receiving end of it more than any other record we've done. While we were making it I was thinking I wanted to be able to hear what it sounded like without working on it – I'd love to hear this out of the context in which it was made. I was really longing for that as we worked on each song, so I'm excited for people to experience these songs for the first time."
Don't delay this life-affirming trip, Hot Motion awaits.
___________________
Art d'Ecco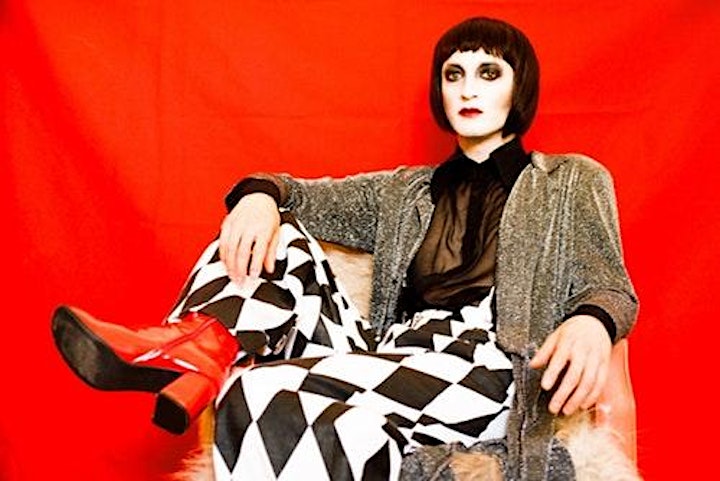 The Gulf Islands of the Pacific Northwest are an enigma. The islands jut up through the brisk waters of the Pacific Ocean, and just as the likes of Vancouver and Seattle exist at the intersection of opulences both natural and manmade, the islands host multitudes in their lush, hushed red cedar and Doug Fir skyscrapers. Art d'Ecco is one such multitude: an unapologetic, inclusive rock and roll mystic in a wig and lipstick.
d'Ecco's new record, Trespasser, is a product of those islands, where he wrote and prepared the album in a cottage. It was in these woods, shrouded in fog rolling off the ocean and surrounded by deer, rabbits, and a reclusive neighbour, that Art d'Ecco found not just the clarity of stillness, but the loneliness and isolation of it. These he has distilled into a record of mystery, fluidity, and neon glam- rock stomp.
When d'Ecco moved into his grandmother's cottage on one of the islands, he hadn't planned on creating a new project. But, as it often does, circumstance charted his course. His grandmother, living with Alzheimer's, suffered a related phenomenon called 'sundowning,' which triggers increased agitation and anxiety around sunset. "The only way to calm this lady down was to sit down at the piano," says d'Ecco. He would play "Bohemian Rhapsody," passing it off as Beethoven. "She would sit there for a couple hours just listening to me noodle away." After she was relocated, d'Ecco remained in the empty house where he had played as a child. Draped in memory, he gravitated toward the piano, spending the long, lonesome, quiet nights on the bench before the instrument. This is where Art d'Ecco was created.
He relocated to a new cottage, but depression and loneliness followed him. Determined to return to music but cut off from the mainland music scene he was once a part of, he built a studio in his new lodgings, and barricaded himself with copies of Deerhunter's Cryptograms, Bowie's Low, and choice
krautrock records. In this solitude, d'Ecco would chase tones for hours. The result is a richly-realized confluence of the ferocious spark of those trailblazers and a distinct sadness, with d'Ecco as mad scientist, stitching together these delicious fragments and animating them.
But the project was still insular, secret. d'Ecco would stumble across NO TRESPASSING signs in the woods around his cottage; he couldn't shake them. "Trespassing is someone who doesn't belong somewhere, and is forbidden from going somewhere," he says. The alienation d'Ecco felt was present in those signs: cut off, isolated, restricted. He decided that he would ignore the signs, and he would ignore them as Art d'Ecco: an androgynous front person in a lipstick, wig, and costume.
The fluidity that d'Ecco embraces had its day in the sun with glam rock's celebration of androgyny, but the mainstream in 2018 is painfully lacking in beyond-the-binary experiences. d'Ecco wants to change that. "It's gonna make some people feel uncomfortable," he says. "Maybe I don't belong. But I'm pushing my agenda on the masses."
That agenda includes more than overdriven guitars, Italian analogue synths, and d'Ecco's ear for melancholic melodicism. It means balancing the scales, encouraging inclusivity and love, and dethroning the dudes-in-jeans-and-t-shirts aesthetic from alternative rock. "I'm into androgyny and the theatre of the bizarre and the absurd, and challenging the masculine overtones of the rock and roll industry," he says firmly. "The aesthetic of rock is a little tired."
"In the '70s, rock and roll and glam rock, it was playful," he continues. "It was dark at times, but overall, it was very inclusive. You could be a freak, you could be a jock. Everybody was welcome at the Aladdin Sane tour. Rock and roll felt more inclusive back then. I felt maybe if I strip the masculinity out of my aesthetic, it will allow me to be sonically more heavy."
Opener "Never Tell" kicks off with that heaviness, a bass-driven burn in the vein of Roxy Music that finds d'Ecco cooing secretively in falsetto over the pumping rhythm: "I never tell/Loose lips sink ships." Tracks like "Who Is It Now?" recall the throbbing grind of Let's Dance while "Last In Line" bursts in with Raw Power guitars before expanding to d'Ecco's soon-to-be-trademark synth theatrics as he cries, "It's just a thing called love, and I keep fucking it up!" "Dark Days (Revisited)" finds him "looking back through the hourglass of time," bringing a darkened period of his life to the surface as guitars and keys careen out of control in a miasmal haze. d'Ecco says its about acknowledging darkness, and triumph over it. "I wanted it to sonically represent frustration," he says.
Trespasser, like its guarded title might suggest, spends plenty of its runtime in minor keys, but it does so without trading in kinetic energy and undeniably pop appeal, with d'Ecco's at turns whispery, sensual falsetto and booming, powerful howl hemming in the sonic architecture. "There's something about minor key pop songs," he says, citing Stanley Kubrick, master of the banal-turned-grotesque, and David Lynch, the auteur who serves as shorthand for 'the absurd,' as aesthetic influences. "There's maybe a visually beautiful representation of something that's really dark, and I like that juxtaposition. That's the mental tramp stamp of Art d'Ecco."
Indeed, d'Ecco relays his darkness through the intricacies of Trespasser. The stoned 3⁄4 waltz of "Lady Next Door," finds him listening as an elderly widowed neighbour weeps herself to sleep each night, alone in her rocking chair. The song is rooted in reality. "I was thinking of my grandmother. She was literally the lady next door, rocking herself to sleep every night in a chair." But d'Ecco is also touching on something bigger: "It's about this sad existence that we all live in a compartmentalized world. If only we could just say hello to each other, reach out to each other, it might make the pain less insufferable."
This, really, is at the core of Trespasser: a call to expose our pain, set it to a melody, and dance to it in a darkened room. "Trespasser is an album about what is, what was, and what could've been," d'Ecco says. "Sometimes you gotta get dark before you find the light."
Performers
Date and Time
Location
Refund Policy