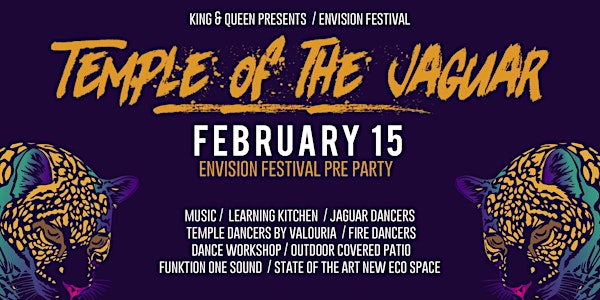 Temple of the Jaguar
Ages 21+
King & Queen Presents // Envision Festival (Envision Festival Pre Party)
King & Queen Presents with Envision Festival bring you Temple of the Jaguar! An Official Envision Festival Pre-Party
When and where
Location
Redd on Salmon 831 SE Salmon Street portland, OR 97214
Performers
Headliners
More Performers
Of The Trees
IHF
Tor
Edamame
About this event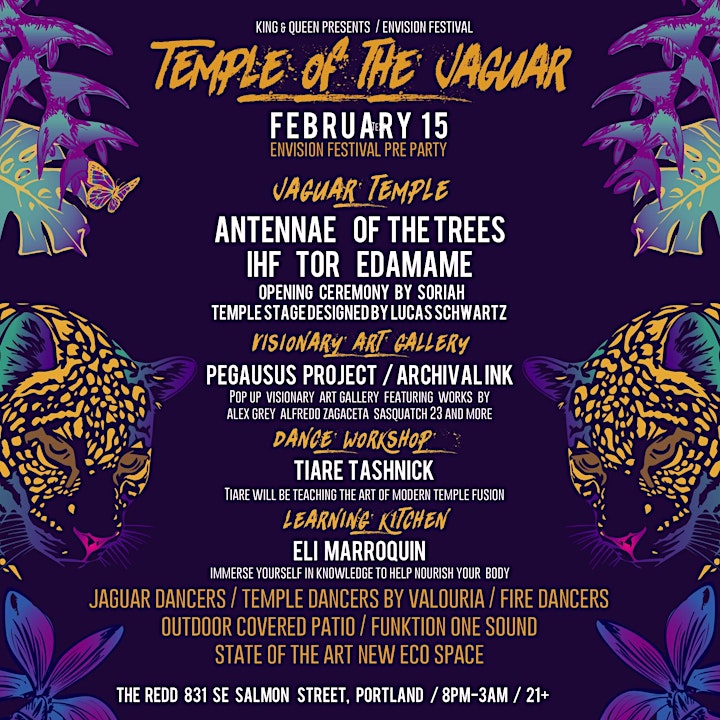 Temple of the Jaguar is an immersive community event at Portland's most exciting new event space The Redd on Salmon. Featuring an international lineup of music |Dance workshop | Learning Kitchen |Visionary art Gallery | Large outdoor patio and more.
Temple of the Jaguar
An-Ten-Nae
Of the Trees
IHF
Tor
Edamame
Opening ceremony By Soriah
Main Stage Build - Lucas Schwartz -
Will be creating the main temple stage for our event ! Lucas has worked with Carey Thompson & Android Jones on Dave Tipper's Stage, and The Star Portal at Burning Man, the main stage at Pyramid Eclipse with Michael Christian, and installations too numerous to mention. Lucas will be pushing his boundaries to create something never before seen and grand in nature.
Visionary Art Gallery (Pegasus Project / Archival Ink)
Pop up visionary Art gallery featuring original works by, Alex Grey Alfredo Zagaceta Sasquatch 23 and more
Dance Workshop (Tiare Tashnick) Creator package only
Tiare will be teaching the art of modern temple fusion dance
Learning Kitchen (Eli Marroquin) Creator package only
Immerse yourself in knowledge to nourish the body
Music / Fire Dancers / Visionary Art Gallery / Temple Dancers / Jaguar Dancers / Learning Kitchen / Modern Temple Dance Workshop / Gourmet Food by Portland Pupusas & Taqueria / Jungle Libations by Black Rabbit Bars / Funktion One sound / Amazing event Space
More mysteries to unfold….
Creator Ticket Holder Doors at 8:00PM / General Admission Doors at 9:30pm / 21+
The jaguar spirit animal is the gatekeeper to all that is unknown. A mystical totem, the jaguar offers lessons about reclaiming your inner power by awakening your inner core energy Kundalini. When the secretive, graceful jaguar enters your life it is time to resolve old issues and to make way for a spiritual rebirth. Understanding the darker side of life is what offers this powerful animal totem its mystery. With understanding comes the ability to embrace change and life's multitude of cycles. Those who have the jaguar as their power animal are passionate, confident, and possess a deeper understanding of life. Often able to embrace change with grace and dignity, those with this feline spirit animal as their guide tend to be creative, see the bigger picture more easily, and allow their intuition to guide them without hesitation.
The Redd on Salmon Street
Soaring ceilings, original wood beams, greet you in the Main Hall. The Redd is the perfect space for community oriented events of the highest caliber and comes complete with a giant learning kitchen , and huge outdoor patio.