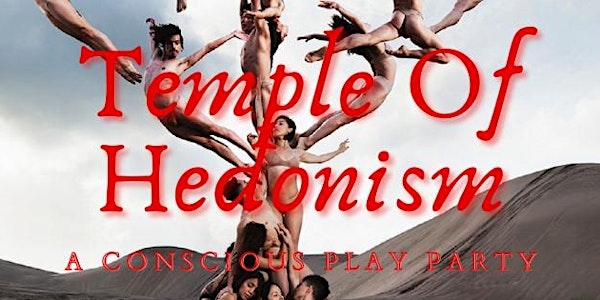 Temple of Hedonism w/Monique, Peter, & Major Tom
In the sacred sxxual space we will be taken on a journey of deep connection, touch, erotism, and pleasure!
When and where
Location
Vista Address included in confirmation message Vista, CA 92081
Refund Policy
Contact the organizer to request a refund.
About this event
Many of us have been distancing and resisting the temptation to play and connect in groups for over a year, the time has come to explore the Temple of HEDONISM!
In the sacred sxxual space we will be taken on a journey of deep connection, touch, erotism, and pleasure! Monique, Peter, Major is bringing a night of tantric connection IN-PERSON!
Bring your desires, your lovers, and let's PLAY!
During this event, Major will be facilitating Authentic Relating exercises that allow you to step back into your empowered hedonistic self and connect deeper with those around you. After the opening circle and facilitation, you will be set free to PLAY & explore your limits and edges around pleasure! We welcome couples, moresomes, and solo folks! All gender expressions, sxxual identities, and quarantine statuses are welcome in this space.
7:00 pm - Doors open
8:00 pm Doors lock, Welcome Circle/Facilitation
8:45 pm- FREE PLAY
11:45 pm Closing Circle/After Care
12 am - End of The Return
Please arrive with:
-Your sxxy body, all your senses, and a clear and present mind.
-Clothing that makes you feel sxxy, empowered and embodied.
-Play toys or specialty items.
A REMINDER TO RELAX
We acknowledge the anxieties that come with an event of this nature, and let you know you are not alone in feeling them. We lovingly welcome you with whatever is up. There are no expectations, you get to choose your own adventure tonight.
So take a deep breath, go do that happy-making thing that has you feeling centered and get ready to explore. Voyuerism IS participation.
Communicate boundaries with your partner(s)
We ask that you have an honest conversation with any partners you have around your desires and boundaries before you arrive at the party so that you are all on the same page.
What is Consent? (Language borrowed from Planned Parenthood)
Freely given. Consenting is a choice you make without pressure, manipulation, or under the influence of drugs or alcohol. Reversible. Anyone can change their mind about what they feel like doing, anytime. Even if you've done it before, and even if you're both naked in bed.
Informed. You can only consent to something if you have the full story. For example, if someone says they'll use a condom and then they don't, there isn't full consent.
Enthusiastic. When it comes to sex, you should only do stuff you WANT to do, not things that you feel you're expected to do.
Specific. Saying yes to one thing (like going to the bedroom to make out) doesn't mean you've said yes to others (like having sxx).
With this in mind, we expect everyone to show up in love and a willingness to help us cultivate a welcoming space for all.
*Any oppressive, discriminatory, or non-consensual behavior will NOT be tolerated.
We require ALL guests to be present, connected & in control.
ONLINE REGISTRATION:
TIME
Doors open at 7:00 PM and CLOSE AT 8:00 PM. BE ON TIME as it is essential to have everyone present for the opening circle. There will not be anyone admitted after the doors are closed to preserve the safety of our space. The Welcome Circle is what we use to introduce ourselves to one another, craft meaningful conversations, share any boundaries and relationship agreements people should know about, and get all comfy and ready to play. There will be a closing circle at midnight. PLEASE text Monique at 619 601 8852 if you're unavoidably running late, but please just be on time!
COST
Love Exchange beginning at $99 for male identified, $69 for female identified or nonbinary or $150 for pairs
We have a few sliding scale and scholarship tickets for some savvy female identified folk, just contact Monique or Peter.
PLEASE RSVP HERE:
Join early as we have limited the capacity and this will sell out!! 🙂
We are going to be in town for a weekend and we have crammed as many different events as we possibly can in this short time for you. Come out and play again and again!
ABOUT YOUR FACILITATORS:
Major is an intimacy coach/facilitator at Consciousplay.net, co-founder of Temple Of Hedonism, and Co-Producer of VirtualIntimacyRetreat.com.
Trained as an authentic relating facilitator, he utilizes Integral Theory to create exercises in different practices acting, movement, and intimacy. My innovation and penchant for levity creates a brave experiential container for people to blossom open, and deepen the relationship to self and others. Authentic Relating Games allow you to intimately know yourself and create a space for decentralized processing.
His intention is to show up authentically to create safety and permission for others to show up fully. My containers are for deep intimacy and growth. I believe when we locate and push against our edges, that is where the growth can happen.
Monique Darling, Author of 'Beyond Cuddle Party' and workshop facilitator extraordinaire, was born on this planet with the unique gifts and soul calling to help you remember how magnificent you truly are! Messages from your ancestors, your spirit guides, your body, nature, your soul, are all called upon and utilized so that you walk away knowing how deeply the cosmos loves you for YOU, exactly as you are, so you can begin to love and accept yourself too.
YOU, you are the gift!
Monique has led nearly 3000 workshops in the past 13 years. She has taught at colleges across the US including Yale. She has been featured on TLC and The Dr's as well as various radio shows, podcasts and magazines across the globe. She specializes in helping others reclaim their power and natural sensuality by transmuting fear and repression into courage, self-love and freedom. Her primary purpose is helping folks bring out their vulnerability, energetic embodiment and fearless relating. Learn more about Monique by going to www.everydaytantra.com
Peter Petersen has been teaching qigong for 20 years and has been a certified massage therapist for the last 18 years. Peter has been teaching in health clubs, hospitals, retirement villas, and several different wellness/spa resorts in Mexico and the United States, such as Rancho La Puerta, Mayacamas Ranch, and Present Moment Retreat.
Peter is also a personal wellness coach. This Qigong practice helps people ground themselves into their "now" to increase their present moment awareness of their behaviors, and find simple solutions to problematic habits such as: eating, moving, negative thinking, and sleeping. The result of this tool box of healthy information is that clients become their own health advocate and regain a sense of stability, peace, and well-being into their everyday lives.