Temas Familiares 2017

Saturday, November 4, 2017 from 8:00 AM to 1:00 PM (EDT)
Who's Going

Loading your connections...
3 of your friends are going.
Share it to get more people on board!
Share

Sara Haughty
San Francisco, California

Luke Picard
London, United Kingdom

Rick Vespucio
Florence, Italy
Event Details
Conferencia Anual Temas Familiares
Esta Conferencia es el equivalente en

español

de la conferencia de "Parenting Matters", que se ha estado celebrando en Rhode Island por varios años.
Todos Los talleres serán presentados en español.

 
Se presentaran temas dirigidos a los adultos, jóvenes, familias, y proveedores que asistan a esta conferencia.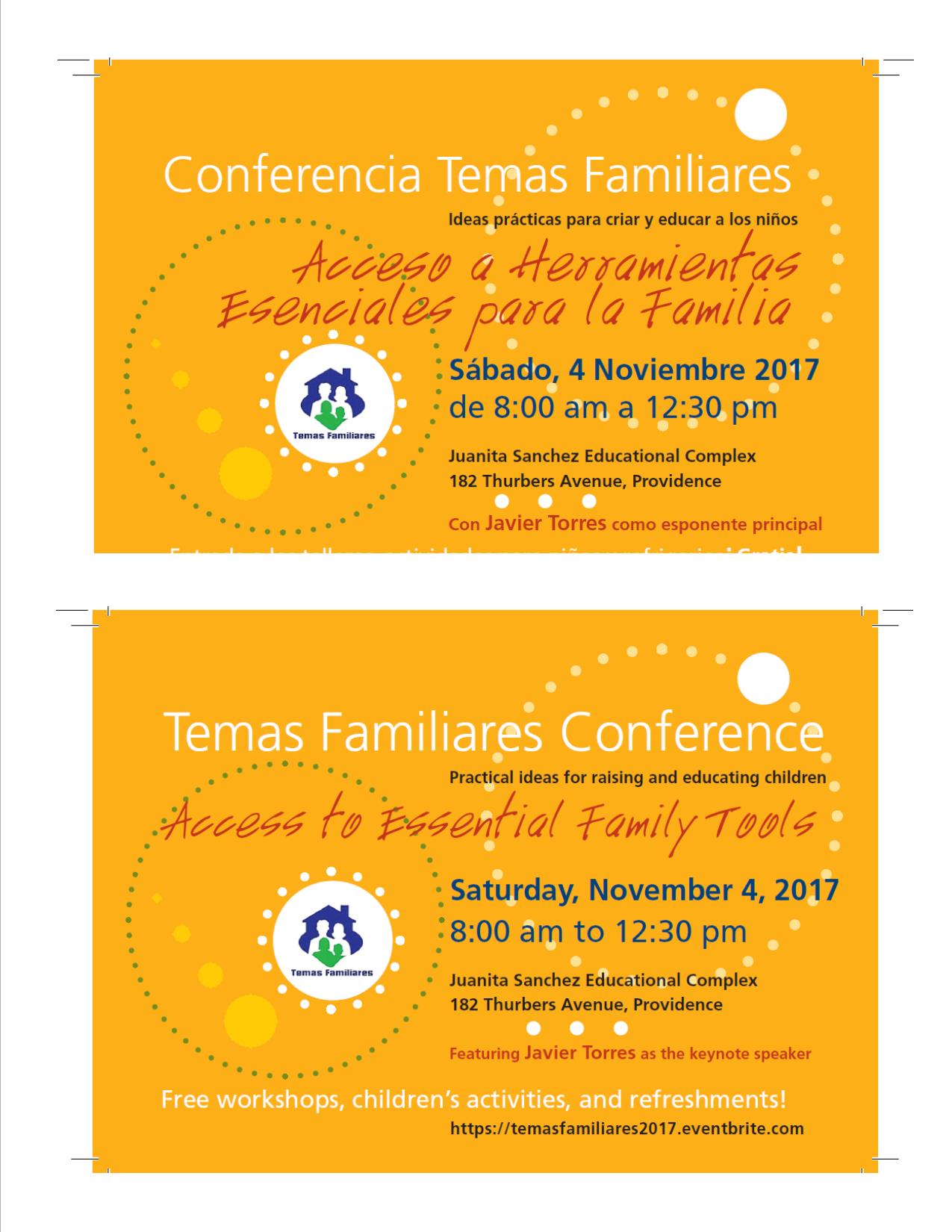 Presenter

Organization

Time

Workshop   Title & Description

Kalina     Brabeck

Lifespan and Rhode Island College

10:25AM to 11:25AM

Manteniendo   Nuestra Salud Mental Y Apoyando   a Nuestros Hijos en el Ambiente   Politico de Hoy


    Los participantes aprenderán como el racismo, la discriminación, y las     acciones contras los inmigrantes afectan al bienestar emocional de los   padres   y niños. Aprenderán como el cuerpo reacciona hacia el estrés, y   estrategias   para lidiar con el estrés. También aprenderán que   importante es la   comunicación con los niños, e ideas para para   comunicar efectivamente con   ellos sobre estos asuntos.

Maintaining our Mental Health and Supporting Our   Children   in Today's Political Climate

  Participants will learn about how racism, discrimination, and   anti-immigrant   actions affect parents and children emotionally. They   will learn about how   the body reacts to stress, and strategies for   coping. They will also learn   about the importance of communication   with children and tips for how to   effectively communicate with   children about these issues.
   
   
   

Thamara     Davis

Lifespan

11:30AM to 12:30PM

La   importancia de las interacciones   de los padres con los hijos

El impacto de     los medios de comunicación y la electrónica y, básicamente, cómo   proveemos   las habilidades que un niño necesita con una segunda parte   sobre cómo el   IPad, TV y You Tube apoyan las habilidades necesarias
   
   

The importance of parent child interactions

The impact of media and   electronics and basically   how do we provide the skills that a child needs   with a second part   about how the IPad, TV and You Tube support necessary     skills.  

Ramona     Santos

Parent Support Network

10:30AM to 12:30PM

Aprendizaje   Social y Emocional - Social   and Emotional Learning
   
   

El     aprendizaje Social y Emocional es el proceso a través del cual los niños y     adultos adquieren y aplican efectivamente los conocimientos, actitudes   y   habilidades necesarias para comprender y manejar las emociones,   establecer y   lograr metas positivas, sentir y mostrar empatía por los   demás, establecer y   mantener relaciones positivas y tomar decisiones   responsables
   
   
   

Obed Papp and   Azade Perin

Drug Free   Community Program Director at City of   Providence's Healthy Community Office

10:30AM to 12:30PM

Construyendo Comunidades Saludables con Padres   Positivos
   
    Building Healthy Communities with Positive Parents

Liza   Then

RIDOH

10:25AM to 11:25AM

¡Mejor   prevenir que no oír!

Early Hearing Detection and   Intervention (EHDI)   program supports the early identification of deaf and   hard of hearing   (DHH) infants. Hearing   screening and a full hearing test, why are they   important? The earlier   children with hearing loss are identified and   start getting intervention, the   more likely they will reach their full   potential. Participants will be provided   with resources avalible for   them in the community

Gloria     Cardenas

The Providence Center

10:30AM to 12:30PM

Young   Children and ADHD. Los Ninos y la Hiperatividad

Maria   Luz   Foronda Vega

Aserluz

10:30AM to 12:30PM

Componentes De La Depresión.

Claire     Walker

The Autism Project

10:30AM to 12:30PM

Creando las   Conexiones


    ¿Sabías que en algún momento entre las edades 6 meses y 12 meses, los   niños   responderán a su propio nombre, utilizara sus dedos para apuntar   y utilizara   gestos simples, como la sacudida de su cabeza para decir   no o mover la manita para decir Adiós? Cómo sus hijos juegan, aprenden,   hablan,   actuan y se mueven nos dan pistas importantes sobre su   desarrollo.   Exploraren maneras de apoyar el desarrollo   de   su hijo a través de las actividades cotidianas.   Los padres y proveedores   de cuidado   infantil aprenderán lo que pueden hacer si tienen   preocupaciones sobre el   desarrollo de sus hijos. Los participantes     recibiran información sobre recursos y   materiales que pueden   usar en casa para apoyar a sus hijos a alcanzar su   pleno potencial.

Creating the Connections
   
   

Did you know that sometime between   ages 6 months   and 12 months, children will respond to their own name, use   their   fingers to point, and will use simple gestures, like shaking their head     no or wave "bye-bye"? How your   children play, learn, speak,   act, and move gives us important clues about   their   development.   Explore ways to   support your child's   development through everyday activities.   Parents and child care   providers will   learn what they can do if they have concerns about   their child's   development. Participants will be   given resource   information and materials to use at home to support their   children to   reach their full potential.
   
   
   

David     Allard

RIDE

11:30AM to 12:30PM

ESSA

David     Landinez/ Carmen Boucher

Department of Health: Health   Equity Institute

11:30AM to 12:30PM

Los   adolescentes y la transición de   salud / Teens and Health Care   Transition.
   
    ¿Qué es la transición de la atención de la salud y por qué es   importante?   ¿Cuándo debo comenzar la conversación de transición de   cuidado de salud? ¿Cómo   puedo prepararme y prepara a mí familia? El   público recibirá las   herramientas necesarias para ayudar con la   transición de de cuidado de la   salud y los cambios del sistema.
   
    What is Health care transition and   why is it important?   When should I   start the health care transition conversation? How can I   prepare myself and   my family? Audience will receive the   tools   necessary to help with health care transition and system changes.

Melba     Depena Affigne

Skills for Rhode Island's Future

10:30AM to 12:30PM


    Técnicas y Herramientas para una   búsqueda de Empleo Efectiva.

El propósito     de este taller es de explicar la misión de la agencia Skills for RI   Future;   facilitar recursos a los/as participantes que permitan   optimizar su búsqueda   de empleo y Manejar adecuadamente las   herramientas básicas de búsqueda de   empleo. Este taller le   proporcionara   Ideas prácticas para llevar a cabo una búsqueda de   empleo efectiva que le   proporcione resultados óptimos en el mercado   laboral.
   
    "Techniques   and Tools for an Effective Job   Search"

  The purpose of this workshop is to explain the mission of the agency   Skills   for RI Future; Provide resources to the participants to   optimize their job   search and Manage the basic tools of job search.   This workshop will provide   you with Practical Ideas to carry out an   effective job search that will   provide you with optimal results in the   job market.
   

Deborah     Gonzalez & Brandon Lozeau

RWU Immigration Law Clinic (DG)   & DIIRI (BL)

10:25AM to 11:30AM

Derechos,   Políticas y   Procedimientos de Inmigración: Información Crítica para   las Familias                                                                                              

Conozca     sus derechos y conozca los recursos de inmigración en Rhode Island. Obtenga     información sobre los cambios en la política de inmigración y sus     implicaciones para las   familias.                                                                                                                                                                                                                                                                                                                                                                                               

Immigration Rights, Policies & Procedures:     Critical Information for Families

Understand your rights   and learn about immigration   resources in Rhode Island. Get information about changes in     immigration policy and their implications for families.
Save This Event
When & Where

Juanita Sanchez Educational Complex
182 Thurbers Avenue
Providence, RI 02905


Saturday, November 4, 2017 from 8:00 AM to 1:00 PM (EDT)
Add to my calendar
Organizer
Comite de Temas Familiares
El Comite de la Conferencia Anual Temas Familiares, se compone por representantes de agencias locales, lideres comunitarios, y profesionales en servicios públicos.