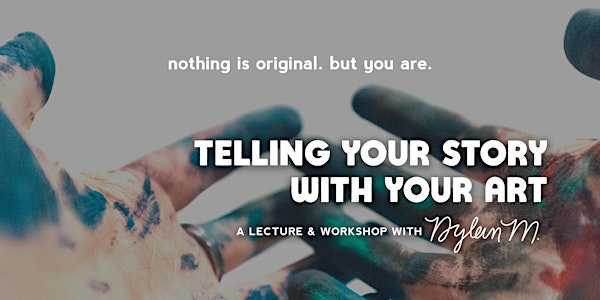 Telling Your Story with Your Art
When and where
Location
Skillshare Headquarters 35 E 21st St Fl 5 New York, NY 10010
Description
Your artwork is already telling a story, do you know what it is?
There's a lot of information out there about how to make art: how to fill a brush with paint, how to draw the contours of the human form, how to put words on a page - all valuable and interesting and important, and yet, that which lies beneath our art making, the story that speaks from the canvas, is often overlooked. Ironically, it's this very story that sets you apart from other artists who might otherwise be using the same mediums, techniques, or inspiration. Your story is your special sauce.
In this workshop, illustrator and educator Dylan M will turn your attention to the storytelling aspect of art making, and its ability to connect ourselves and our audience more consistently and meaningfully to the work we create. This isn't just a fluffy discussion, though; Dylan's knack for breaking down large and nebulous ideas into practical and applicable information will aid you in opening your mind for all the opportunities you have to show your point of view.
What's Included
A freeing and encouraging discussion/lecture about what a story is, the various ways in which you can tell your story, and concrete examples of stories that are already being told

Materials, time, and space to work on a guided project that puts the bigger lecture ideas into practice

Three full hours dedicated to nerding out and connecting with other artists

Snacks & prizes...I mean, this bullet should probably just go first, right?
Why?
You can skip this workshop completely and still continue making artwork.
You can skip this workshop completely and still continue making very good artwork.
But if you find yourself sitting at your sketchbook, overwhelmed by other artists and their work, and your own inner voice telling you you're uninteresting or even worse, generic, then come sit with the group for a few hours and listen to how you, right now, are filled with the most interesting and unique gems. The gems that only you can share, and combined with your creativity, give your art traction and meaning. This is the power of a story.
FAQ
Q: Do I need to bring anything?
A: No! Paper and drawing materials for the project will be provided, as will light snacks. If however you have some favorite art supplies, please feel free to bring them along! Paint, collage, paper cutting, and drawing materials will work best for the project, modeling clays and 3d mediums will be more difficult.
Q: Can I refund my ticket?
A: Unfortunately, no, so please be extra sure you're available and excited for the workshop before reserving your spot.

Q: How do I get in touch with Dylan or Skillshare before the event?
A: If you have questions about the content of the workshop, you can email Dylan at hello@bydylanm.com. If you have questions about the venue, you can email Mary at Skillshare at mary@skillshare.com
Q: I'm a/n ___________ artist, is this workshop for me?
A: Any visual artist (meaning you make art of some kind that's visual) who feels like their work is lacking in originality or purpose can benefit from learning about storytelling.
Q: What is the takeaway from this workshop?
A: Although you will be completing a guided project during the workshop, the real takeaways are the ideas about story telling, and getting your brain all jazzed up to cultivate and share your own story in your artwork.

Q: How many spots are available?
A: 30 max