Event Information
Refund Policy
Contact the organizer to request a refund.
Eventbrite's fee is nonrefundable.
In this 4-session workshop, come think with us about how we might tell true stories of Resurrection in our tense and complicated world.
About this Event
The sun doesn't come up all at once.
When the women walked to the tomb, the sky was the color of a pearl, grey reaching up from the point on the horizon that would see the sun first break through.
In the dark of late January, we will gather (on Zoom, of course) to think together about what it means to walk slowly toward Mark's odd Resurrection story. After the year we have had, something in us surely wants Easter to explode in obvious glory.
But the sun does not come up all at once. And Jesus does not pop out of the tomb, conquer death, and set everything easily to rights.
No matter how many hymns or sermons say otherwise.
Workshop Leaders
Pam Faro, MDiv, professional storyteller with world-wide experience, based in Colorado.
Richard Swanson, PhD, professor at Augustana University in Sioux Falls, South Dakota, and director of the Provoking the Gospel Storytelling Project.
Pam will tell key parts of Mark's gospel - we will experience the story together. Richard will guide our exploration of Pam's performances - we will join with each other in exploratory thinking about this old, audacious story.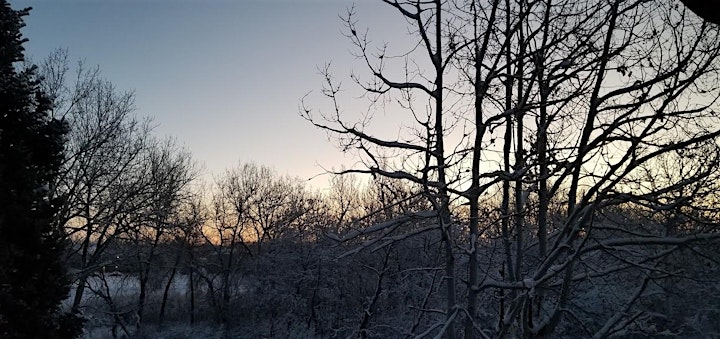 In this four-session workshop, come explore with us how we might tell true stories of Resurrection in a world so tense and complicated.
Details
The course will meet on four Thursdays (Jan. 21 & 28, Feb. 4 & 11, 2021 ).
Each session will be 1¾ hours long.
Time: 2-3:45pm Eastern (New York) / 1-2:45pm Central (Chicago) /12-1:45pm Mountain (Denver) / 11am – 12:45pm Pacific (Seattle) [US times; other locations use time zone converter.]
In these days of pandemic, we will meet face-to-face on Zoom, which (fortuitously) allows our group to gather from all over, and no airfare required! Zoom link will be provided once you register.
The cost for this opportunity to join Pam and Richard's exploration of Mark's gospel is $175(USD) per person.
Sessions will be recorded, and each recording available to registered participants for 30 days.
Scroll down for testimonials/reviews...
REGISTRATION IS OPEN up to start of the course on January 21, 2021
*Special Rates Available -
[Regular Individual Registration, as listed above, is $175.]
STUDENT DISCOUNTED REGISTRATION available to full-time students: $100.
CHURCH STAFF GROUP RATE: For 2-3 staff members of the same church, we're offering the special rate of $300.
Procedure:
One person registers and pays the $300 here on the Eventbrite site, using the "Church Staff Group Rate (for 2-3 individuals)" registration.
When asked for the additional 1-2 staff member(s) names and email(s), please enter the information.
Once you complete registration, you will receive the confirmation email with a link to the Online Event Page (info & link to access the workshops) – **the Online Event page will have instructions for you to pass on to the other staff member(s) you are paying for, to enable them to register with Zoom in order to attend our 4 workshops as well.
Questions? Contact either Richard Swanson (richard.swanson@augie.edu) or Pam Faro (pamfaro@gmail.com).
To learn more about Pam Faro and her work, go to storycrossings.com. To learn more about Richard W. Swanson and his work, go to: provokingthegospel.wordpress.com.

Testimonials
"This course has transformed the way I read and present scripture." - Nancy Eckels, Interim Pastor, Trinity Lutheran Church, Miller, SD
"The storytelling leading into a different way to know scripture opened up the academic part for me - which was presented like a fire side chat." - Melissa Adzima, Rector, St. Stephen's Episcopal Church, Longmont, CO
"Pam Faro insightfully embodies a text, the familiar suddenly new, while Richard Swanson gently offers background...prompting us to find something hidden in plain sight." - The Rev. Suzanne Guthrie, Soulwork Toward Sunday
"It was deeply meaningful for me. Well worth the time and the cost for the class." - Allan Mortenson, ELCA Synodically Authorized Minister
"Doing a Zoom conference of a storytelling event might seem counter-intuitive, but Pam and Richard made it valuable." - Angela Powell, Pastor, Living Saviour Lutheran Church, Charlotte, NC
"It reinvigorated not only my preaching, but my spiritual life as a priest." - Melissa Adzima, Rector, St. Stephen's Episcopal Church, Longmont, CO
Location
Refund Policy
Contact the organizer to request a refund.
Eventbrite's fee is nonrefundable.