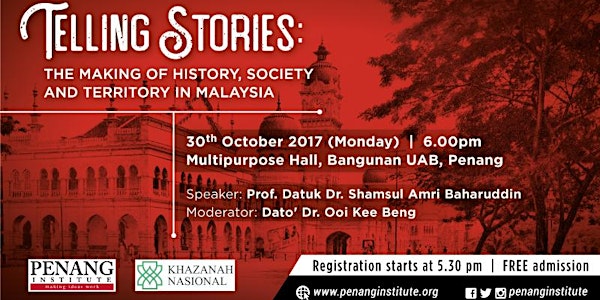 Telling Stories: The Making of History, Society and Territory in Malaysia
When and where
Location
Bangunan U.A.B Gat Lebuh China George Town, Pulau Pinang 10200 Malaysia
Description
A History of Malaysia, written by Barbara Andaya and Leonard Andaya, was published in 1982 and translated into Malay in 1984. The second edition was published in 2001 and the third edition in 2017. For more than 30 years it has been the history book Malaysianists, both local and abroad, have referred to and accepted as a benchmark.
An excellent publication such as this often invites detailed factual and conceptual historical questions unanswered in the book, as is the case with Richard O. Winstedt's Malaya and Its History (1948) and many others on the history of Malaya or Malaysia. They only "tell stories".
The answers to the questions are found in the "history of history" or the "making' of history, society and territory in Malaysia". It is, in turn, grounded in what is known as "colonial knowledge" – those forms and bodies of knowledge that enabled European colonisers, with the collaboration of the colonised indigenous elites, to achieve domination over their subjects around the globe. In other words, European colonialism began with "an epistemological conquest" before the economic and physical conquest, namely through the process of "define and rule" before "divide and rule".
Arguably, modern postcolonial Malaysia continues, until today, to survive and thrive, deeply embedded in the colonial knowledge framework.