TELLING STORIES - A Conference of Faith & Art
Description
Speakers will include:
Natalie Diaz, award-winning poet, professor of creative writing, and member of the Gila River Indian Tribe.
Barbara Brown Taylor, New York Times best-selling author, teacher, and Episcopal priest.
Esra Akin-Kivanç, professor of Art History and Religion, author, and researcher on Islamic art-historiography.
Arthur Skinner, artist, Gallery Director and Professor of Visual Arts at Eckerd.
Alex Harris, non-profit leader, academician, humanitarian, and an international award winning music entertainer.
Herbert Murphy, executive leadership in non-profit community, academician, humanitarian, and President of the Arts Conservatory for Teens.
Peter Meinke, Poet Laureate of Florida.
---
Art has long been a medium for the exploration of faith, a place where mystery can unfold without boundary or bottom. In the moments of dogmatic slumber or idolatrous devotion, the arts come as a waking savior, reminding us that God is boundless and ever-moving.
Stories—whether written, sung, performed, or painted—have continually served faith communities as a force to keep spiritual imagination alive and well. In the telling of stories, both those of Scripture and otherwise, we act as both inheritor and transgressor, acknowledging the paths laid before us and discovering ever new ones. At once familiar and strange, the stories we tell keep us engaged and questioning. Our identities, individual and corporate, are formed in the telling of stories.
Yet, stories are not only formational but prophetic. They provide a voice for the silenced, and paint a picture of realities that are often hidden and distorted. In confronting us with these realities, we are called not simply to respond in resistance, but to dream and enact new possibilities. In this way injustice is given voice and justice form.
With the theme of "Telling Stories" as guide, this conference will employ discussions, poetry readings, presentations, visual arts, and theater to examine art's power to confront current narratives, allow people to tell their own stories, and explore new ways of talking about God, faith, and social responsibility. While the planning team is Christian, the conference will be an interfaith event open to people of all faith traditions and backgrounds, including those who don't identify as religious.
The poet Henri Michaux once said, "Poetry, whether it is transport, invention, or music is always an imponderable which can be found in no matter what genre—a sudden enlargement of the world." Through gathering in community and conversation we hope you'll join us in this creative act of expansion.
---
Draft Schedule for the Conference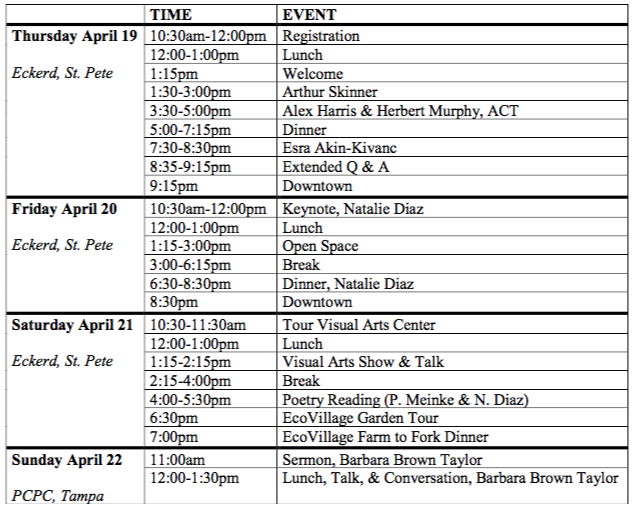 ---
FAQs
What is included in the $265 conference fee?
Access to all speakers and events. Lunch provided each day of the conference. Dinner provided Friday & Saturday.
What are my transportation/parking options in getting to/from the event?
Attendees are responsible for transportation (rental car or Lyft). A Lyft ride from the airport to Eckerd College is approximately $29. Parking will be available at The West Lot on Eckerd College Campus.
Where can I stay if I am coming from out of town?
Scroll to the bottom of this link to see a list of local hotel/motel options. When you reserve, ask if there is an Eckerd rate. Many (but not all) of the hotels offer such a discount. You may also wish to look into Airbnb options.
What's the refund policy?
Refunds can be issued up to seven days prior to the conference.