Telling Santa's Story & What is Santa Worth? - NESS Meeting & Workshops
Description
Our March NESS meeting is extra special. Renowned Irish storyteller and musician Helena Byrne will be joining us during her East Coast performance tour to share her storytelling skills and knowledge in the morning workshop. This is a unique opportunity that should not be missed.
Following lunch & NESS meeting, the afternoon workshop will take a look at what Santa's services are worth. What to charge for a Santa visit is a question that comes up at every event we have. So we will focus the afternoon on that topic.
Note: This meeting was originally planned for Connecticut, but we moved it to accommodate our speaker's schedule. We will be in the Hartford, CT, area for the May 27 NESS meeting.
Program
10:00 am - Registration & Social Time.
10:30 am - Telling Santa's Story - Storytelling Workshop by Helena Byrne, Irish seanchaí, singer/songwriter, actor and director.
Storytelling is at the heart of a quality Santa appearance. Presenting an interesting, entertaining narrative adds to the credibility and enjoyment of the Santa legend. This program is for those who want to get out of the storybook to present their own Santa tales or add creativity to the answers to children's questions.
Among her many talents, Helena Byrne is an accomplished Irish Seanchai or storyteller. Her workshop will begin with a little background on the art of storytelling. She will then perform a small selection of stories from her repertoire and break down the stories to explain the process she used to compose them and how she chose the style to perform them.
Using her lessons, attendees will work on creating their own stories as well as their performance style and voice projection. She suggests everyone come with an idea for a story to work on during the workshop.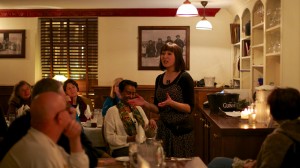 From Helena Byrne's website:
"Combining her love of Irish folklore and passion for Irish music, Helena Byrne regularly performs as a seanchaí (storyteller) and singer in Dublin and further afield. Helena's storytelling interweaves tales of the Other World and the mysterious Fairy Folk with traditional Irish songs and wonderful insights into the Irish life of days gone by...
Helena has performed for several companies and tour operators including Adams & Butler Luxury Travel, Irish Luxury Tours, Bunratty Castle & Folkpark, The National Leprechaun Museum, Dalkey Castle & Heritage Centre, Dun Laoghaire/Rathdown County Libraries, and the Yarn Storytelling Festival in County Wicklow. She has also toured extensively in the US.
Helena also performs as a Resident Storyteller for Irish Folk Tours' show 'An Evening of Food, Folklore & Fairies', ranked as TripAdvisor's Number One 'Nightlife in Dublin' event and nominated as CIE Tours 'Best Evening Performance in Ireland' 2016."
Helena Byrne is currently on a East Coast performance tour here in the USA and has a number of local performances scheduled, including one the evening of March 25 in Canton, MA. Here are the New England appearances.
March 23 Ireland's Great Hunger Museum 3011 Whitney Ave, Hamden, CT 06518, USA @ 6pm Free event, registration required Ireland's Great Hunger Museum Website
March 25 Irish Cultural Center of New England 200 New Boston Dr, Canton, MA 02021, USA @ 7.30pm Tickets including Dinner: $30, Members $25 Irish Cultural Center Website
March 26 Irish Heritage Society of Milford 131 Bridgeport Avenue, Milford, CT 06460, USA @ 1pm Tickets $10 Irish Heritage Society of Milford Website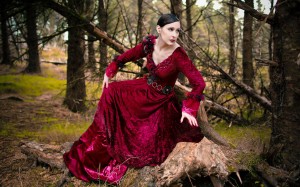 1:00 pm - Lunch & NESS Meeting - Buffet dinner of Roast Beef, Baked Haddock, Roasted Potatos & Mixed Vegetables.
2:30 pm What is Santa Worth? - Workshop Leader Santa Dan Greenleaf
A question we hear regularly from Santas, both new and experienced, is what should I charge for my Santa visit. Members at the NESS Annual Meeting requested a survey of members related to the fees Santa get for various services they provide. (The results of that survey will be made available at this session.)
This presentation will explore the topic of what Santa services are worth including a discussion if we should charge or not. We will look at the current situation here in New England and how it impacts Santa's value.
Among the topics to be covered are:
Determining what you are worth.
Creating quotes that win clients.
How supply and demand effects value.
Establishing a viable pricing structure.
Dealing with prospects that can't afford you.
Exploring alternative revenue sources.
Ways to increase profitability.
Using pricing as a marketing tool.
Dealing with the competition.
The program is part of a workshop Santa Dan Greenleaf presented in Branson, MO, last summer at Discover Santa 2016. His background includes more than 35 years in marketing, public relations and business management. He has been a Santa-for-hire for nine years. His company, ImSanta.Org, provided over 230 Santa visits last season.

Registration
Space is limited so register quickly. We can not hold your spot without a paid reservation.
Members and non-members are welcome to attend any or all sessions. To take advantage of NESS member rates, your dues must be paid for 2016-17.

Full Program including Lunch: NESS Members & guests $35, Non-members $50.
Morning Storytelling Session only: NESS Members $20.00, Non-members $30.
Lunch only: NESS Members $25, Non-members $30.
Afternoon Session only: NESS Members $5.00; Non-members $10.

Advance reservations and payment are required. Space is limited. Members may buy as many tickets as needed at the member price so bring Mrs. Claus and the elves.

You can buy tickets to register and pay here (small service fee). If you prefer, email your reservation then mail a check to NESS, P.O. Box 6362, Manchester, NH 03108. Or we can email an invoice via PayPal to pay by credit card or e-check.

Please reply to let us know if you're coming so we have some idea of numbers. The deadline for lunch reservations is March 23.
For questions or more information email info@NewEnglandSantaSociety.org.